The Hill of Crosses in Lithuania is an absolute must see! These thousands of crosses on a hill create a stunning visual and have a deeper meaning and importance. Don't miss the Hill of Crosses in Siauliai, Lithuania! Here is how to visit.
Pin Me for Later!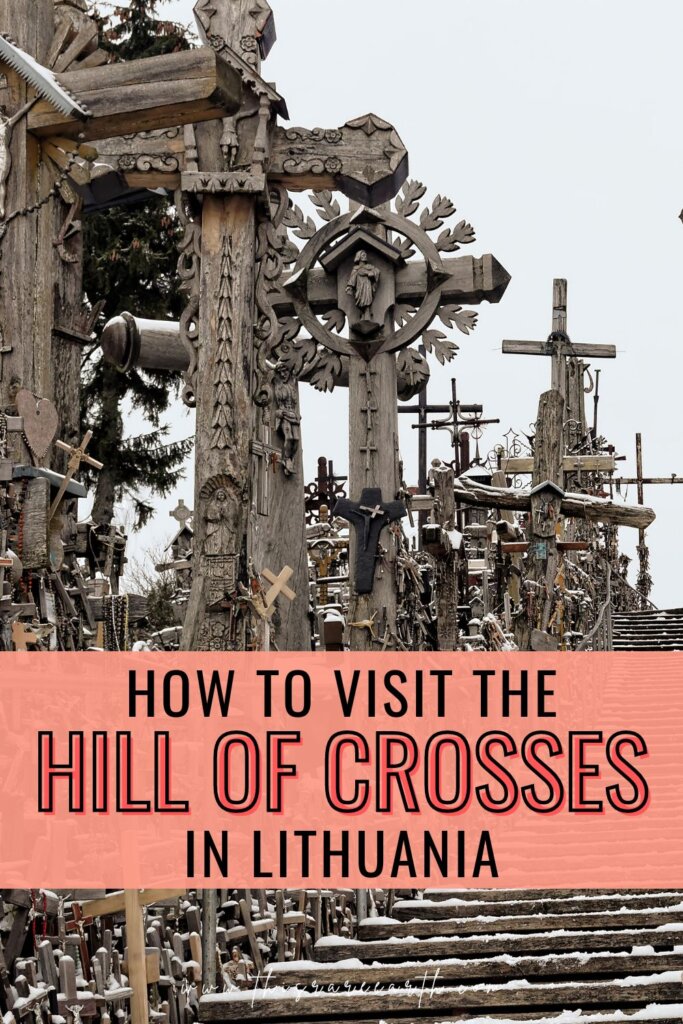 The Hill of Crosses is Siauliai, Lithuania is one of the best places to visit in the entire country. Picture hundreds of thousands of crosses stacked together on a hill, one on top of the next, and you are envisioning the Hill of Crosses in Lithuania.
Being Lithuanian by heritage, I have visited the Hill of Crosses many times over the years. It is a special site for me personally, and one that speaks of the strength and resilience of my people!
Since at least the early 19th century, Lithuanians have traveled here to leave memorial crosses on a hill as a symbol of resistance against its oppressors.
Now, these thousands of crosses on a hill have become a popular tourist attraction and religious site. It draws people from around the world to marvel at its unique charm, whether they are religious or not.
This guide will give you all the information you need to visit this sacred site!
You May Also Like: Traditional Lithuanian Foods to Try on Your Visit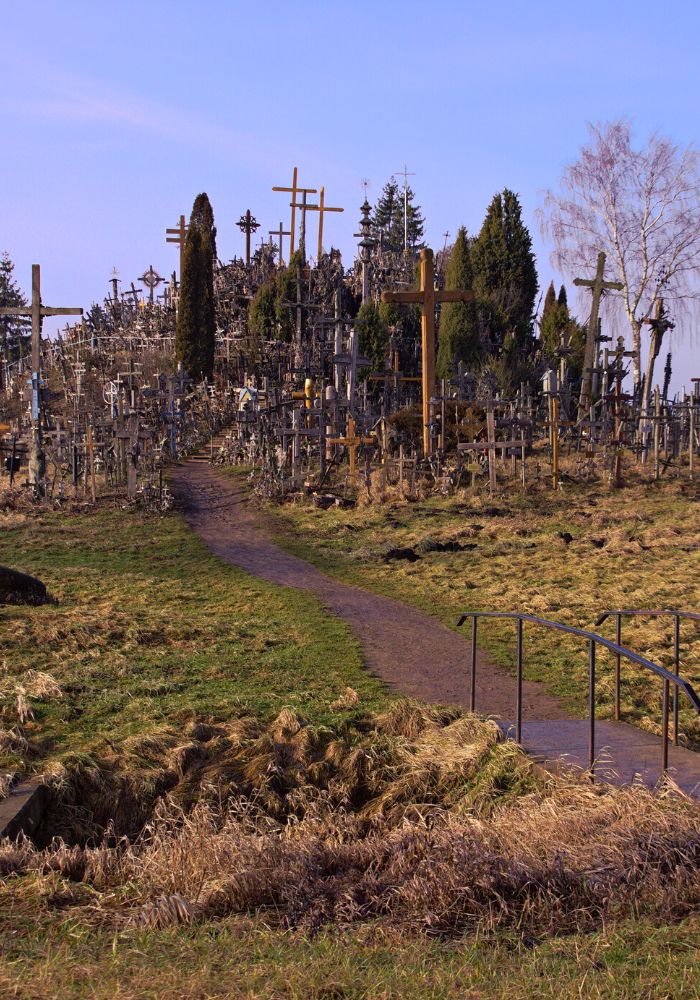 A Brief History of the Hill of Crosses in Lithuania
I grew up hearing legends about this mysterious place, passed down throughout my family. It is completely one of a kind – simple yet majestic; a true national monument for the Lithuanian people.
The origins of the Hill of Crosses:
While the exact date that the Hill of Crosses came to be is not known, we do know that its origin dates back to at least the beginning of the 19th century.
Lithuania was occupied by the Russian Empire at that time and symbols of Catholicism (and their Lithuanian heritage) were strictly forbidden. Lithuanians spearheaded many uprisings over the years to protest the Russian rule. Many people, including some of my ancestors, died for refusing to abandon their traditions and religion.
Though symbols of their Catholic faith were forbidden, this did not stop the Lithuanian people from practicing their faith. Oftentimes, they had to do so in secret. It is believed that this is how the Hill of Crosses in Šiauliai came to be.
Lithuanians traveled to this remote location and began to leave crosses. Crosses for their Catholic faith, crosses to commemorate loved ones, and crosses for prayer. thousands upon thousands of crosses.
Despite the political oppression – and maybe in spite of it – the Hill of Crosses grew quickly. The Hill of Crosses was a symbol of the hope and faith for the Lithuanian people.
You May Also Like: Things to Do in Kaunas, Lithuania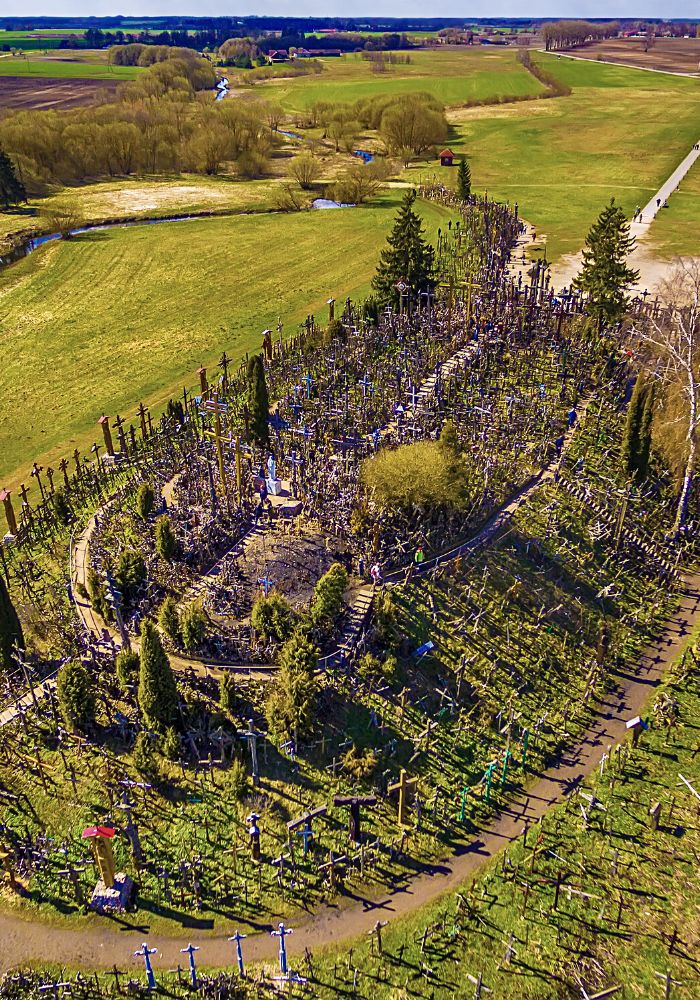 The destruction of the Hill of Crosses:
After WWII, during Lithuania's Soviet occupation, it was once again forbidden to visit the Hill of Crosses, pray here, or leave additional crosses on the hill. When the Lithuanians didn't listen, the Soviets decided to bulldoze the hill. In fact, they did so multiple times. They closed the roads and removed the crosses.
And yet, time and time again, the monument was reborn. Lithuanians would come out during the pitch darkness of night and place new crosses on the hill. They had a strong will to preserve this meaningful site. And, they stoically fought against their religious suppression.
What does the Hill of Crosses represent?
In 1990, Lithuania regained its independence when the USSR fell. In 1993, Pope John Paul II visited the Hill of Crosses, and it became more "known" to the wider world.
Today, the Hill of Crosses is a popular religious site for Lithuanians and one of the most important symbols of the undying spirit of Lithuanians. On a personal note, each and every time I visit, I feel a deep sense of pride and admiration for my Lithuanian people.
You May Also Like: Interesting Facts About Lithuania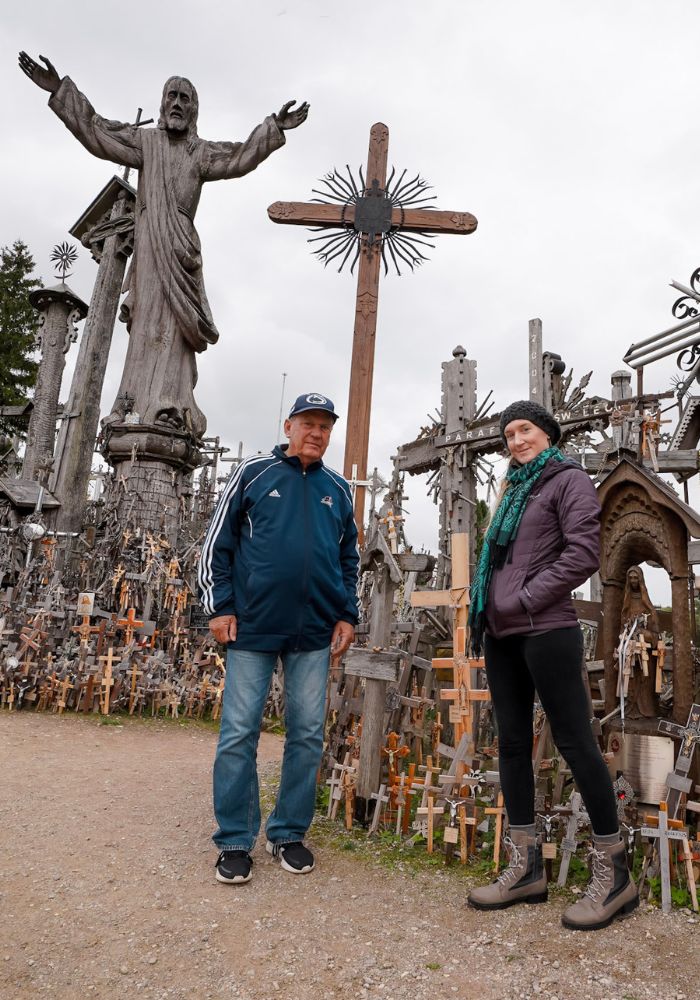 How to Visit the Hill of Crosses in Lithuania
Due to its remote location, many people who visit Lithuania unfortunately miss the Hill of Crosses. That is definitely a mistake!
I have visited the Hill of Crosses many times over the years, and through many different ways. I've traveled here solo, I've traveled here with others, and I've most recently took my father here for his very first visit.
You basically have three options; tours, going via rental car, or taking public transportation. Let's dive into each of these options.
Tours
Wondering how to visit the Hill of Crosses from Vilnius, Riga, or Siauliai? The easiest way is on a day tour.
Rental Car
My personal favorite way to visit the Hill of Crosses is via a rental car. I always get the best prices here. If you are comfortable driving in another country and want to explore more of what Lithuania has to offer,, renting a car is the way to go.
After Siauliai, you can head to Kaunas, or to Trakai, or to many other places to visit in Lithuania!
Public Transport
The first time I ever visited the Hill of Crosses in Lithuania was by public transport. Namely, I took the bus from Vilnius to Siauliai and then walked all the way from the bus station to the Hill of Crosses.
It was winter, so it was very cold (but memorable!)
If you would like to go this route, you can check current bus schedules here. While some routes are available for purchase online, I purchased mine on site. Expect the bus ride to take between 3-3.5 hours and cost under 15 Euro.
Once you get off the bus at Siauliai, you will need to transfer buses to Joniškis (Šiauliai – Joniškis). Get off at the Domantai stop (the third one from Šiauliai) and prepare the 1.2 miles to the Hill of Crosses.
If you want to be picked up and guided around from the main terminal and avoid the transfer and walk, remember – you can book this tour.
Where is the Hill of Crosses in Lithuania?
The Hill of Crosses sits in a large field in the middle of nowhere, roughly six or seven miles (10km) north of the town of Šiauliai.
What to Expect at the Hill of Crosses
When you first arrive, you will park in the designated parking lot (or walk from the bus station) toward the famous hill. From a distance, you will see a vast expanse of crosses, reaching far and wide from left to right. And, in the middle, a small hill that is absolutely covered in crosses and religious figures
As you get closer, you will start to notice how many layers of crosses are present.
How many crosses are found here?
Many sources estimate that the Hill of Crosses contains roughly 100,000 crosses. However, that figure is out of date. Each day the number grows as new crosses are placed. Currently it is believed that there are up to 300,000 crosses placed here – and I very much believe that figure!
Crosses are haphazardly placed, one on top of the other. Colorful rosaries drape the crosses. Wooden figures of Jesus and Mary are mixed in. You can see crosses from Armenia, and the USA, from Latvia, and from all around Europe.
There is no particular structure to where the crosses are placed. Some crosses are wood, some crosses are metal, some crosses are plastic. Some crosses tower high overhead and some are as small as a quarter.
Some of the crosses date back to the original placement, and are over 100 years old, while others are brand new from the very day you see it. I have left wooden and ceramic crosses here myself, and you have the opportunity to do so as well if you wish.
Adjacent to the parking lot, you can purchase small crosses on site for between 1-5 Euro on average. Find the "perfect spot" and leave a small symbol of appreciation here on your visit.
Somehow the chaos works. As you climb the hill and make your way through the various dirt paths, it just makes sense. You can spend hours here exploring each and every corner, ad still not see it all.
The Hill of Crosses a truly fascinating place. It is an absolute must see.
You May Also Like: Visiting Trakai Island Castle in Lithuania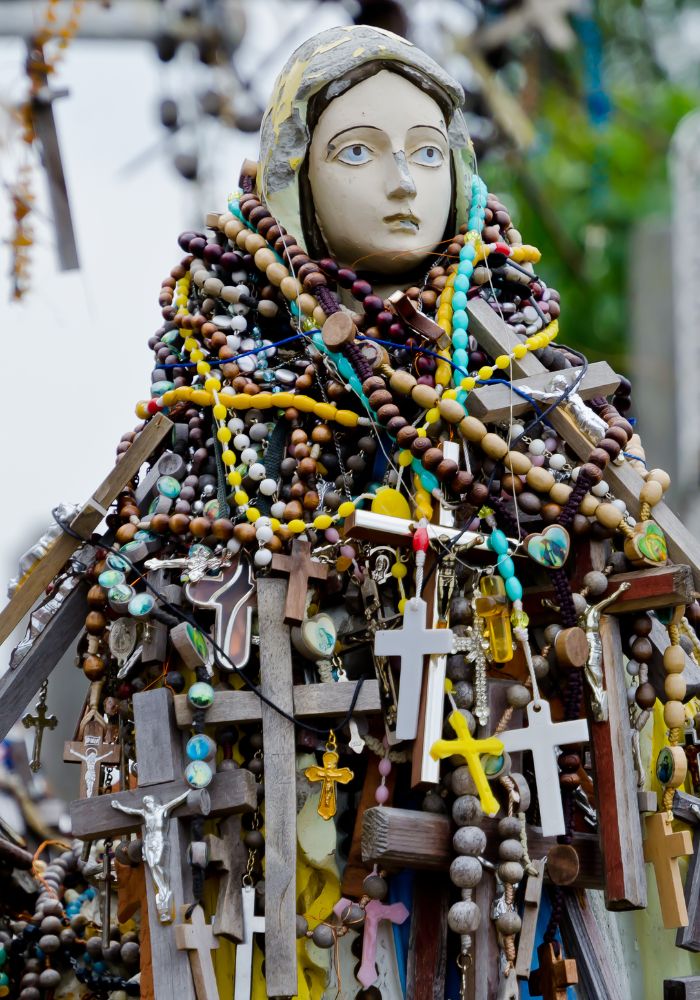 Is the Hill of Crosses Dangerous?
I'm not exactly sure why this question is often asked. Maybe it is the slightly spooky feel, particularly on foggy or grey days.
The Hill of Crosses is not dangerous at all. It is in a very safe area within a very safe country. Unless you visit very early or very late, you will likely see other locals or tourists on site.
How Much Does it Cost to Visit the Hill of Crosses?
The Hill of Crosses is completely free to visit. Unless you purchase a cross to place on site, you do not have to spend a dime here.
Is Hill of Crosses Worth It?
I'm sure you can already tell, the Hill of Crosses is a very special place in my opinion. I highly recommend that all tourists in Lithuania make their way here, whether on a tour or solo.
Even after years of stories, my father was surprised at how vast it is. "It's bigger than I thought" was his first comment.
I have visited numerous times, in all seasons, both alone and surrounded by others. It always feels deeply somber and very magical to me, all at the same time. Come and see for yourself, and then let me know how you feel!
You May Also Like: The Best Things to Do in Vilnius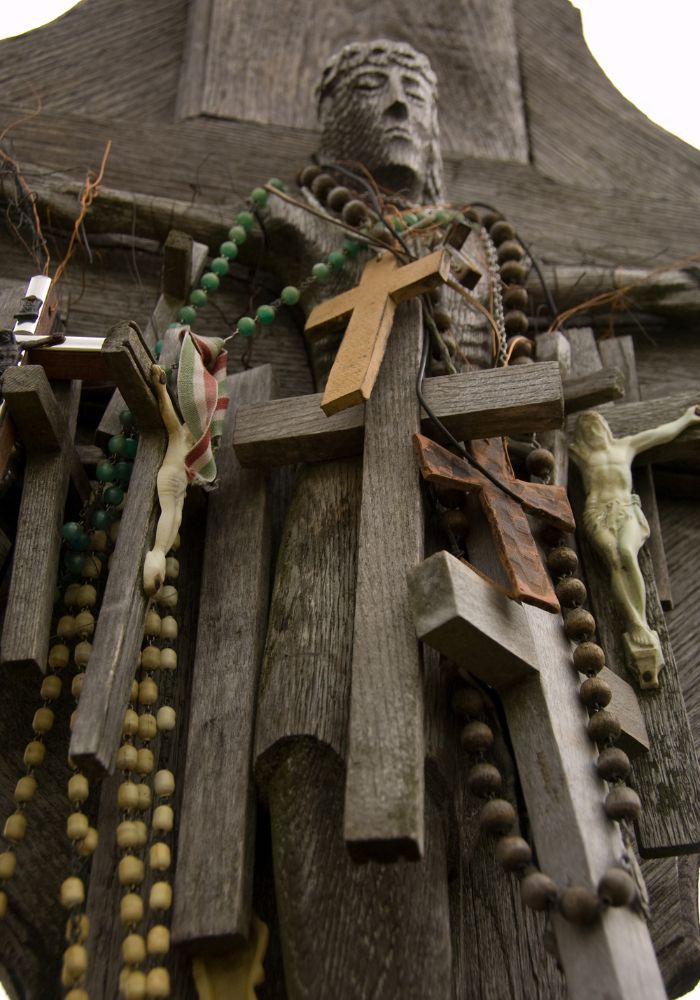 More Hill of Crosses Tips
Operating Hours: 24/7. There is no gate or fence so you can realistically visit at all hours of the day.
Entrance Fee. None. The Hill of Crosses is free to visit.
Facilities: Parking area; a small visitor center; several souvenir stalls selling crosses; bathrooms.
Where to Stay
Most people either visit Hill of Crosses as a day trip from Vilnius or on their way from one place to another. However, I've stayed overnight here many times in the small town of Šiauliai. It is extremely cheap – even cheaper than the cities – and comfortable accommodations are easy to find.
Here are my top two recommendations:
***
Have I convinced you to visit the famous Hill of Crosses in Lithuania? I promise, you will not regret it!
If you've already been, let me know what you thought below!
Pin Me for Later!