This complete Armenia travel guide will arm you with all of the necessary information needed to make your trip a breeze! From money matters to transportation to safety in Armenia, you'll find it all here. Make sure you read this travel guide before your Armenia trip!
Pin Me for Later!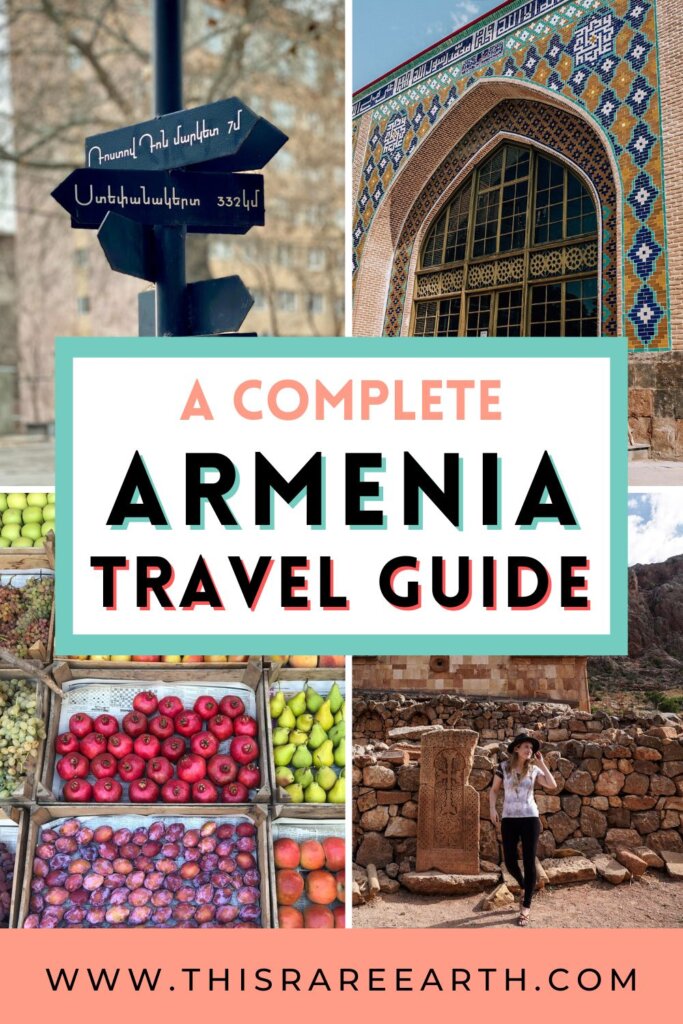 Armenia is a country made of lively people and vibrant colors. Though the smallest country in the Caucus region, Armenia impressed me with its fascinating history, delicious food, ancient wine practices, and lush nature.
This landlocked country may have a troubled and tragic past, but it also has a deep resiliency. And, though off the beaten path for many Americans, I found Armenia to be a fascinating place to visit. It still feels untouched.
Though I experienced several difficulties in Armenia in terms of planning, in the end my visit was eye-opening. Armenia is situated between Europe and Asia, but has a decidedly Soviet influence, and still maintains its own unique culture and heritage.
This complete Armenia travel guide will cover not only things to do and places to see, but also safety in Armenia, money matters, and also some difficulties you may run into when visiting a less-touristic country.
You May Also Like:
A Complete Guide to Visiting Noravank Monastery
Things I Wish I Knew Before Visiting Armenia
The Ultimate Armenia Itinerary
Things To Do in Areni, Armenia
The Best Things To Do in Yerevan, Armenia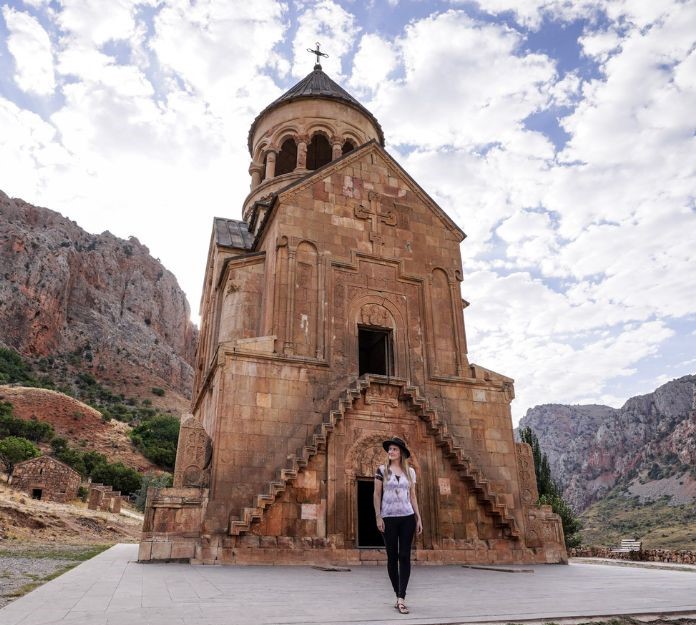 A Complete Armenia Travel Guide
Armenia, like Georgia, gained its independence from the Soviet Union as recently as 1991. You can still see the Soviet influence in present-day Armenia, but it is decidedly mixed with Armenian traditions and style.
While there is much debate about what continent Armenia resides, I believe the best way to think about it is this: Armenia is geographically part of Asia (Western Asia to be precise) and politically more akin to Europe.
The small grouping of Armenia, Georgia, and Azerbaijan form their own little area, called the Caucus Region.
Armenia Travel Basics:
Capital: Yerevan.
Language: Armenian. Russian is also widely spoken throughout the country. In Yerevan, younger people or anyone working in tourism will typically speak English. Outside of the capital, English is fairly limited.
Note that Armenia not only has its own language, but also its own alphabet.
Population: 3 million (plus a reported 6 million living outside of Armenia)
Religion: 97% Christian. Armenia was the very first country to officially adopt Christianity as a national religion.
Can You Drink the Water? Yes. In Yerevan as well as the small towns and villages, I drank water straight from the tap and hoses.
Though its neighboring country of Georgia has become a popular travel and expat hub, very few travelers ever cross the border into Armenia. A visit to Armenia, even if only as a short day trip from Tbilisi, is a must in my opinion!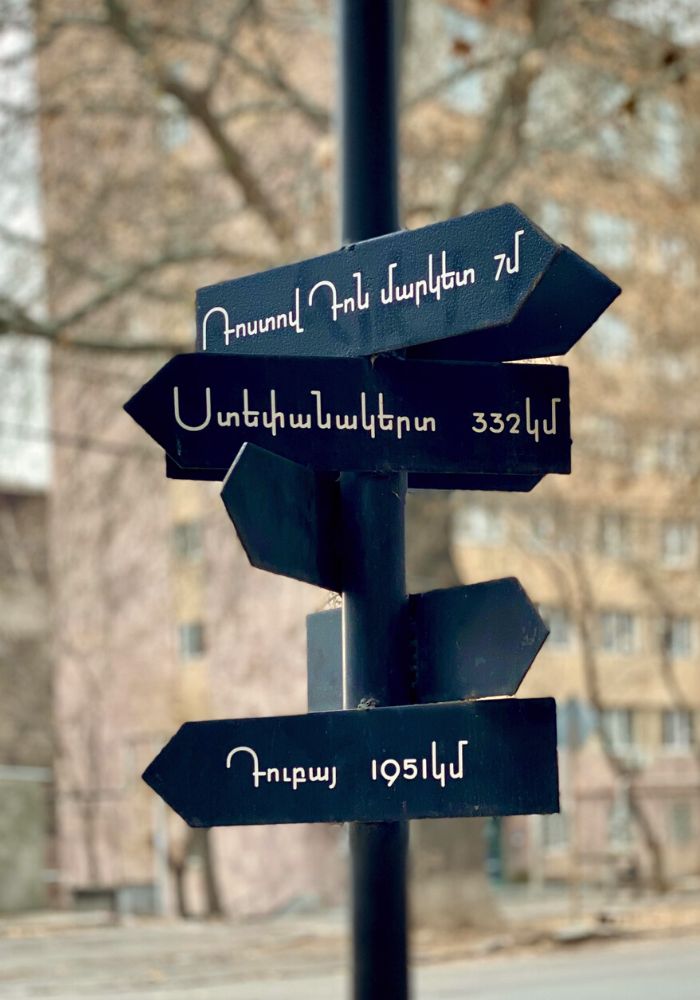 Is Armenia Safe?
Armenia felt very safe, and I was traveling as a solo female the entire time. I walked around by myself 100% of the time, both in Yerevan as well as many smaller towns and villages. I even hitchhiked solo when my car rental plans fell through.
Crime levels are considerably low in Armenia. Even petty theft, like pickpocketing, are not much of an issue. But, it is best to be observant of your surroundings at all times, as you would in any cuntry.
One note, I hired a driver to take me to the small winemaking village of Areni. Things went smoothly and everything seemed safe. However, the driver kept insisting that I should sit in the front seat, over and over.
For my solo female friends out there, I highly advise against this – in any country. Check out my taxi safety tips for specific reasons why. And, for the record, I did not comply, though I recognize that it may have been completely innocent.
Corruption is reportedly a part of life here, but as a tourist I did not ever observe this.
A Note on Border Relations
At the time of writing, Armenia is at war with Azerbaijan in a decades-old dispute over the Nagorno-Karabakh region. If you visit Nagorno-Karabakh, you will not be allowed to enter Azerbaijan. In Azerbaijan it is a crime to enter Nagorno-Karabakh without authorization from Azerbaijani authorities.
It is also worth noting that anything in your possession that was made in Armenia will be confiscated when crossing the Azerbaijani border, and vice versa. Additionally, Armenia has no official relations with Turkey and the border is currently closed.
Neither of these are reasons not to visit, but you should check the status of these borders if you plan to cross them.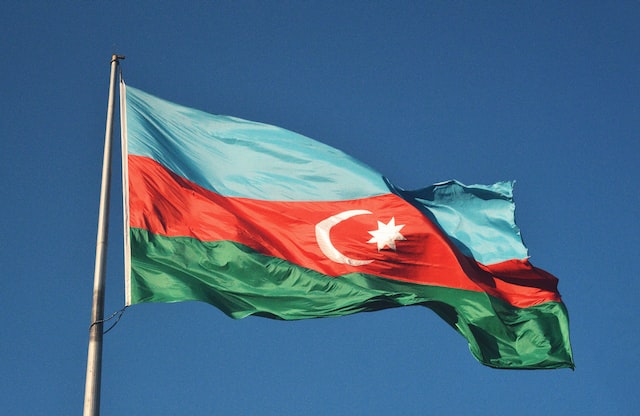 You May Also Like: The Best Places to Visit in Armenia
A Note on Infrastructure
Armenia is not heavily visited by tourists. And, it is a small, developing nation. I met very friendly locals and had plenty of great days. But it is worth noting that I had a lot of things go wrong.
I had two car rentals cancel on me at the last minute. A hotel canceled on me at the last minute, literally as I was walking there to check in. I had drivers cancel, and got yelled at by a priest. Not sure what the problem was, since I don't speak Armenian, but he definitely wasn't happy with me.
Also, the entire city of Yerevan's water went out my last day in Armenia.
I mention all of this to advise you to be flexible. The infrastructure may not be what you're used to. Whie I rolled with it for most of the time, there was one day where it really got to me, and I considerd leaving the country early.
I didn't leave, and I'm glad for that, but my trip was not without surprises and issues. Check out the things I wish I knew before visiting Armenia for a full report.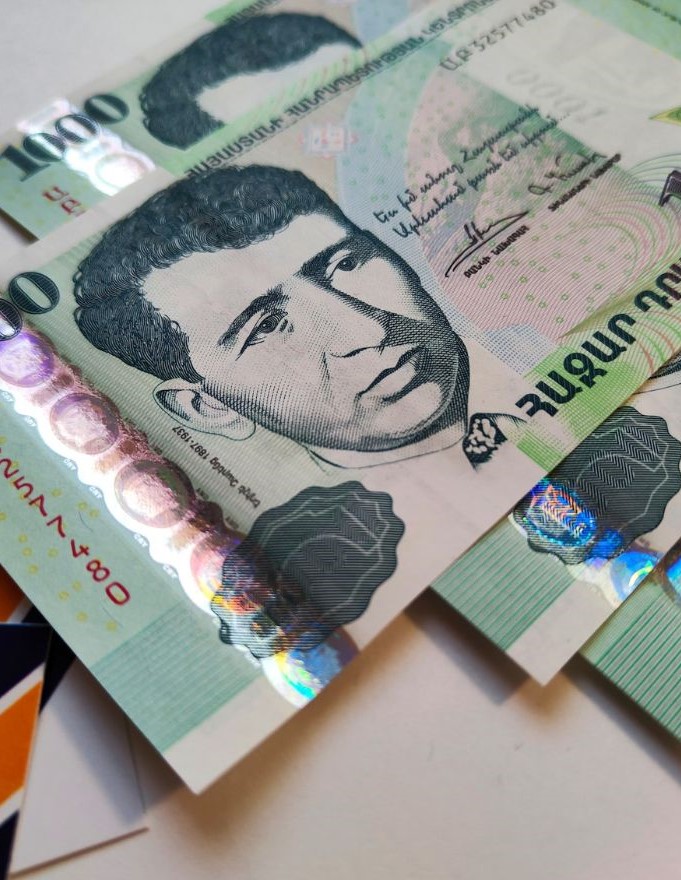 Money Matters and Tipping
Currency: The Armenian dram.
ATMs: ATMs are widely available in Yerevan. Outside of the capital, it can be much more difficult to find ATMs. Credit cards are often not accepted, particularly in smaller towns.
Are US Dollars or Euros accepted? No.
Tipping: Tipping is not generally common. The exception to this may be within tourism-related fields.
In Yerevan, it is normal to tip about 10-20% in larger restaurants. Taxi drivers may round up a small bit of change but for the most part, they try and return any change owed. Outside of the city, tipping is not expected.
Be aware that Armenia is a heavily cash-based society. Most hotels, even in Yerevan, do not accept credit cards and expect cash payments. If you take away just one important point from this Armenia travel guide, make sure you are always stocked wtih cash.
Do I Need a Visa to Visit Armenia?
American Citizens can enter Armenia visa free for up to 180 days. Additionally, travelers from 44 countries, including all EU member countries, do not require a visa.
Check you eligibility for visa free travel here.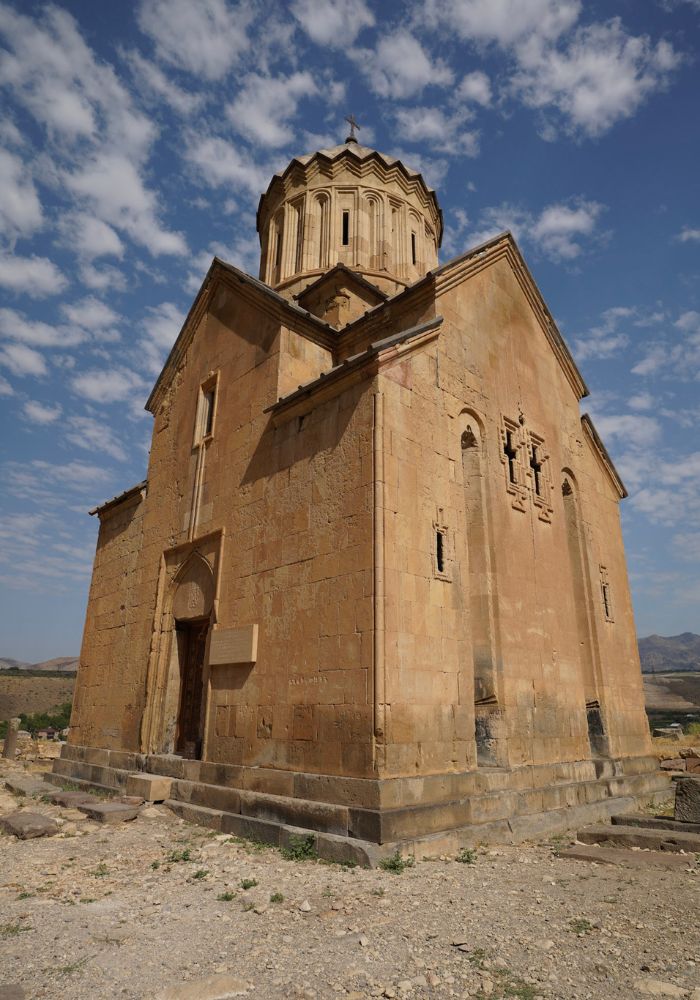 When Is the Best Time to Visit Armenia?
It depends on your goals.
If you want the best weather and slightly cheaper prices, travel in the shoulder seasons of spring and fall. Plan for April & May or September & October. The downsides are that the days are a bit shorter and overnight, it can get cold.
If you plan on hiking and trekking, you will want to visit in the summer months of June, July or August. This is also the busy season, so prices will be at their peak. While temperatures in the mountains will be perfect, Yerevan and the surrounding areas will be hot. For reference, July and August were in the triple digits when I visited.
The winter months will be snowy and cold, and driving can be dicey. However, you will have the tourist sites all to yourself and this is the perfect time for skiing and snowboarding.
How Long Should You Spend in Armenia?
I would suggest a minimum of five days so that you can get a real taste of the culture. A one week itinerary is the perfect amount of time to visit not only bustling Yerevan, but also some of the surrounding sights. (In my opinion, the longer the better!)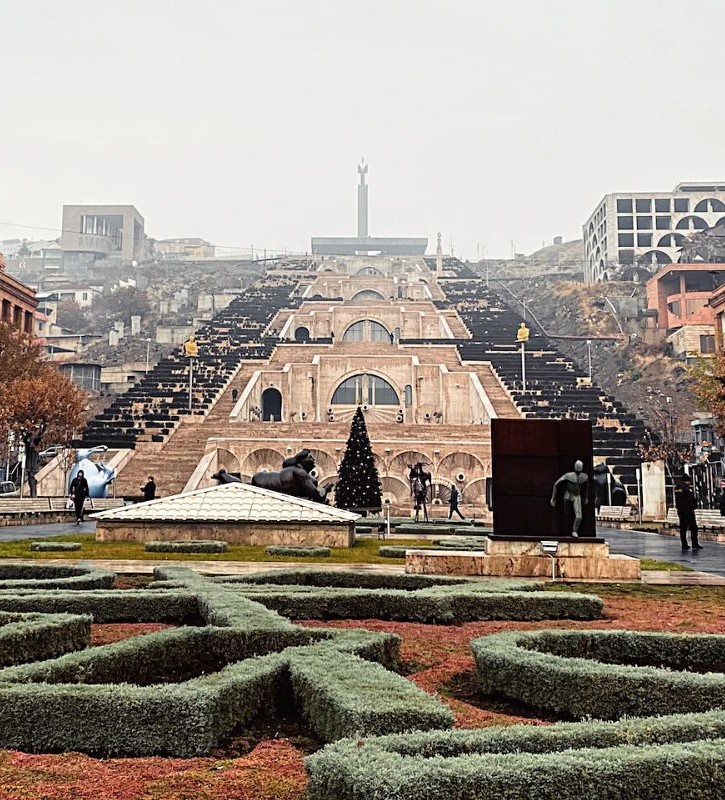 What is the Daily Budget for Travel in Armenia?
Mid-range travelers will spend between $30-$50 USD per day in Armenia. I booked basic but clean guesthouses around the country for around $25 -$35 per night, ate local meals, and paid entrance fees for a few museums. Note that many sights in Armenia are free!
How to Get to Armenia?
International visitors will likely fly into Zvartnots International Airport in Yerevan or Shirak International Airport in Gyumri.
If you are traveling to Yerevan from Georgia, you will likely travel via train or mashrutka (a mashrutka is a shared van.) You can also visit Yerevan from Tbilisi via a group tour.
Getting Around
If you are able to rent a car in Armenia, that is hands down the best way to get around the country. Alternately, you can use mashrutkas and trains to travel around the country.
You can also base yourself in either Yerevan or Gyumri and take tours from those larger cities. Hiring a guide to travel around Armenia would take the stress out of your visit if you don't trust yourself to drive in another country.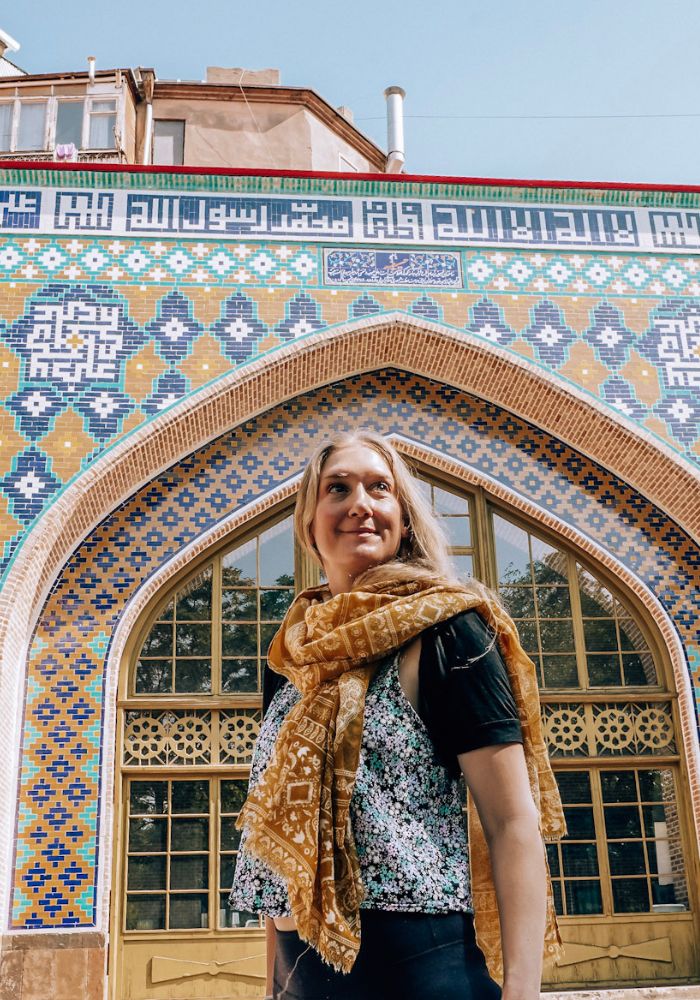 What Should I Wear?
Armenia is a fairly conservative society. In Yerevan, casual clothing that you would typically wear across Europe is okay. In the heat of summer, I wore leggings, tank tops, and t-shirts. Outside of Yerevan, local wardrobes were casual and just a bit more conservative. I didn't see tank tops or shorts, but – as someone who regularly travels the Middle East – everyone seemed to dress more casually.
If visiting monasteries, like Noravank, local women can be observed wearing dresses and covering their heads. I carried my trusty scarf each day, never knowing exactly what monasteries and churches I would stumble across. Men should wear long pants.
Pack according to the weather, and bring a couple of longer skirts that cover your knees for monasteries, as well as pants and layers. A very warm jacket and winter boots will be needed if traveling in the winter!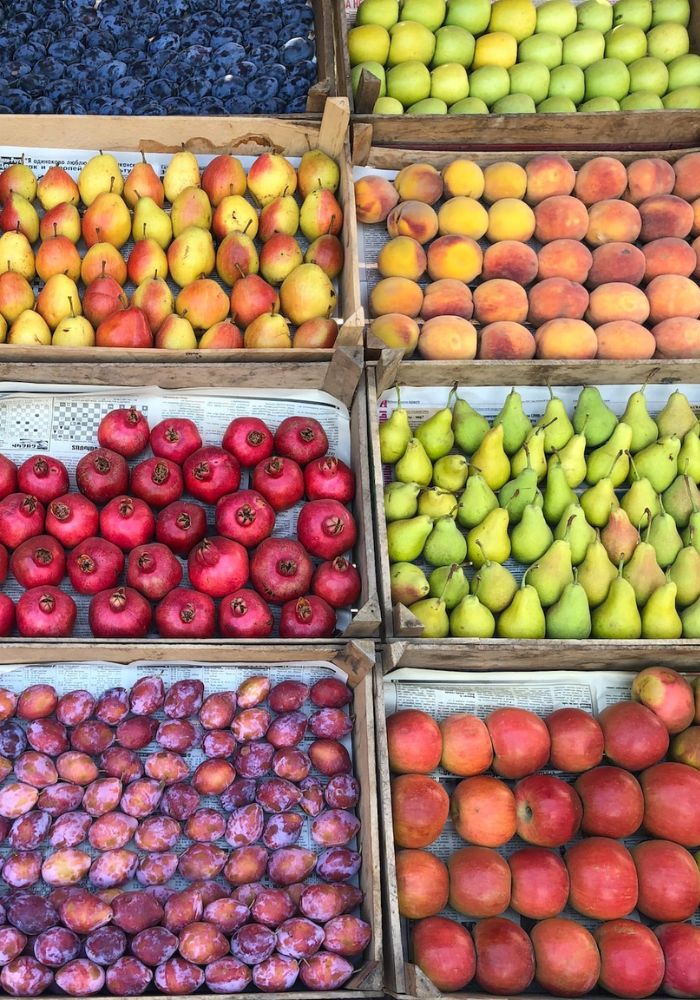 Armenian Food & Drink
The produce is delicious!
It is typically grown locally, often in someone's back garden. That means loads of high quality fruit and vegetables that are just bursting with flavor. Several of my guesthouses grew their own produce, and the taste really did shine through.
Meals around the country seemed to be a mix of Georgian food, Arabic food, and Persian food, and featured crisp salads, khinkali, cheeses, and fresh baked breads. Though I am vegetarian, I can report that I saw meat and fish dishes all around town.
Armenia is one of the oldest wine regions in the world. I met locals from the wine regions in both Armenia and Georgia – Areni in Armenia and Sighnaghi in Georgia – and both insisted that winemaking originated there, and that the other was wrong.
I can't definitively say who is correct, although BBC seems to think it is currently Georgia. What I can tell you is that the wine in Armenia was quite good. I got to try several wines in Areni and Pomegranate wine in Yerevan.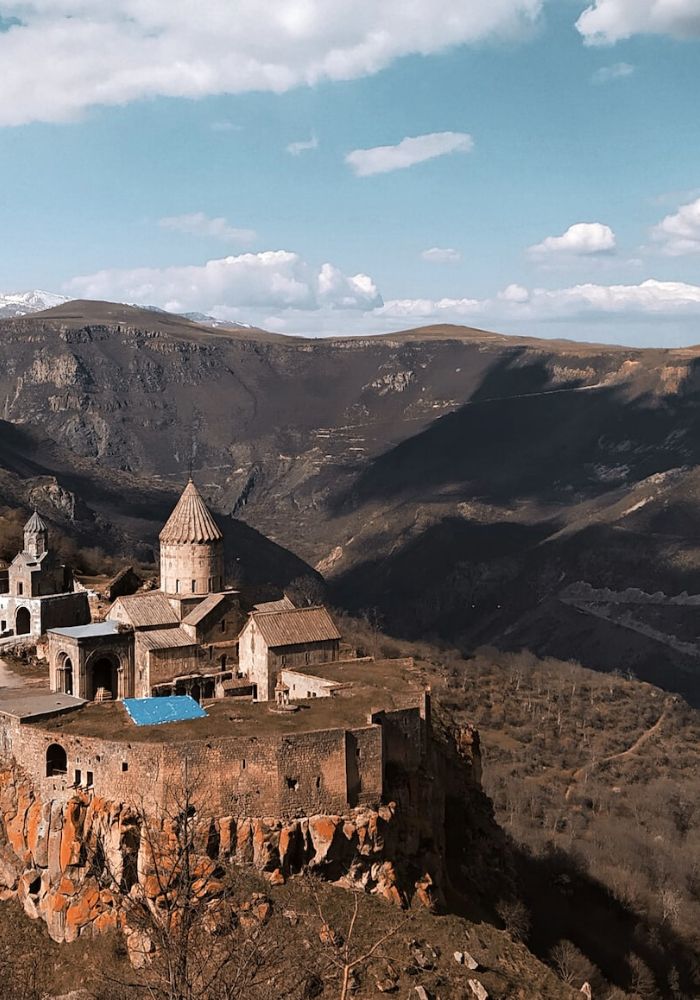 Places to Visit
Armenia has loads of interesting and historical places to visit. The best way to explore is to either rent a car or book an Armenia tour.
Yerevan – visit the Blue Mosque, walk the Cascades, stroll through Republic Square and shop at Vernissage. There are lots of things to do in Yerevan!
Noravank Monastery – one of my non-negotiable stops, I recommend that everyone make the trip to Noravank Monastery. The brick-red mountains rising up behind the intricately carved buildings are stunning.
Areni – a visit to Areni, one of the oldest winemaking regions in the world is a must – even if you don't drink wine. The history, monasteries, and small town life was a wonderful experience.
Khor Virap Monastery – another picturesque monastery in Armenia, Khor Virap looks like it is part of a fairytale.
Gyumri – a city covered in black and terra-cotta colors, this is a picturesque spot.
For all the details, check my Best Places to Visit in Armenia post. And, I have a full Armenia itinerary, too.
What's the Verdict? Should I Go?
Yes! However, combine your trip with either Georgia, Azerbaijan, or nearby Turkey so that you can see even more of the region. Give yourself a healthy two-week minimum to travel two countries if possible.
***
Armenia can be a tricky but very rewarding place to visit. I am really glad I got to explore this off-the-beaten path country – and I would even return again in the future to get to now it more.
Despite some difficulties, overall I think Armenia should be added to your Caucus trip – without a doubt! I hope this Armenia travel guide helps you plan the perfect trip.
Questions about this obscure travel destination? Drop them below! I'm happy to help.
Pin Me for Later!