Yerevan is a lively and vibrant city with a deep history. There are so many things to do in Yerevan, from places to see outdoors to museums to monuments. To help you make the most of your time here, these are all of the best things to do in Yerevan, Armenia!
Pin Me for Later!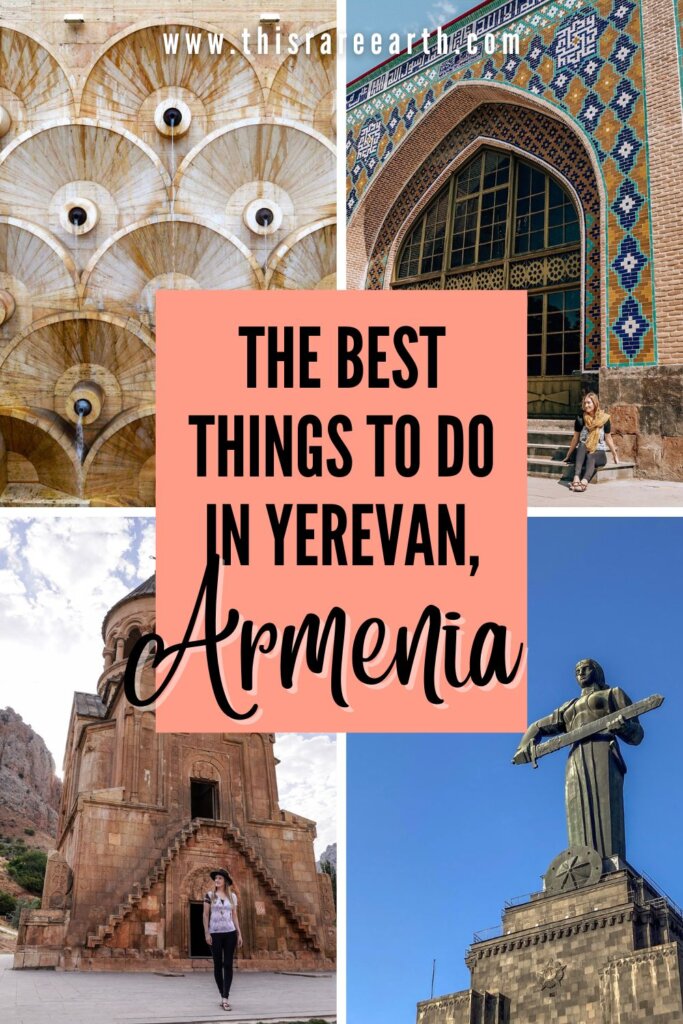 Yerevan is the capital city of Armenia, as well as one of the world's oldest continuously inhabited cities. At different times it fell under the rule of various other nations, including Roman, Turkish, Persian and Russian rule. Elements of each period can still be seen and felt today.
The vibe in Yerevan is a perfect blend of traditional Armenian culture and history against modernization. It's budget-friendly and vibrant.
The population of Yerevan is currently over 1 million people, and the hustle and bustle is real. The sidewalks are full, shops are abuzz, and there are just so many things to do in Yerevan that you can never get bored.
You may or may not know, my time in Armenia wasn't a smooth ride, exactly. However, I didn't let that discolor my view of the country, or of Yerevan. In fact, I would absolutely go back!
To help you make the most of your time in this amazing city, here are the best things to do in Yerevan, Armenia.
25 Things to Do in Yerevan, Armenia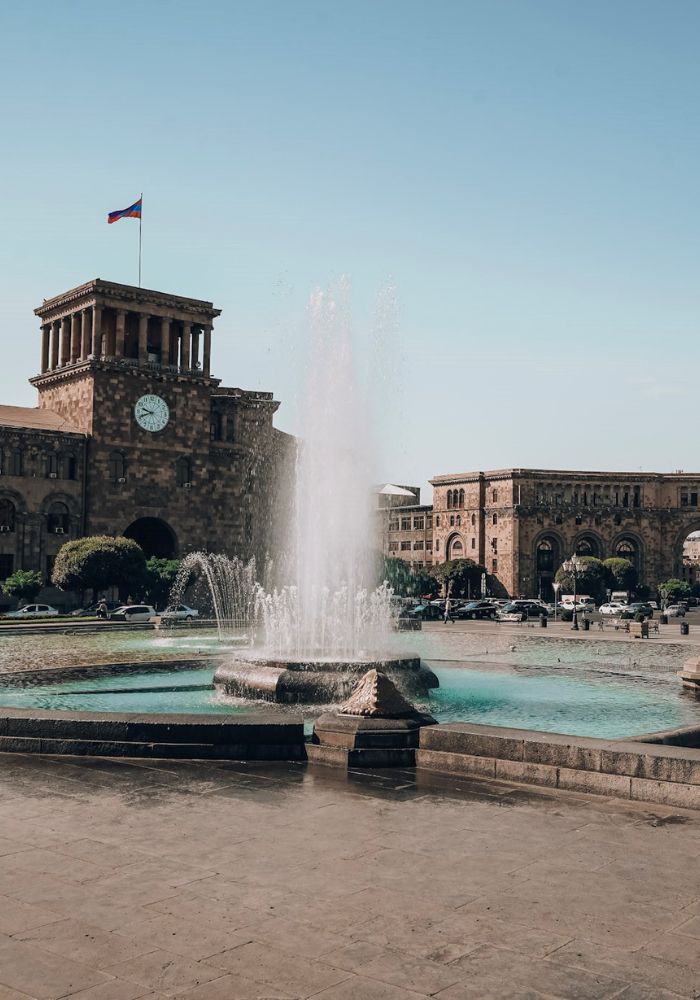 1. Start with a walking tour.
The best way to get acquainted with a new city and get your bearings is through a walking tour. This Yerevan walking tour visits many of the sights mentioned on this list, and is led by a local.
On this tour, you will see some of the most famous monuments in Yerevan. Explore the history, architecture and vibrant culture. Get an introduction to places like Republic Square, the Opera House, the Cascade, and more. (Details on each of these spots can be found below.)
While walking tours typically don't provide entry into the long list of stops visited, they do give you a mental map of the city and allow you to determine which places you wish to stop back to.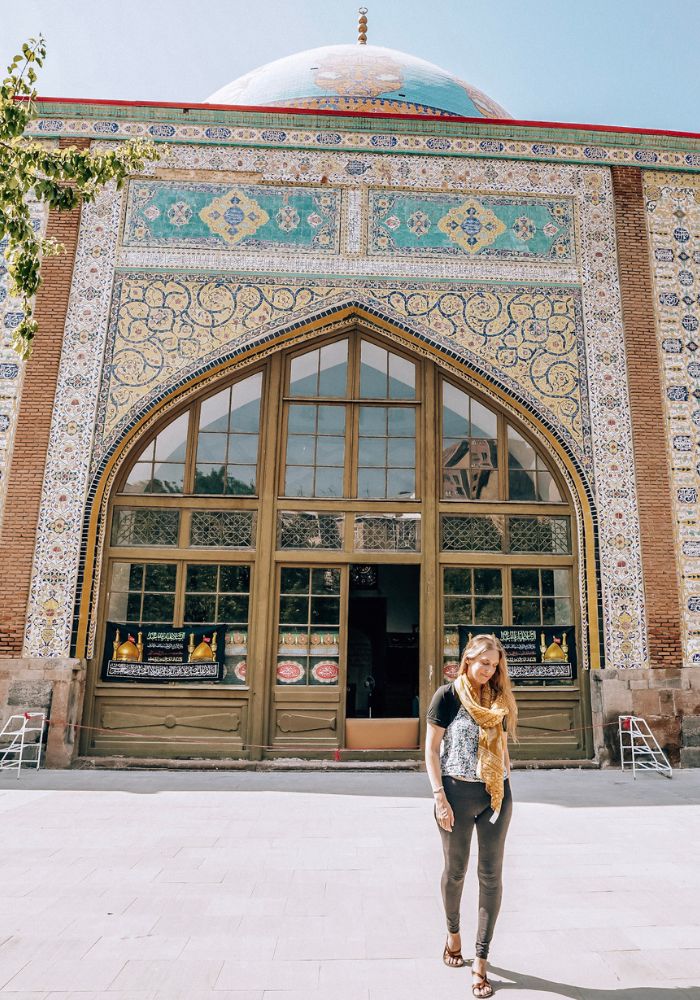 2. Visit the Blue Mosque.
The Blue Mosque was one of my top places to see within Yerevan. Afterwards, it is one of my favorites! It was certainly impressive.
Built in the 1700's, this is the last remaining mosque in the entire country. All of the others were demolished or abandoned in Soviet times. The Blue Mosque survived only because it was transformed into a museum rather than used as a mosque under Soviet rule.
The Blue Mosque is such a peaceful place to spend a morning. Visitors can explore the theological school, an inner courtyard covered in greenery, and the small exhibition gallery. Presently, this is the only remaining mosque in all of Armenia.
For details and visiting hours, check out this post.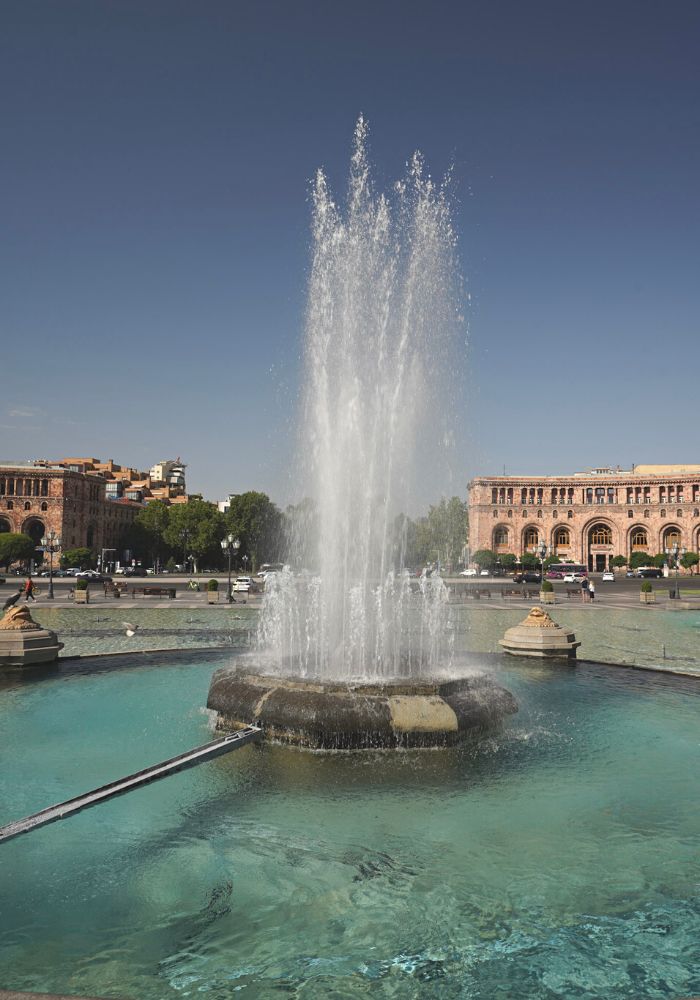 3. Explore historic Republic Square.
Republic Square is the heart of Yerevan. In the 1950s to 70s, city planners flattened Yerevan's old town and erected the modern day Republic Square that you see today.
Today, Republic Square is a social gathering place for locals, as well as a popular spot to grab a coffee or snack and relax.
Every night, there is a fountain and light show here, free of charge. The musical selections are typically Armenian favorites like Charles Aznavour or Aram Khachaturian. Get there early to grab a good seat, because the show is quite popular!
4. Visit the National Gallery of Armenia & the History Museum of Armenia
Both of these very informative museums are located within the same building at Republic Square – the long iconic structure near the fountain. These are some of the best places in the country to learn about the long history of Armenia.
You'll dig deep into Armenia's roots and its various occupations – an experience I found similar to learning about my homeland of Lithuania. I find museums like this to be both fascinating and educational. We just don't learn about Armenia in American history classes!
Bonus, this is where you will also get to see the oldest leather show in the world! If you read my article on the best things to do in Areni, then you already know its fascinating history.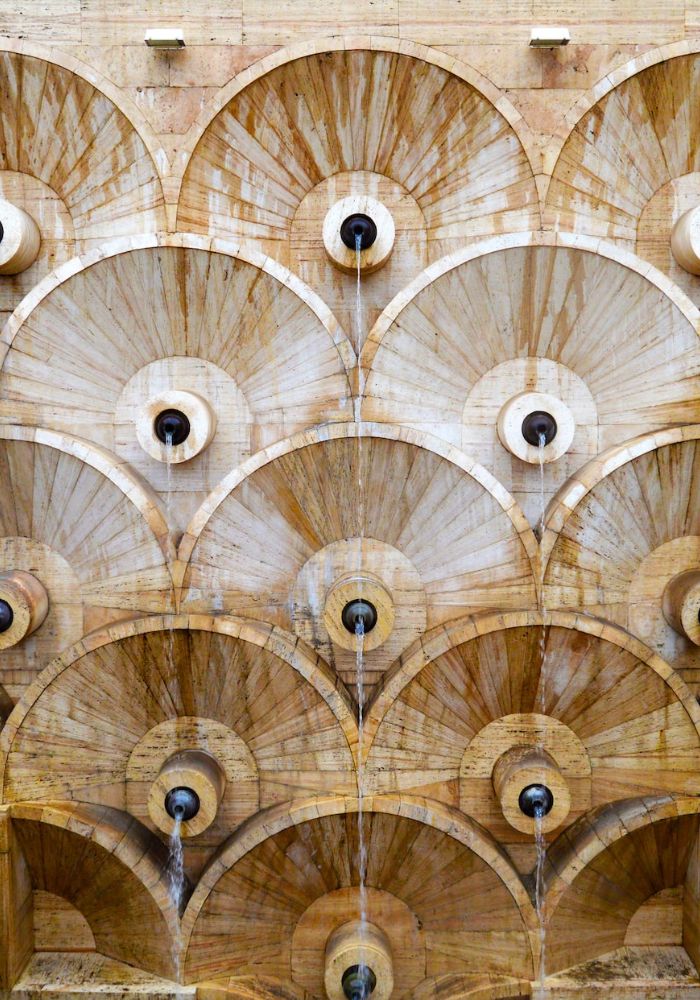 5. Watch a sunset at the Cascade.
The Cascade is a giant, very aesthetically pleasing staircase made of limestone. It is one of the most popular things to do in Yerevan, Armenia – and for good reason!
The Cascade was designed by architects Jim Torosyan, Aslan Mkhitaryan, and Sargis Gurzadyan. It was unveiled in 1980.
Functionally, the Cascade links downtown Yerevan to the Monument neighborhood. Artistically, the architecture is beautiful and a great photo stop!
If possible, visit the Cascade at sunset. The golden hues over the city is a breathtaking sight. And, on a clear day, you can see all the way to Mount Ararat.
You May Also Like: Is Armenia Safe? A Complete Armenia Travel Guide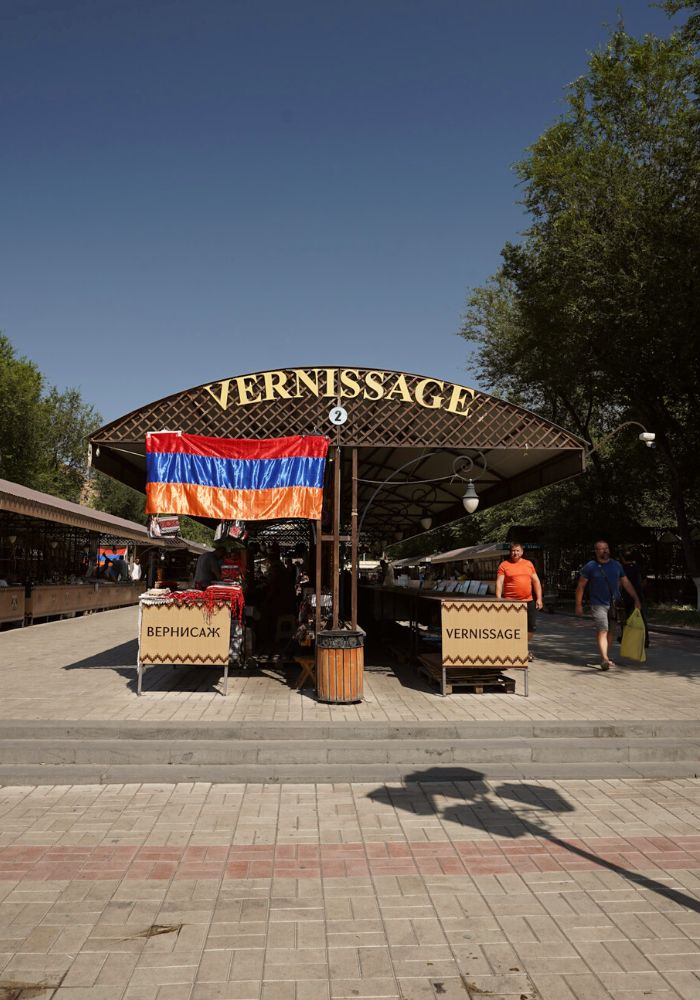 6. Shop for souvenirs at Vernissage Market.
Vernissage is Yerevan's unique open-air souvenir and craft market. It is a roughly 5 minute walk from Republic Square, along Aram and Buzand streets. Vernissage is open daily, though the weekdays won't have quite as many open shops as the weekends do.
You can find everything here from handmade chess sets, paintings by local artists, keychains and trinkets, to colorful carpets. This is the best place to shop for souvenirs, so if you have anyone to buy for (including yourself), don't skip Vernissage!
Haggling is okay here, so come ready to negotiate.
7. Purchase local art at the Painters' Market in Yerevan.
I mentioned above that Vernissage features painted artwork in the market. But if you are in search of amazing artwork to take home with you, then you should consider a stop at the Painters' Market. this market is located near the Opera House, which we talk about below.
Seven days per week, local artists set up and sell their frames here. Expect to see subjects like Mount Ararat, bright red pomegranates, Lake Sevan, and the various monasteries in Armenia, like Noravank Monastery.
More sellers come out in the summer months, but you'll find artists here all year round. The paintings come in all styles, so you are sure to find one that suits your taste!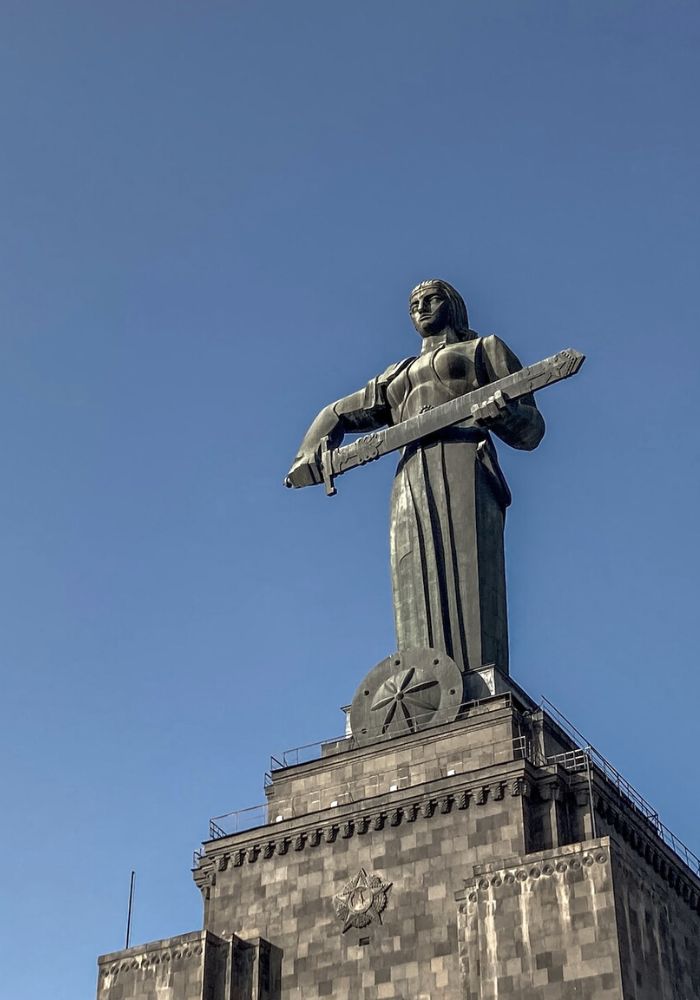 8. Visit Mother Armenia.
Visible from many parts of Yerevan, the tall statue of Mother Armenia stands watching over her city. The statue is located in Victory Park, and you can visit Mother Armenia from up close and personal.
Originally called Lenin Square, this area was once a marching ground for military parades. The history of this spot reminded me quite a bit of Tbilisi's Freedom Square. In Soviet times, there was a tall copper statue of Stalin in the park. In 1962, the statue of Stalin was dismantled and later replaced by Mother Armenia, now a major symbol of the city.
Getting to Victory Park is an easy walk from Cascade, so it's a great idea to see both in one trip!
9. Watch a performance in the Yerevan Opera house.
If you're visiting Yerevan in the colder months, a trip to the Opera is a great way to get a taste of culture and glam it up for a night indoors.
This Opera House was officially opened in January of 1933. It was designed by Armenian architect Alexander Tamanian. Shows and events run year round.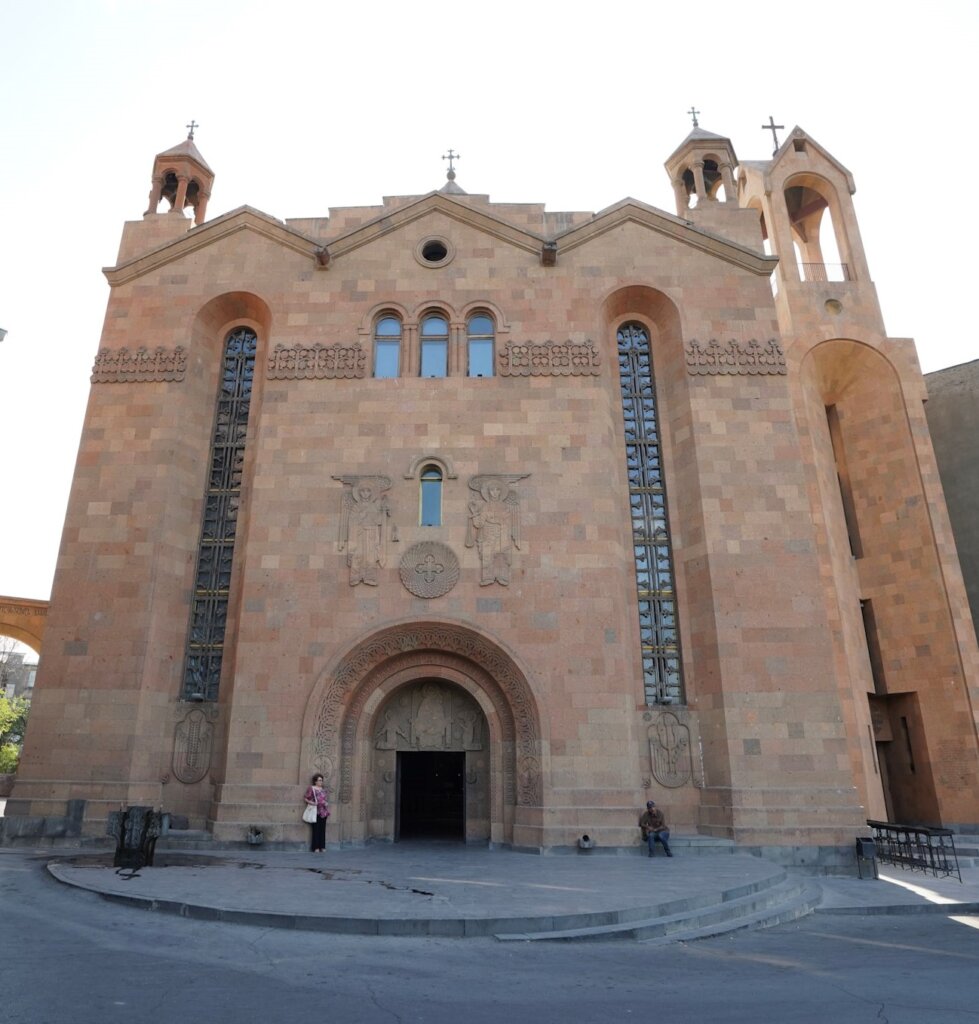 10. Explore the interior of St. Sargis Church.
St. Sargis Church is tucked away on one of the side streets of Yerevan. The impressive Saint Sargis Cathedral was built in 1842 and is the seat of the Araratian Pontifical Diocese of the Armenian Apostolic Church.
Services are led in the Armenian language. When no services are in session, visitors can enter this beautiful and old building to explore the interior.
11. Get up close to the Shushi carpet collection.
Completely free to attend, this exhibition is found in the Alexander Tamanyan National Museum-Institute of Architecture, directly across from Vernissage.
The collection took 20 years for Vardan Astsatryan to collect from different families living in the villages of Artsakh. You'll get to see 71 samples of unique carpets created by local families. The oldest carpet on site is 350 years old!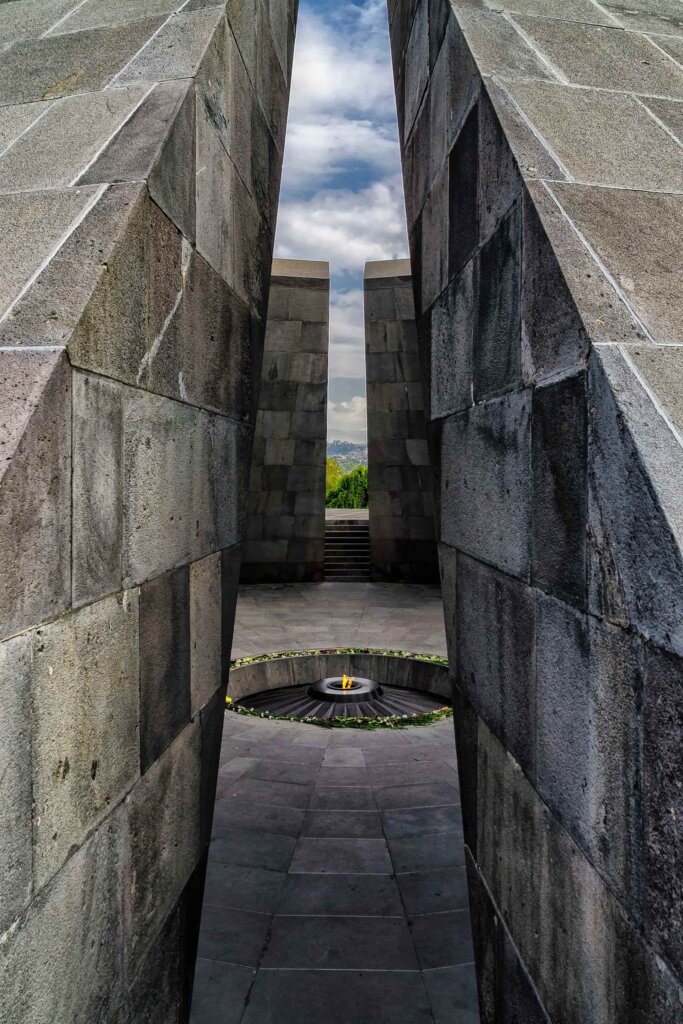 12. Pay your respects at Tsitsernakaberd, the Armenian Genocide Memorial Complex.
You may already know, Armenia has a tragic and violent past. Of all the things to do in Yerevan, this stop may just be the most important of all.
The Armenian Genocide Memorial Complex was built in 1967 and is dedicated to the victims of the Armenian genocide. The monument is comprised of two elements; a tall pointed column and a large circle made of slabs.
The tall column symbolizes the national rebirth of the Armenian people. The 12 slabs that create the circle represent the 12 provinces Armenia lost to present-day Turkey. (It is worth noting that Armenia has no relationship with Turkey and border some crossings are closed.)
Inside, at the center of the circle, an eternal flame burns continuously, dedicated to the 1.5 million people killed during the Armenian Genocide. No trip to Armenia would be complete without paying your respects at Tsitsernakaberd, the Armenian Genocide Memorial Complex in Yerevan.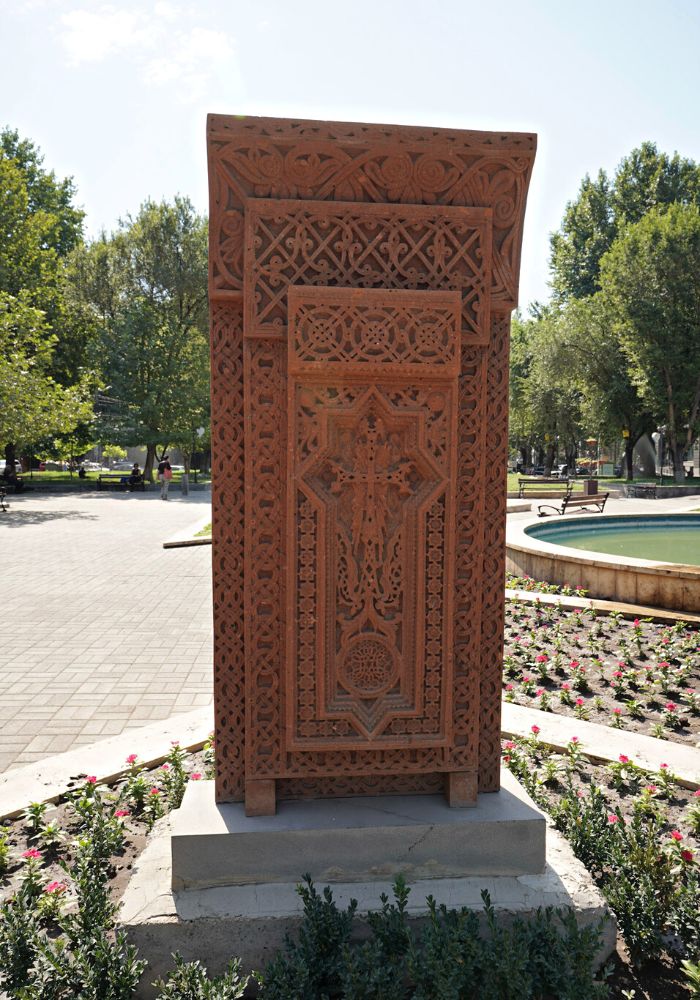 13. Walk through the intricately carved sculptures at the Alley of Khatchkars.
I stumbled across this site after visiting Vernissage, and boy am I glad I did. The tall monument for Garegin Nzhdeh is what you will likely see first, but even more fascinating artifacts are waiting for you in this outdoor exhibition.
A "khatchkar" is an Armenian cross carved into a rectangular stone, typically adorned with additional decorative elements like rosettes, lines, shapes, and botanical motifs.
Some of the khatchkars date all the way back to the 1300's, and others are from the 1500's. The square is very peaceful, green, and well maintained.
14. Eat fresh Armenian bread.
Lavash is a traditional Armenian flatbread that you'll find all throughout the country. The dough is pressed thin and is often used to make wraps and sandwiches. While Lavash is probably the most well-known Armenian bread, I very much enjoyed the new-to-me Armenian breads bought fresh all throughout Yerevan.
First, the thin Zhingyalov Khats, which was stuffed with spinach and leeks, was a tasty treat. It comes from Artsakh, or the famously disputed Nagorno-Karabakh region. The flatbread is typically topped with the herbs and greens, then folded over and sealed.
And, the star of the show for me was hands down the large and chewy Shotis Puri, which I enjoyed fresh and hot. This bread can be found elsewhere throughout the Caucus region, but I first tried it in Armenia. Definitely grab one for yourself!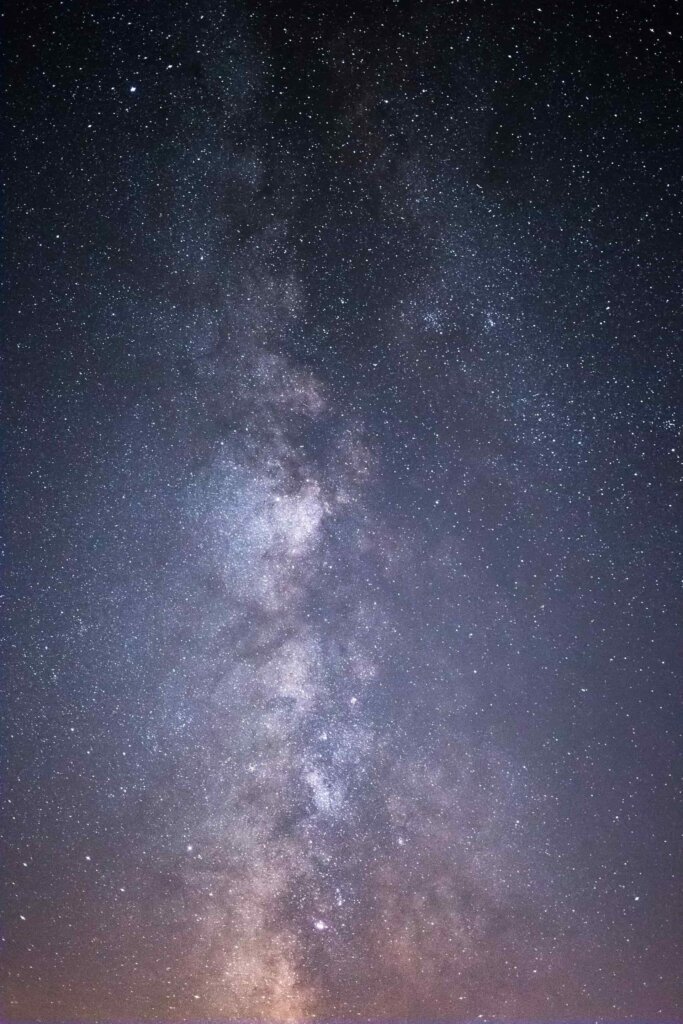 15. Discover the stars at the Byurakan Astrophysical Observatory.
The Byurakan Astrophysical Observatory was founded in 1946, during the Soviet era, and is located on Armenia's highest peak. On clear nights, visitors are welcome to explore the observatory and its telescopes. I personally love how small I feel when I see how vast and endless the galaxy is.
If this is an experience you are interested in, be sure to book it early in your trip. The weather in Armenia can be unpredictable. If you book this on one of your first nights in the city, and then the weather is unfavorable, you'll likely be able to rebook to another night.
16. Get an adrenaline rush at Yerevan Park.
Yerevan Park is a modern day amusement park, equipped with over 25 rides, including four major roller coasters and a super-tall ferris wheel. if the older Soviet era amusement parks just don't do it for you, Yerevan Park sure will.
This fairytale-themed park is filled with characters and attractions with Armenian roots – think like Armenian Disneyworld. The goal was to create characters that locals could be proud of and consider "theirs."
Yerevan Park is the place for you if you need a good old fashioned adrenaline rush!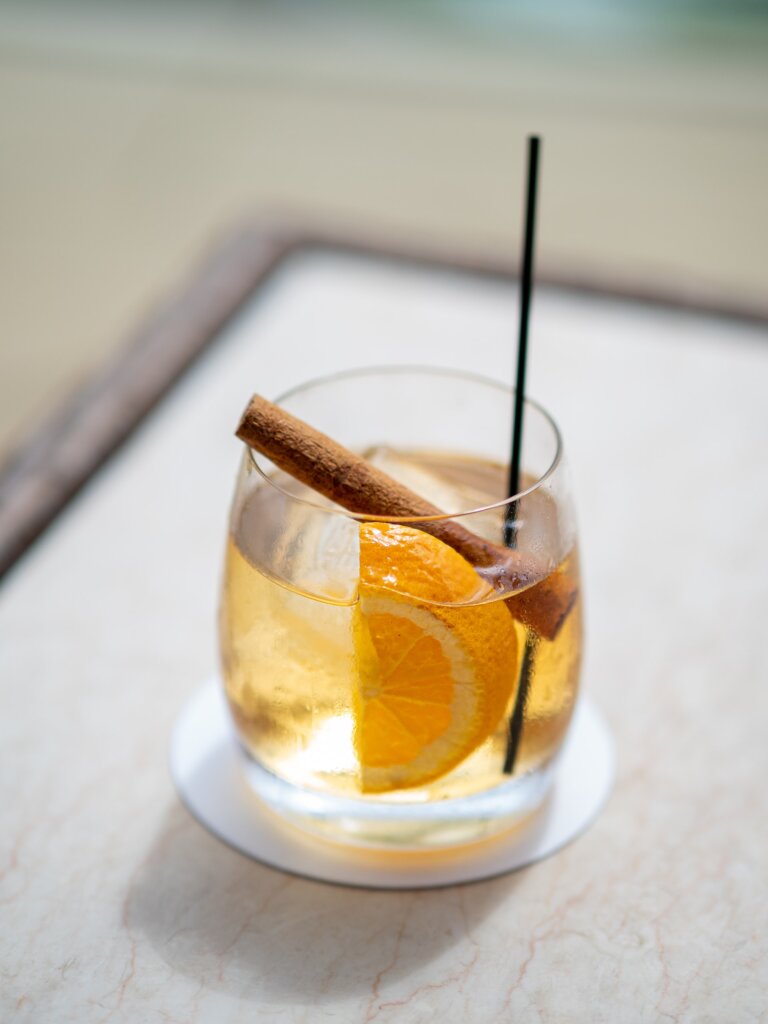 17. Imbibe at the Ararat Brandy Factory.
Armenia is known to be one of the oldest wine-producing nations in the world, but you may not have known that they produce brandy, as well!
During the Soviet era, Armenia was the nations premier brandy producer. And while there are several places to taste brandy throughout the country, I highly recommend the Ararat Brandy factory in Yerevan.
Visitors can tour the facilities to see how the legendary brandy is made, not to mention their vodka and wine. To book your tour at the Yerevan Ararat Brandy-Wine-Vodka Factory (yes, that is the official name!) you can visit their website here.
18. Go food-tasting at the local GUM market.
The GUM market (pronounced "Goom") is the place to visit if you want to try fresh local fare. Armenians come here to sell fresh and delicious produce, spices, candies, and more.
I love visiting this type of market because you get to blend with the locals and try certain foods that you may not see in a grocery store. Most food-sellers will offer samples of what they are selling, so come on an empty stomach and try away! When in Armenia, right?!
Definitely try the dried and candied fruits, and the famous sujukh (a long band of walnuts dipped in grape juice – called churchkella in Georgia!) And, pick up some nuts, spices, produce, and herbs here if you booked a room with a kitchen.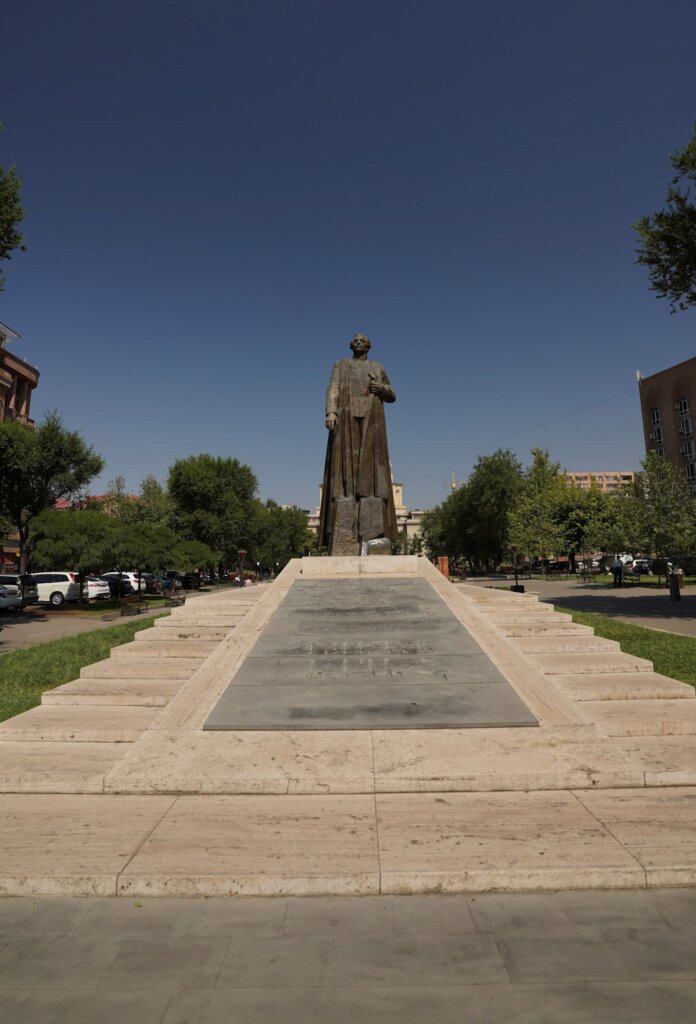 19. Then, set up a picnic.
One of the best things to do in Yerevan, hands down, is people-watching. I always find it fascinating to observe local people going about their lives in another country.
After stopping at the GUM market (or anywhere else you prefer to grab lunch), find one of the many green parks in Yerevan and set up a tasty picnic lunch. My personal suggestion for your picnic spot is the Alley of Khatchkars, mentioned above, because they have benches set up in this prime people-watching spot.
20. Check out the architecture at the Saint Gregory the Illuminator Cathedral.
Christianity plays a huge part in Armenian society. As the first nation to officially adopt Christianity, Armenia is hoe to more than 4,000 churches and monasteries spread across this tiny country.
The largest church in all of Armenia is the Saint Gregory the Illuminator Cathedral, and it is grand! While the decor is understated, the architecture is impressive, and typical of the Armenian style.
Saint Gregory the Illuminator Cathedral is free to enter.
21. Visit Katoghike, one of the oldest churches in the city.
Katoghike Holy Mother of God Church is a small medieval church located on the corner of Sayat Nova and Abovyan streets. It dates all the way back to the 13th century – the year 1264, to be exact. This makes it one of the oldest churches in Yerevan.
In 1936, the basilica of this tiny church was demolished to make way for residential buildings instead. Katoghike was found by surprise, encased within the structure of the large basilica. And, the structure stayed while construction went on around it.
Katoghike has survived many hardships, from earthquakes to Soviet era demolition, and yet somehow survivved intact.
22. Explore the Sergei Parajanov Museum
The Sergei Parajanov House Museum is a small, quirky museum dedicated to the famous filmmaker in Yerevan. Though he was born in Tbilisi, he lived for most of his life in Armenia.
The museum showcases Parajanov's long career through an eclectic collection of films, mixed-media artwork and original, personal possessions. You truly "get to know" Sergei Parajanov as you walk through the museum.
It's worth a stop even if you are not familiar with his work, and only costs 1000AMD.
23. Observe traditional carpet weaving at the Megerian Carpet Museum.
Though it does require a taxi ride from central Yerevan, the Megerian Carpet Museum is more than worth a visit.
This privately owned museum and shop is run by a local family. It exhibits an impressive collection of colorful Armenian rugs from different regional schools. Demonstrations on how to weave and fabric dyeing take place daily..
If you are a fan of textiles and traditional crafts, then Megerian Carpet Museum is a spot you don't want to miss.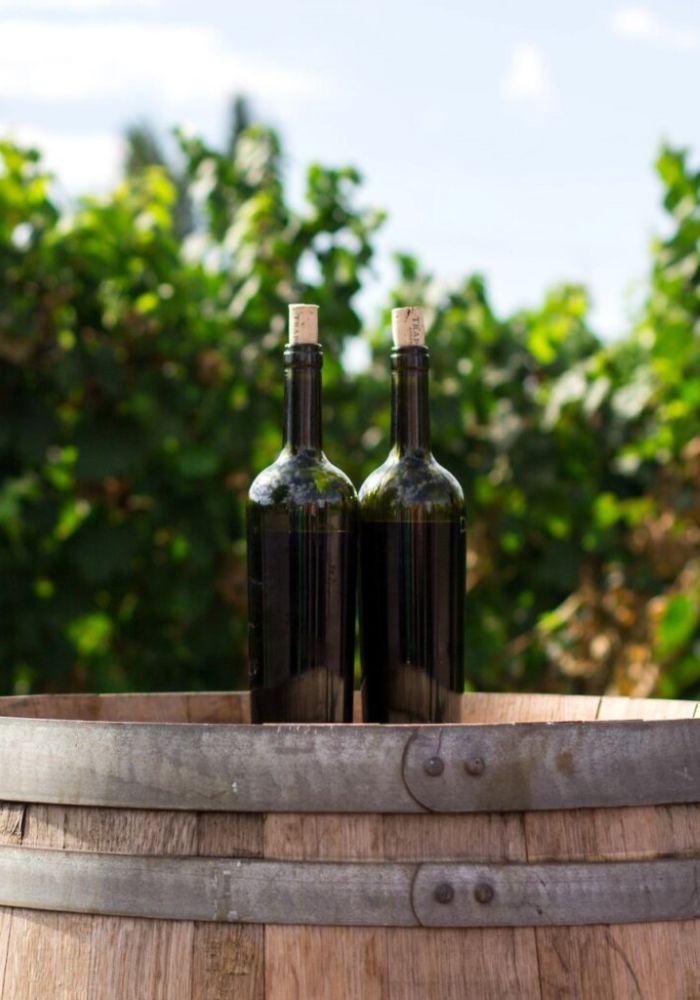 24. Try Armenian wine.
If you aren't going to make it out to Areni (which in my opinion is a mistake!) then you must at least try Armenia's famous wine at one of Yerevan's coolest wine bars.
Vino offers more than 25 local wines by the glass, so you can try a large selection for a small price. Glasses begin at 800 AMD for a generous pour.
Obviously, no wine night is complete without a nice cheese platter. Try local cheeses alongside your glass, or if you're feeling decadent, a local dessert instead.
Vino is one of the best things to do in Yerevan for those looking to taste locally made wines. The wine bar is located on Saryan Street.
25. Get artsy at the TUMO Center for Creative Arts.
Having a background in the arts, I just couldn't skip a visit here to TUMO. The TUMO Center for Creative Arts offers free tours to the public, so visitors can see the facilities, meet the artists, and see the creative projects they're working on.
This center offers courses in 14 different mediums, ranging from photography, programming, robotics and more. The tour lasts roughly one hour and is very worth the visit.
Yerevan, Armenia Travel FAQ's

When is the best time to visit Yerevan?
Armenia has four distinct seasons, so it largely depends on what you want to do here!
Summers are very hot and sunny in Yerevan. This is the high season, so prices are higher and some hotels and hostels book up. Expect larger crowds and higher prices from June to mid-September. On the bright side, the delicious fruits are ripe in the summertime, so taste everything you can!
Winters get very cold in Yerevan, and the streets may be empty. It's not a bad time if you enjoy indoor museums and attractions, but winter is not great for walking around the city all day.
As usual, I'm a big promoter of shoulder seasons, sine prices drop and streets are less crowded – but you still get sunny days and less heat. Because of this, I highly recommend both soring (March – May) and Fall (Sept – November.)
Looking for More to Do in Armenia? Check Out These Tours.
The Best of Yerevan City: Private Walking Tour
Lake Sevan & Dilijan Full Day Tour from Yerevan
Khor Virap, Noravank , and Areni Full Day Tour from Yerevan
From Yerevan: Group Tour to Tatev Cable Car and Areni Winery
Evening Walking Group Tour: Explore City Center of Yerevan
From Yerevan: Gyumri City and Harichavank Day Trip
Yerevan: Museums, Tours, Activities & Discount City Card
Is Yerevan expensive?
Armenia as a whole is an extremely budget-friendly travel destination. Yerevan itself is a bit more expensive than other parts of the country because it is the capital city, but overall it's very affordable. Yerevan prices are very similar to what you find in Tbilisi, Georgia, for reference.
For more currency information, check out my complete Armenia travel guide.
***
There is so much to see and do in Yerevan. I don't think that anyone could ever get bore hered!
Whether you love history, or nature, or local markets and museums – you'll find it all here. Yerevan has countless things to do for every type of traveler.
Let me know below – which attraction are you most excited to visit in Yerevan?
Pin Me for Later!