Looking for the best places to visit in Armenia? Look no further! From monasteries to mountains to monuments, these tourist attractions are some of the most spectacular sights in the country.
Pin Me for Later!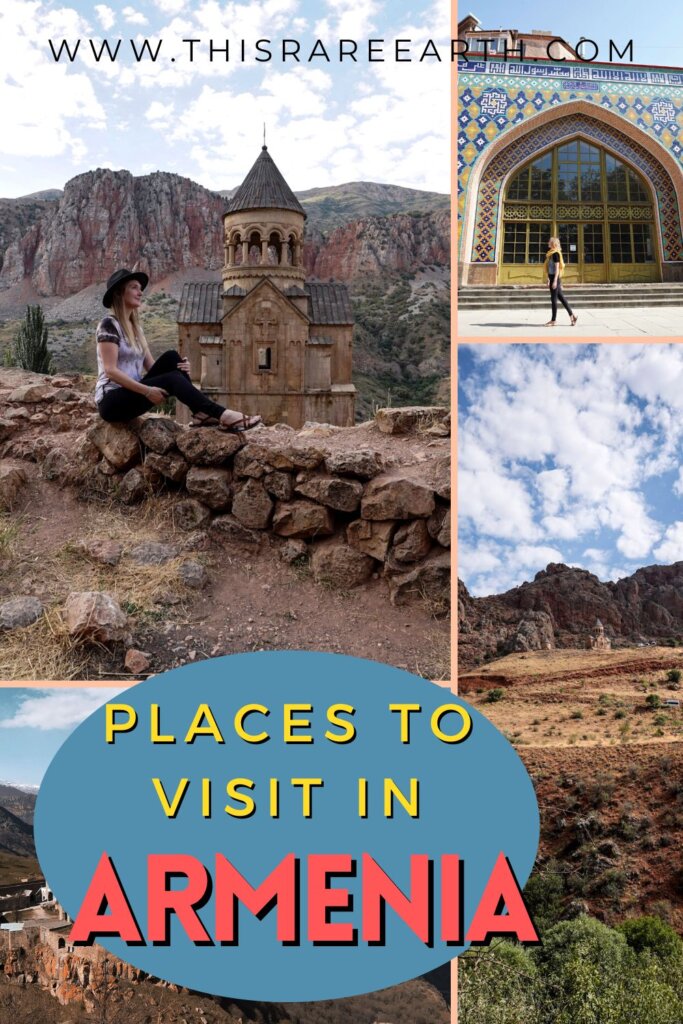 The Best Places to Visit in Armenia
Armenia is certainly not what you would call a hot tourist destination. Very few travelers visit Armenia and even fewer venture outside of the capital.
Armenia is the epitome of "off the beaten path" and that's exactly why I liked it. From city to country to cultural sights, there are so many surprising things to see and do here.
If you are headed to Armenia and are wondering what you can't miss, then here is your list. Read on for the best places to visit in all of Armenia!
You May Also Like: The Ultimate Armenia One Week Itinerary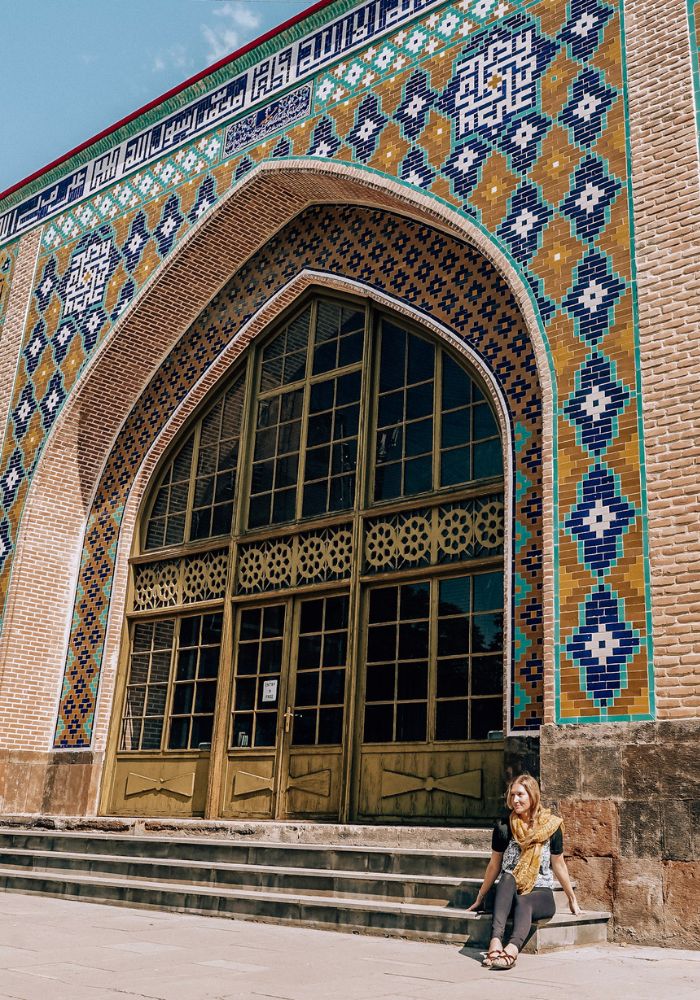 1. Yerevan
If you fly in to Armenia, you will likely land in the capital city of Yerevan. Yerevan is the largest city in Armenia, and it is home to some of the best places to visit in Armenia.
Walking around Yerevan, you will see a mix of bustling city life contrasted with small town vibes. Large and oud buses will fly by on the streets while local fruit and vegetable vendors sit on the sidewalk selling goods.
The city has a number of notable monuments and museums that you should see. Here are some of the best places to visit in Yerevan, Armenia.
The Blue Mosque – This was one of my "must see" locations before visiting Armenia, and now afterwards it is one of my favorites. Built in the 1700's, this Mosque is the last remaining mosque in the entire country. It is currently used as a place of worship, a Farsi language classroom, and a photo gallery.
Cascade Complex – The Cascade is a huge limestone staircase made of limestone in the middle of Yerevan. It connects downtown Yerevan to the Monument neighborhood, and on a clear day you can see Mt. Ararat in the distance.
Republic Square – This is the heart of downtown Yerevan. Republic Square consists of two distinct sections: an oval roundabout on the street and a trapezoid-shaped section with musical fountains.
Vernissage – Vernissage is one of the best places in all of Armenia to haggle for souvenirs. Here you will find everything from paintings to chess boards to wallets and dishes and soviet-era artifacts.
Armenian Genocide Museum & Memorial – You can't visit Yerevan without stopping by the Armenian Genocide Museum & Memorial. Here you will learn the deep history of the country and information on the Armenian Genocide and how it has affected the people.
St. Sargis Cathedral – Tucked away on one of the side streets of Yerevan sits the impressive Saint Sargis Cathedral. This church was built in 1842 and is the seat of the Araratian Pontifical Diocese of the Armenian Apostolic Church.
For even more details and locations within Yerevan, check out the linked post below.
You May Also Like: Things to Do in Yerevan, Armenia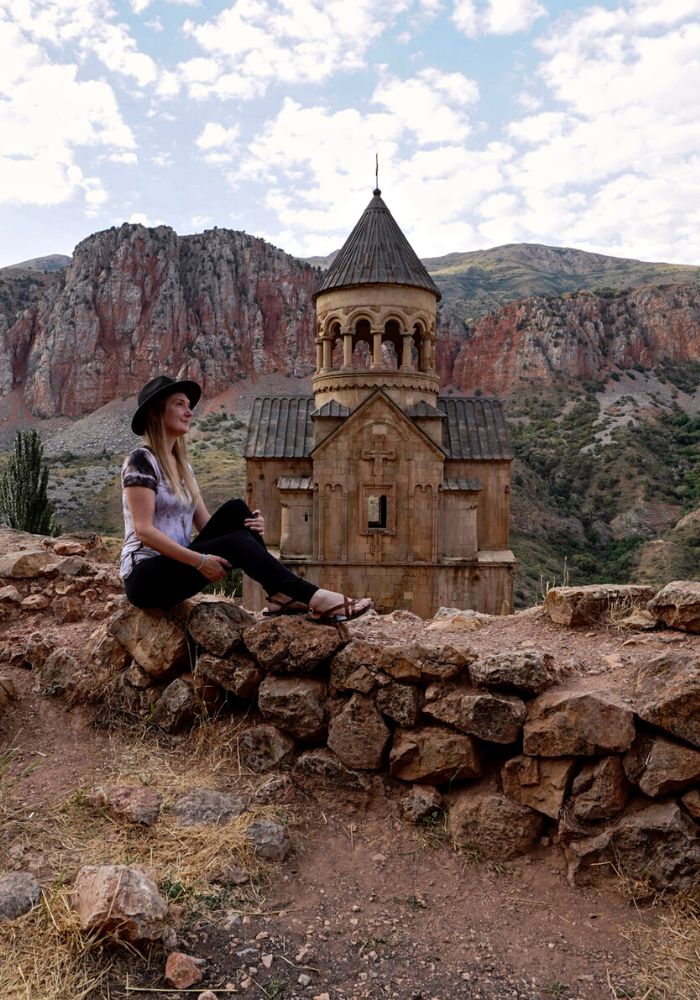 2. Noravank Monastery
You do not want to miss Noravank Monastery!
Tucked away within the brick-red mountains of Yeghegnadzor, this is hands down one of the best places to visit in all of Armenia.
Visitors will drive through a narrow gorge on a road that winds through the mountains. Don't forget to look up – you will see the top of the monastery start to peek over the green grassy hillside.
Noravank was built in the 13th-century and is arguably the most stunning monastery in all of Armenia. The steep rocky cliffs and bold surroundings create such a surprising backdrop, it will leave you speechless.
You May Also Like: A Complete Guide to Visiting Noravank Monastery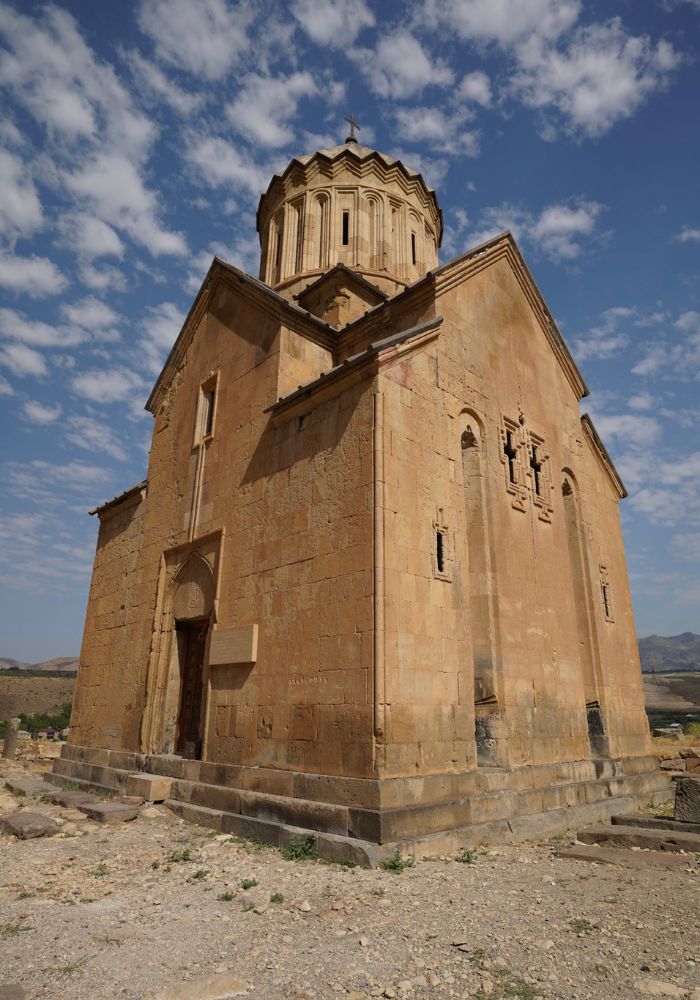 3. Areni
Roughly 15 minutes from Noravank, the small village of Areni is known as one of the oldest wine regions in the world. (If you ask them, it is the oldest. But if you ask their next door neighbor, the Republic of Georgia, then they claim that the title is theirs.)
Regardless of who the winner is, Areni is a must see. The Areni-1 cave is an archeological site where a 4,000 year old wine-making practice has been discovered. If you visit, you can still see the excavations going on today.
There are four large wineries in the village that you can visit for tastings, and the one I recommend is Hin Areni.
You May Also Like: Things to Do in Areni, Armenia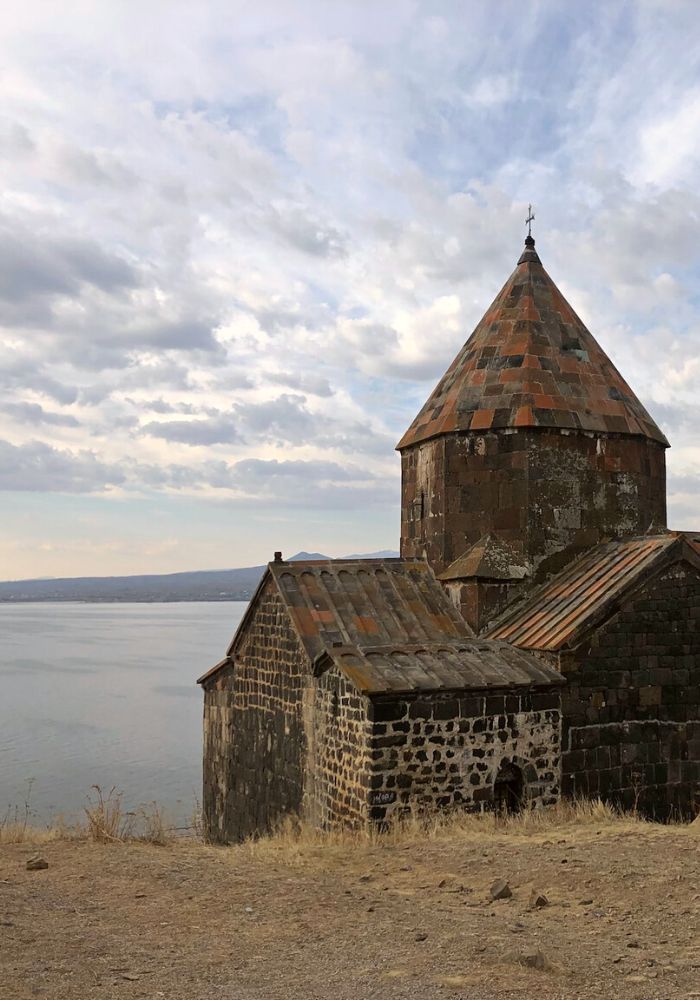 4. Lake Sevan
Lake Sevan is located in eastern Armenia and is the largest body of water in the entire Caucasus region. It's a super popular escape from Yerevan due to it's beaches, which are stunning.
While Armenia has no direct access to the sea, Lake Sevan is a suitable stand-in. In the summertime, temperatures are much cooler than Yerevan's heat and in the winter, the site is calm and quiet.
Next to the water on a narrow peninsula sits the Sevanavank Monastery, another must see, which dates back to the 9th century.
You May Also Like: Things I Wish I Knew Before Visiting Armenia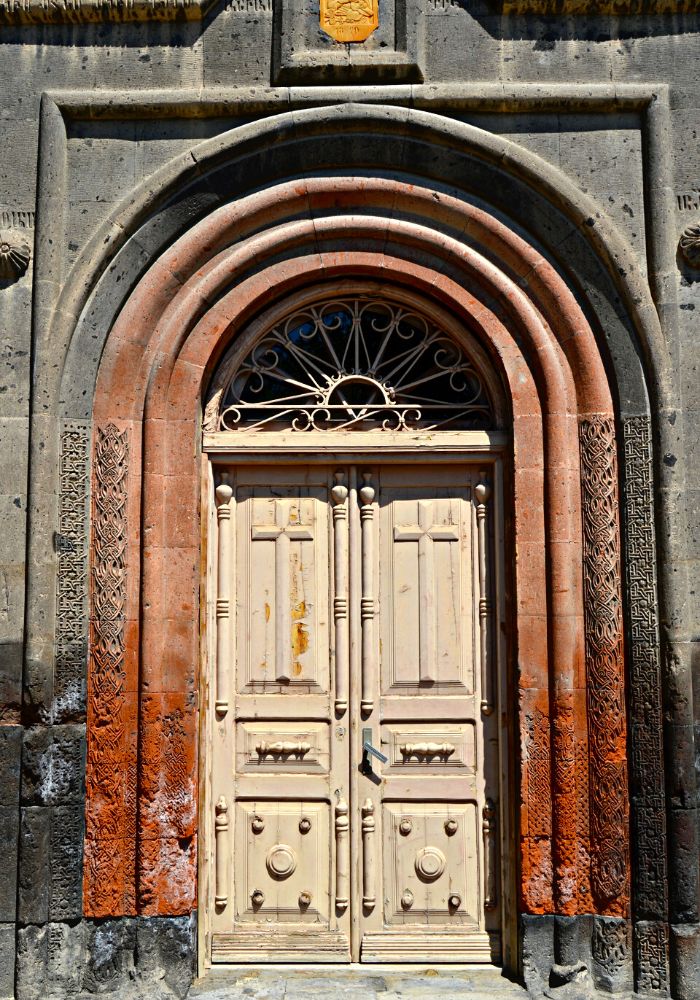 5. Gyumri
Gyumri is the second-largest city in Armenia, and one that came highly recommended to me from an Armenian resident. The signature black-and-terra cotta colored architecture is what convinced me to go, and I am so glad I did.
This city full of creatives contains everything from trendy cafes to artist studios, man of which have been rebuilt after the devastating Spitak Earthquake in 1988, which unfortunately flattened many of Gyumri's buildings and took many lives.
Despite the heavy history, Gyumri holds some of the most picturesque places to see in Armenia. Here are a few to add to your Armenia itinerary.
Sev Berd – This Black Fortress is a massive Russian Imperial fortress that has sat abandoned for years. The circular building was built between 1834 and 1847 after the Russo-Turkish War. It offers great views of the city below.
Freedom Square – Known as Vartanants Square on the map, this central point in Gyumri is home to several iconic churches as well as City Hall. The square first opened in 1930 and is still an important part of the city.
Mother Armenia – Slightly on the outskirts of town, located on a hill near the Black Fortress, stands Gyumri's Mother Armenia statue. Not quite as large or looming as Yerevan's statue, she is still worth a visit!
Yot Verk Church – Though the smaller of the two churches that sit on Vartanants Square (mentioned above), Yot Verk is a must see. The church sustained major damage from the earthquake in 1988, and two huge stone steeples can still be seen on the grass today.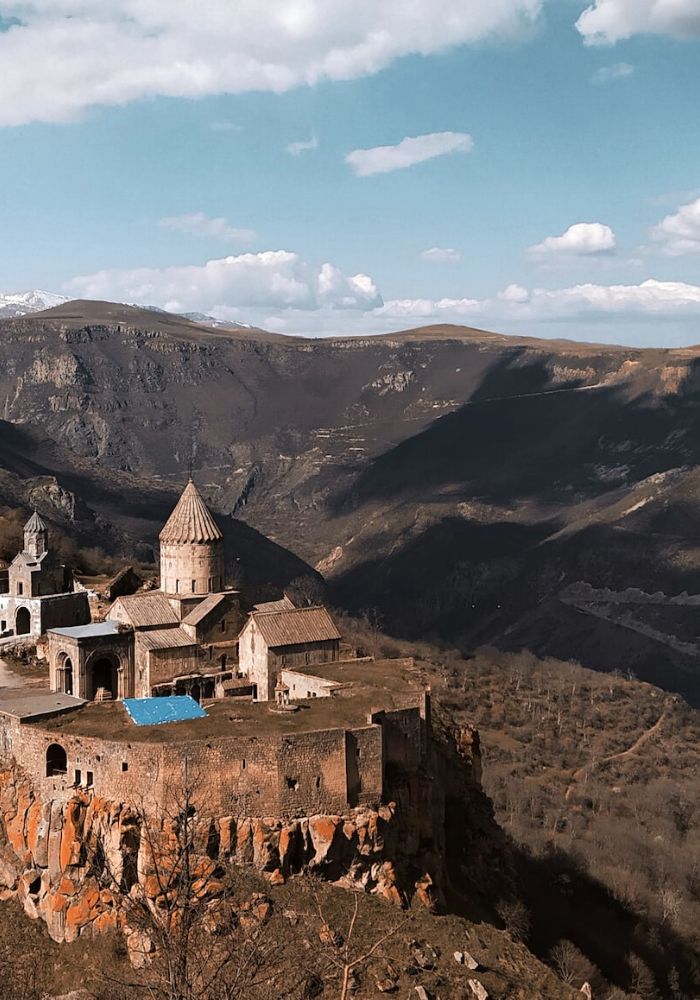 6. Tatev
Tatev is a village in the Syunik Province in Armenia. It is home to another fairytale-looking 9th-century Monastery, Tatev Monastery, which sits perched on a grass-covered cliff. Seriously – it looks unreal. Behind Noravank, this is the second-prettiest Monastery in Armenia.
Tatev is also home to the world's longest non-stop double track aerial tramway called the Wings of Tatev, which gives a stunning birds-eye view.
You could also choose to hike to the top, which will take around three hours, on average.
You May Also Like: Is Armenia Safe? A Complete Armenia Travel Guide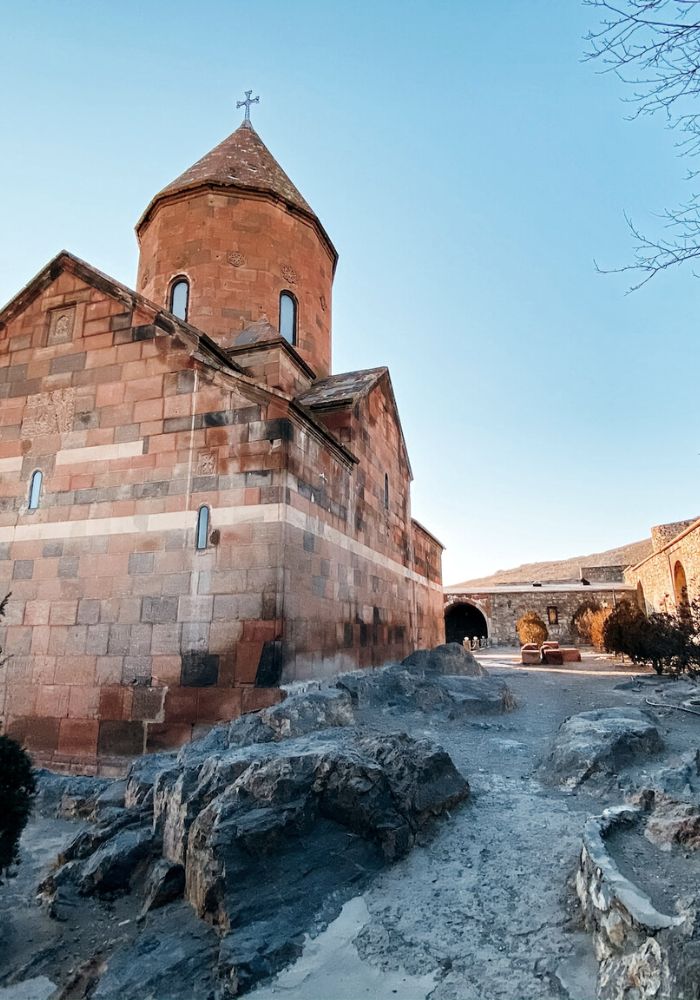 7. Khor Virap Monastery
By now, you have probably noticed that Armenia is well-known for its many monasteries. And, Khor Virap is easily one of the best known. The views here are spectacular!
When visiting Khor Virap, leave time to explore both inside and outside of the monastery. Visitors can climb down into into a (cramped and narrow) basement where Saint Gregory once was. In the summer, prepare to sweat. It gets hot down there!
The views behind the monastery feature Khor Virap, Mt. Ararat and even Turkey.
8. Yell Extreme Park
If you need a break from the historical side of Armenia and instead need a day of adventure, consider a trip to Yell Extreme Park in the Tavush Province of northeastern Armenia. This is the very first adventure park in the country.
Visitors can choose between zip-lining, horseback riding, the rope park, and the via ferrata, to name a few. Yell Extreme Park is a two-hour drive from Yerevan.
How to Get Around
Hands down the best option is to rent a car and self-drive if possible. Public transport is not great outside of Yerevan, and staying centralized means you need t make that drive back to the city from each and every day trip.
If you don't want to drive, group tours are another good option and they visit all of the best places to visit in Armenia, listed here.
Some great tour options that cover these sites are:
When is the Best Time to Travel to Armenia?
Shoulder seasons are the way to go for Armenia. We're talking April and May or September and October. These months will offer the most pleasant temperatures and fewer tourists.
However, if you prefer longer days or have a summer vacation, June, July and August are definitely beautiful. Be prepared for hot days and more crowds. And again, in general, Armenia is not heavily trafficked so "crowds" is a bit of an exaggeration, in my opinion.
Winter would be beautiful, but cold and snowy, which would make getting around the mountainous roads more difficult.
***
These tourist spots are some of the best places to see in Armenia. Luckily, Armenia is a fairly small country, so you can easily see all of these sights in one week in Armenia. Add them to your Armenia itinerary now!
From monasteries to mountains to monuments, you can see it all.
Need More Armenia Inspiration? Check out these posts!
The Best Places to Visit in Armenia
Let me know below – which of these is at the top of your list?!
Pin Me for Later!