Have you seen those strange colorful rocks stacked in towers all over Instagram? Are you wondering what these colored rock sculptures in the desert of Las Vegas are? Below is everything you need to know about visiting the Seven Magic Mountains rock sculpture in the Las Vegas, Nevada desert.
Pin Me For Later!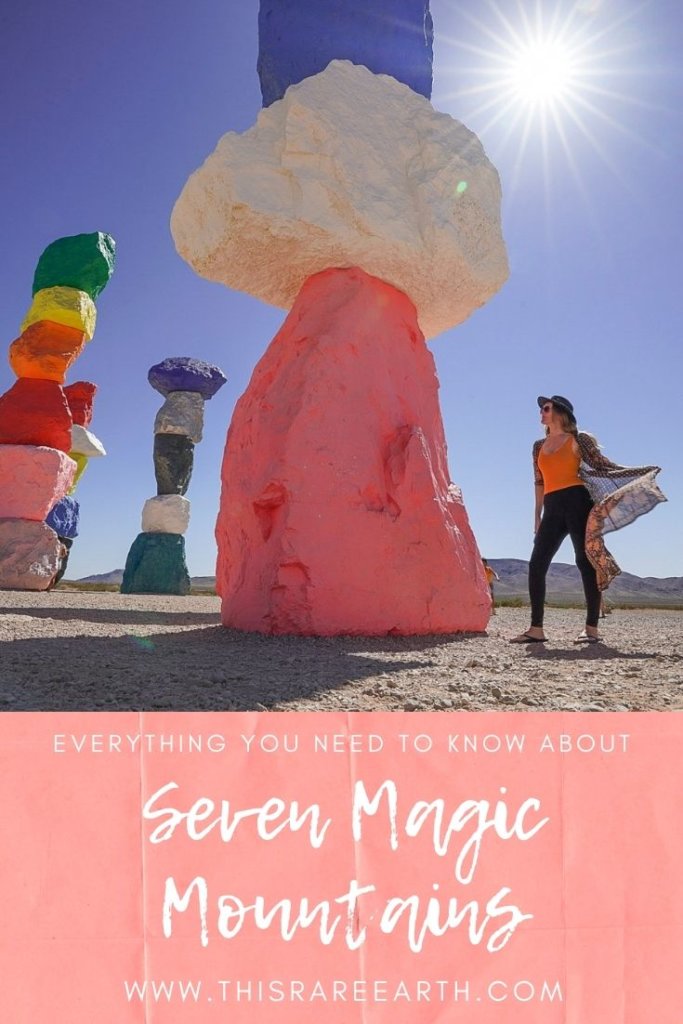 I remember when I first saw a photo of large, rainbow colored rocks stacked in towers on Instagram.
A friend of mine had posted the image and I was immediately intrigued by the bright colorful rocks, which I quickly learned were located just outside of Las Vegas in the Mojave Desert.
Having an artistic background myself, I immediately felt the urge to dig into the concept behind these large sculptures. Who made them? What were they for? And could I go see them?
I found them to be strange and beautiful – the unnatural neon colors against the brown desert terrain. Now, I've been here several times and will share with you everything you need to make your own trip easy.
You May Also Like: The Best Road Trips from Las Vegas
Seven Magic Mountains: Visiting the Colorful Rocks in Las Vegas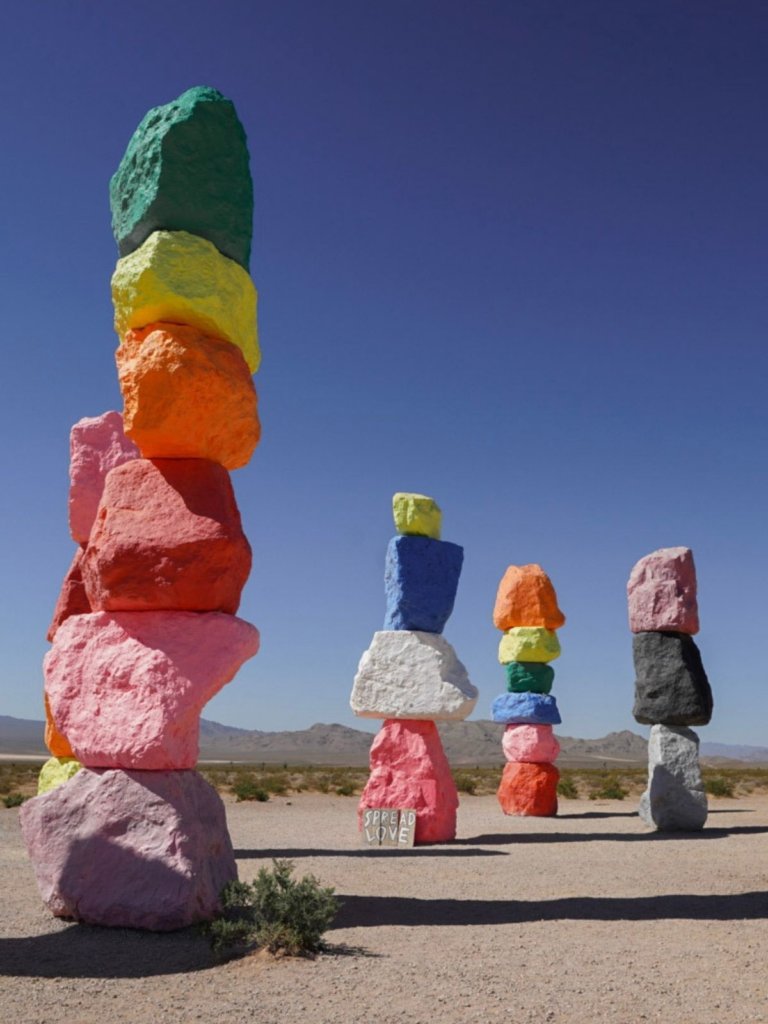 So, what exactly is Seven Magic Mountains?
Seven Magic Mountains is a public art installation created by Swiss artist Ugo Rondinone. He worked in conjunction with the Nevada Museum of Art to plant these towers in the desert, and it is now without a doubt one of the best road trips from Las Vegas.
Installed in 2016 right outside of Las Vegas, this artwork has gained massive popularity due to the stunning visuals. Tall rainbow towers of colorful rocks standing against a backdrop of dry brown desert and purple mountains – what's not to love?
Is Seven Magic Mountains still there? If so, for how long?
Yes! Seven Magic Mountains is still there. Here is the latest on how long it will stay.
The rock towers were originally meant to come down in 2018, but because of the immense popularity, received a three year extension. Seven Magic Mountains was then extended to the end of 2021. Thankfully, that time has come and gone and they were not deinstalled.
Currently, it is not clear exactly how long they will stay at their current location in the Mojave Desert. Here is a direct quote regarding Seven Magic Mountain's longevity:
"Due to the incredible success of Seven Magic Mountains since its opening, artist Ugo Rondinone has expressed a strong desire to explore ways to keep the artwork on view at its current site. The Producers continue to work on an extension plan that would enable Seven Magic Mountains to remain on view for several years into the future."
Go see them as soon as possible, because they may not be around forever!
You May Also Like: Visiting the Valley of Fire in Nevada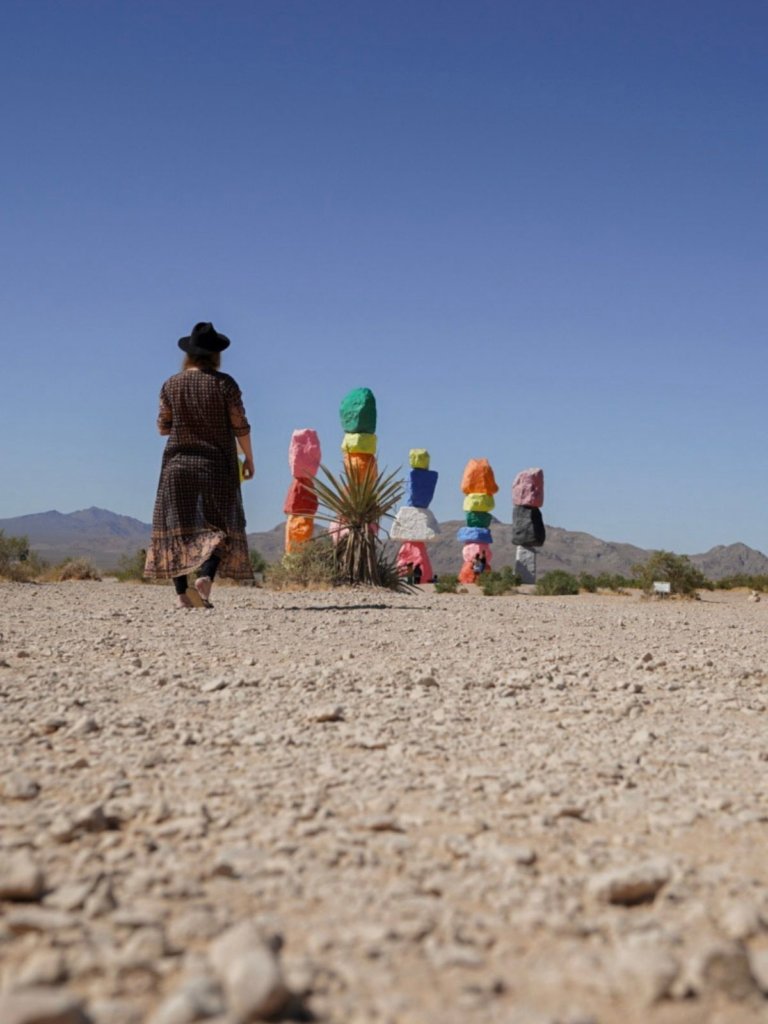 What does Seven Magic Mountains represent?
The creator of this visually stunning artwork had an interesting concept in mind when he built it. He wanted to play with the relationship between the natural and the manmade. In the artists' own words:
"[T]he location is physically and symbolically mid-way between the natural and the artificial: the natural is expressed by the mountain ranges, desert, and Jean Dry Lake backdrop, and the artificial is expressed by the highway and the constant flow of traffic between Los Angeles and Las Vegas."
The boulders that make up the rainbow totems are locally sourced. and were stacked and built on site.
If you would like to learn more from the artist himself, check out the video below.
How can I find these colorful rocks near Las Vegas?
The rocks are perched roughly 20 minutes outside of the Las Vegas strip, in a small and tucked away stretch of desert. You would likely not stumble upon them unless you make it a point to go there.
If you are driving from Las Vegas: Take I-15 South. Exit on Sloan Rd (exit 25) and turn left onto Las Vegas Boulevard. Drive approximately 7 miles south and the artwork will appear on your left hand side. You can't miss them!
If you are driving from Los Angeles: Drive north on I-15 to Jean, NV (exit 12).  Turn right (east) on NV-161 toward Las Vegas Blvd. Drive approximately 5 miles north on Las Vegas Blvd. and the artwork will appear on your right (east).
Full disclosure, I was driving from neither of these locations as I had just completed several nights camping in the Mojave desert. If you are coming from elsewhere, use the Google Maps link above.
Las Vegas does not offer public transportation to or from these colorful rocks, unfortunately, so plan to drive yourself or hire an Uber.
If driving yourself, there is a parking lot dedicated to the art installation, a very short walk from the rocks themselves. Handicapped parking is available.
You May Also Like: Planning the Perfect Girls' Trip to Vegas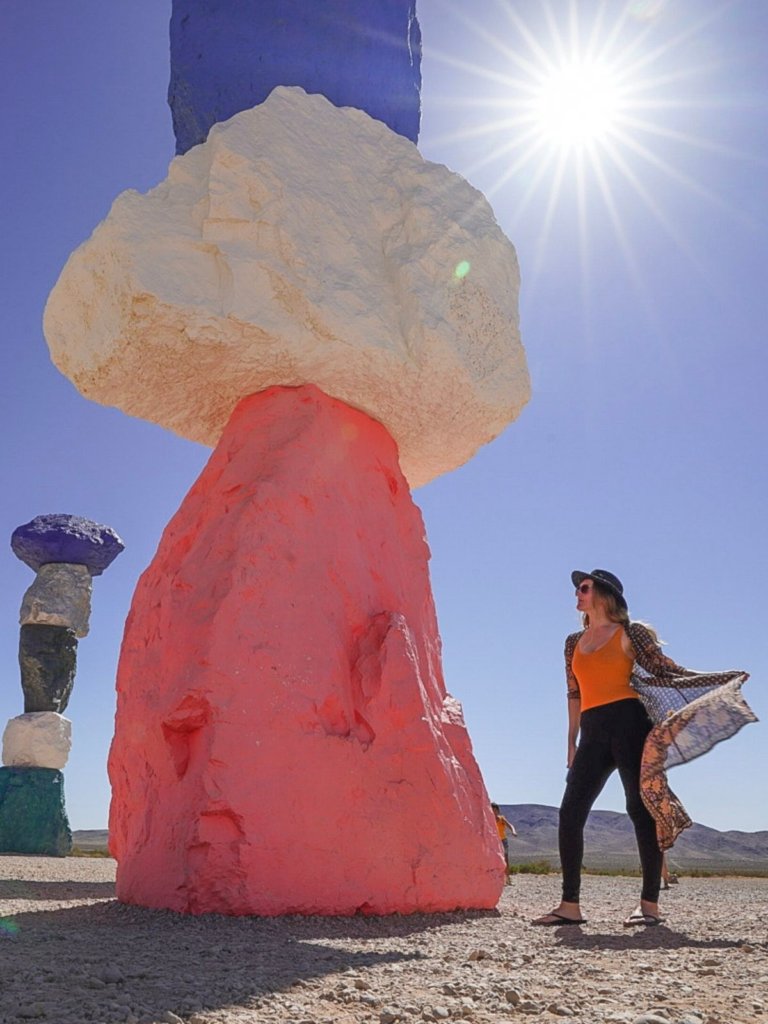 How much does it cost to visit Seven Magic Mountains?
You are in luck because this public art installation is free! There are no admission fees or tickets. There are no parking fees. You can show up and walk right over.
How much time can I spend here?
As much as you want!
If you want to get some epic photographs of the artworks (with minimal people around), you should plan to arrive as early as possible.
I would advise against visiting midday in the summer months, as the Las Vegas desert heat is intense. Visiting early will help you avoid this.
You May Also Like: Desert Wear and Hiking Essentials for the American Southwest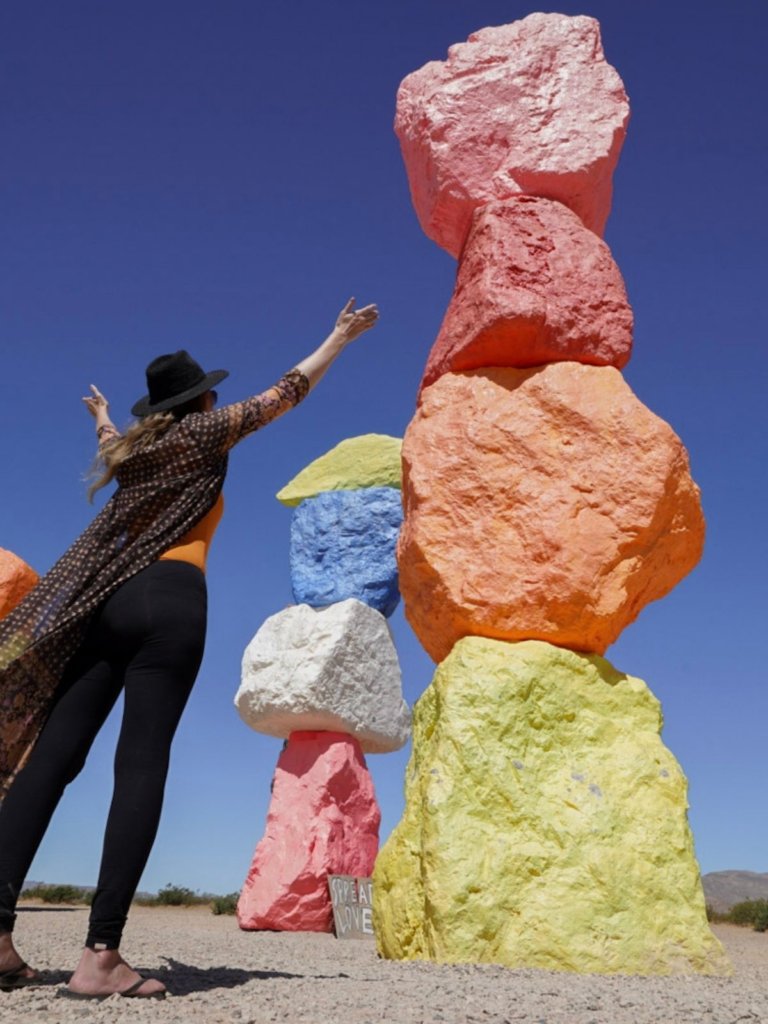 Other helpful info:
Know in advance that there are no restrooms on site. These rock towers are truly in the middle of the desert. There are gas stations, though, about 10 minutes away.
You are visiting the desert, so plan accordingly. Temperatures can frequently reach over 100 degrees in the summer months. Bring sunscreen, a hat, and sunglasses. Check out my post on desert wear for some inspiration.
The path from the parking lot to the sculpture is unpaved. It is however quite flat, and there is handicap parking available.
Don't leave any trash behind! Keep our world beautiful.
Definitely do not climb on or graffiti the stones. There are strict penalties for defacing the art.
There are plaques near the parking area that visitors can read to learn more about the artwork. Most of it is covered right here in this post, or in the video linked above.
I was lucky enough to visit on a truly cloudless day and had a surprising amount of time alone. I'm not sure if that was due to it being a weekday or that I arrived early, but I certainly lucked out!
It was already feeling very warm by 10am. As you can see there is little to no shade, except for under the rock sculptures themselves.
The art installation did not let me down – it absolutely lives up to the hype! It's very surreal; beautiful and unexpected – to see the unnaturally colored rocks towering against the harsh desert backdrop. They are like something out of a cartoon.
I could easily have stayed even longer if I didn't have plans for continuing my road trip!
You May Also Like: Five Desert Region Parks in Southern California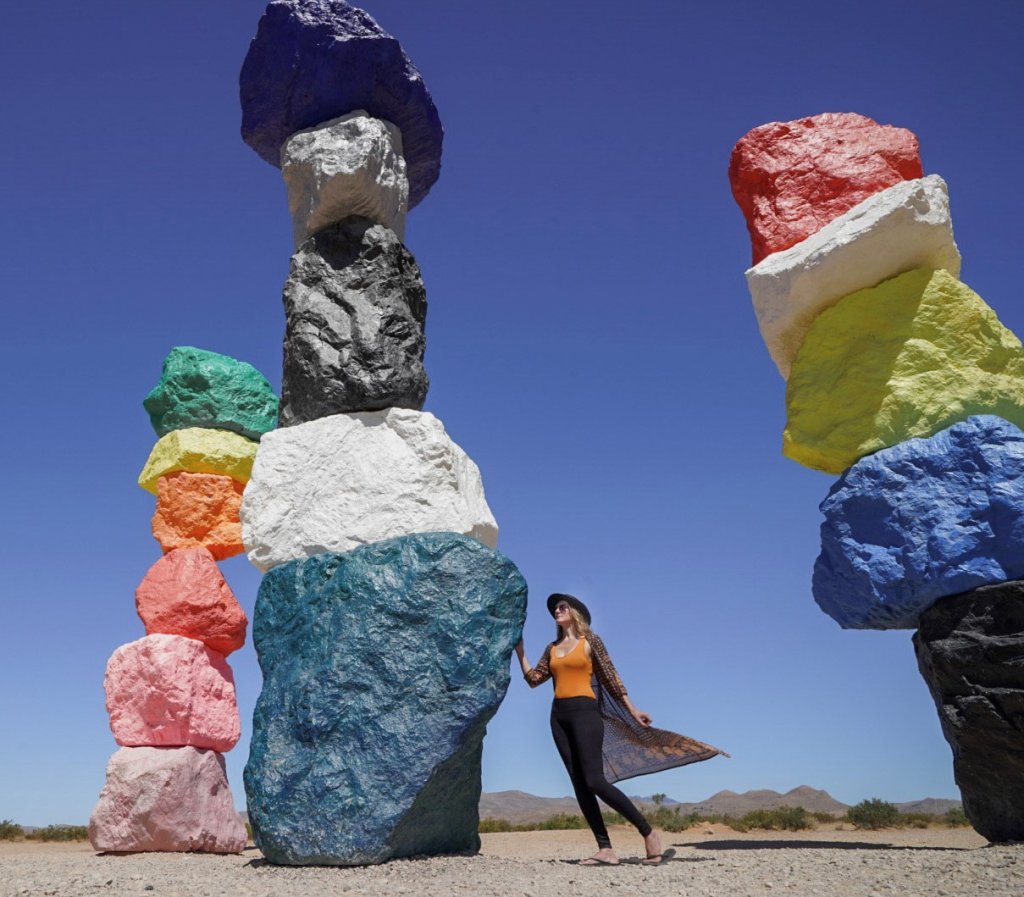 Where should I go after Seven Magic Mountains?
Another recent Nevada favorite of mine that is only about an hour east is Valley of Fire State Park. Here you will find even more stunning and colorful rock formations – though these ones are completely natural. Check out the Fire Wave hike for a real treat.
Heading into California after your Seven Magic Mountains visit? If so I highly recommend reading about Joshua Tree National Park or the more obscure Mojave National Preserve, which are both worth a visit.
Whatever you choose, enjoy exploring the beautiful southwestern deserts and these amazing neon colored rocks!
Pin Me For Later!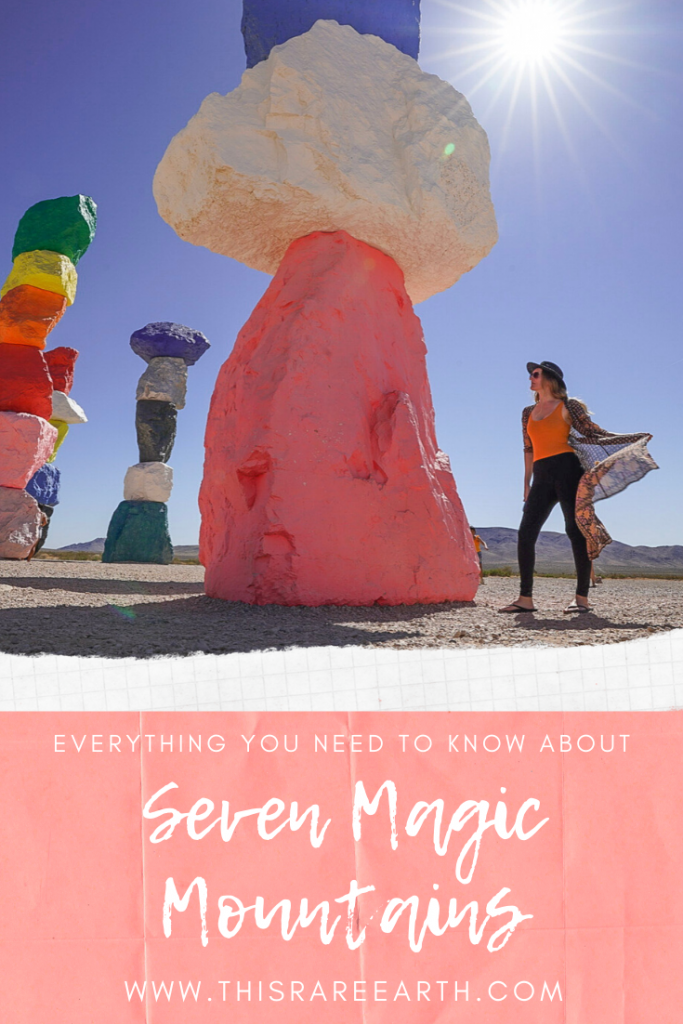 Let me know in the comments below if you have been to Seven Magic Mountains and what you thought of this work of art!