Planning to visit Peanut Island, Florida? Here is everything you need to know to make your trip memorable. From where to what to how, you will find it all in this complete guide.
Pin Me for Later!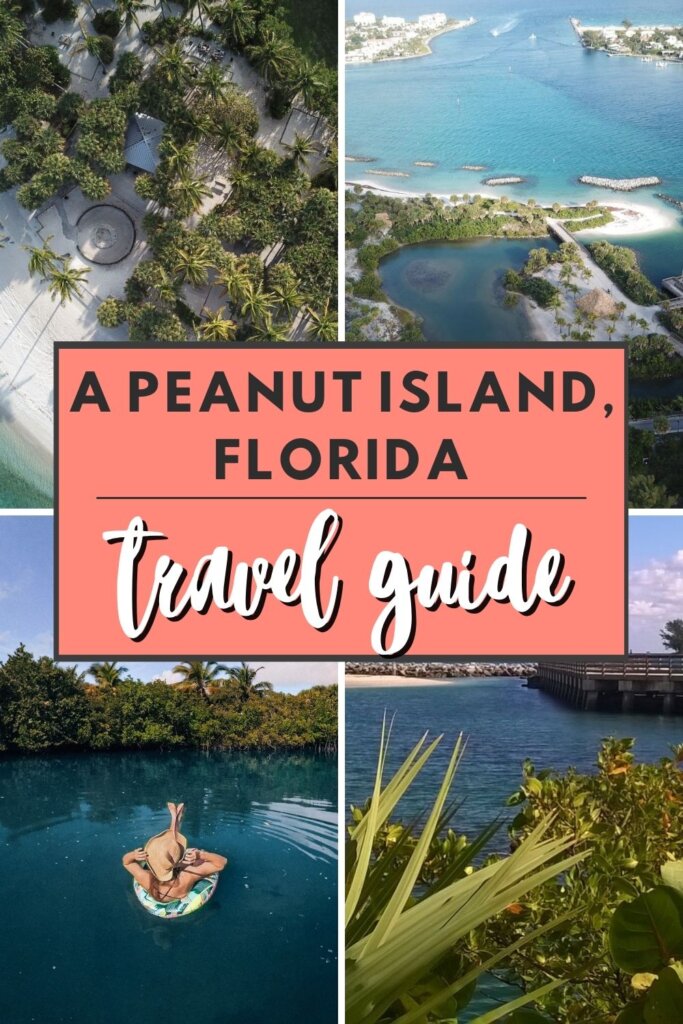 On a recent trip to Florida, I decided to make the trek from Fort Pierce to Palm Beach in order to explore the beautiful Peanut Island – which I had only seen in photos up until that point.
Peanut Island feels like an exotic location, even though you're barely off of the coast of Florida. Nonetheless, it feels like you're on a tropical vacation.
The lush mangroves, tall palm trees, and clear blue water make Peanut Island feel more like a beach in Aruba or in the Dominican Republic than a place you'd find in Florida.
And actually, that's not really too far off base, since Peanut Island is only 60 miles away from the Bahamas.
Peanut Island has some of the clearest water I've seen in the entire USA. So, if you have the chance, you should absolutely visit on a day trip. And here, you will find everything you need to know to make your visit memorable.
So, what is Peanut Island in Florida? Where exactly is it? And, did it live up to the hype? Let's dive into all of that – as well as things to do on Peanut Island and what to pack for Peanut Island in Florida below!
Where in Florida is Peanut Island Located?
Peanut Island Park is located a short ferry ride off of the port of Palm Beach, Florida. This gorgeous tropical park is also close to Phil Foster Park and the City of Riviera Beach.
Why do they call it Peanut Island, Florida?
Peanut Island is an 80-acre man-made island off the coast of Florida. It was created in 1918 from the sand displaced from the Lake Worth Inlet excavation. As the years passed, and more dredging took place, the island grew from a mere ten acres to nearly 80 acres today.
It became known as Peanut Island around 1946 due to a plan to use the island for exporting peanut oil. To this day, though no peanut oil was ever exported from the island, the name has remained.
Today, the island has been named a Florida state park, and can be enjoyed by Florida natives and tourists. And – spoiler alert – it is definitely worth it!
History buffs, guess what! The island houses a fallout shelter built for President John F. Kennedy during The Cuban Missile Crisis, as well as a Coast Guard​​ Station that was active during WWII. Note that the fallout shelter is currently closed to the public.
You May Also Like: A Women's Packing List for Florida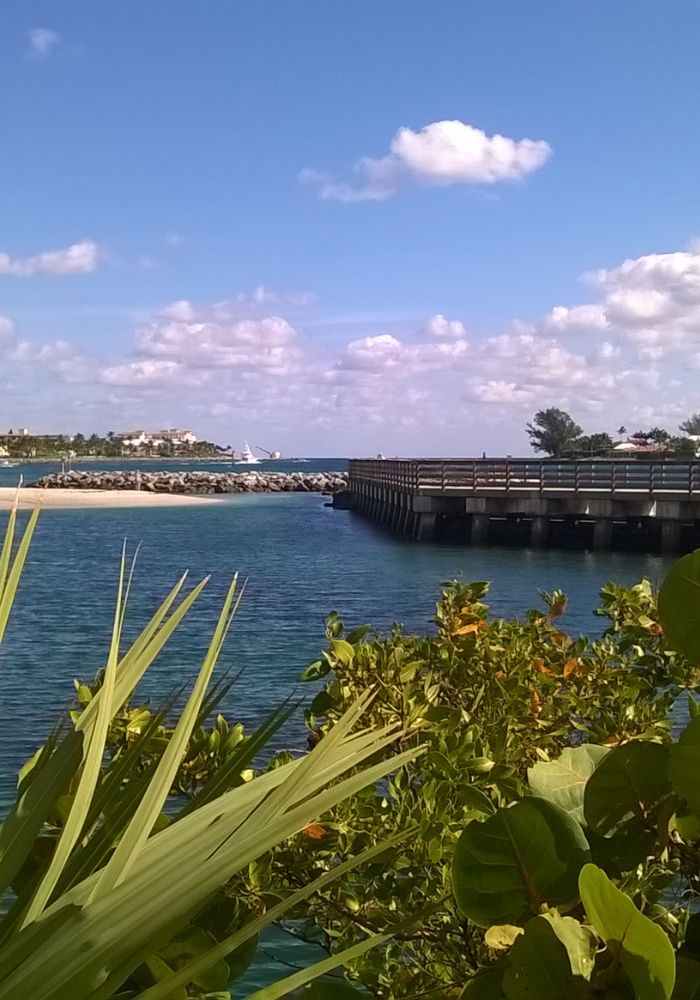 How Do You Get To Peanut Island, Florida?
To get to Peanut Island from Florida's coast, you have a few options. The good news is, all of them are very easy!
1. Take The Peanut Island Shuttle
This is the option I used on my first visit! It is simple and straightforward.
The Peanut Island Shuttle runs from the Riviera Beach Marina to Peanut Island daily. A boat departs every 25 minutes in either direction between the following hours:
10 am to 5 pm fall and winter
9 am to 5 pm summer and spring
The last boat to Peanut Island from the Riviera Beach Marina leaves at 3 pm.
The last boat from Peanut Island to the Riviera Beach Marina leaves at 5 pm.
Do not miss the last boat! I asked what happens if someone misses it, and the captain told me they get fined at least $100 for a pickup.
The address for the Marina where the shuttle departs is : 200 E 13th Street, Riviera Beach FL, 33404. Feel free to verify updated timing and costs here.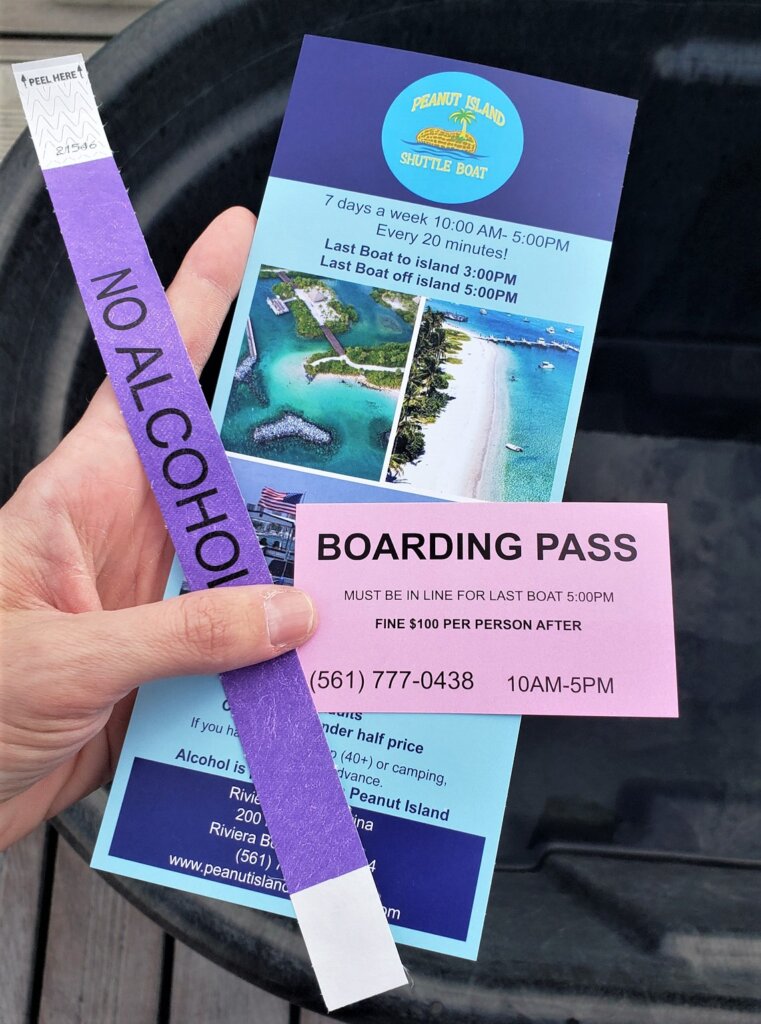 Costs and notes for the Peanut Island Shuttle:
Roundtrip tickets cost $18 / per adult. Tickets for children 9 and younger are only $9. Tickets are purchased on site on a walk-up basis.
Coolers, beach bags, and small beach carriers can travel with you for free.
Passengers can pay an extra $5 to bring a beach wagon onto the boat.
It costs an extra $18 to bring your own kayak (is BYOK a thing?)
Alcohol is prohibited on the ferry and on Peanut Island, unless is designated areas.
You can buy cold drinks, snacks, and sunscreen from the ferry
You can also rent snorkel gear OR book private charters from them, too.
The trip takes just ten minutes and could not be easier. This is the simplest way to reach the island, especially if you are bringing coolers and gear, or have children.
2. Take A Boat, Kayak, Or Paddleboard
If you want to avoid the shuttle fees and can get to Peanut Island on your own, it is allowed! Simply bring or rent a bat, kayak, or paddleboard. You can push off near where the Shuttle Boat runs, just be sure to steer clear of the boat path.
One thing to note. If you come by kayak or paddleboard, you will be limited on what you can take over to the island. It is much harder to bring coolers nd packed lunches, books and beach gear this way.
But, it is a super fun way to get some exercise and spend a fun morning paddle-boarding!
Where To Park To Get To Peanut Island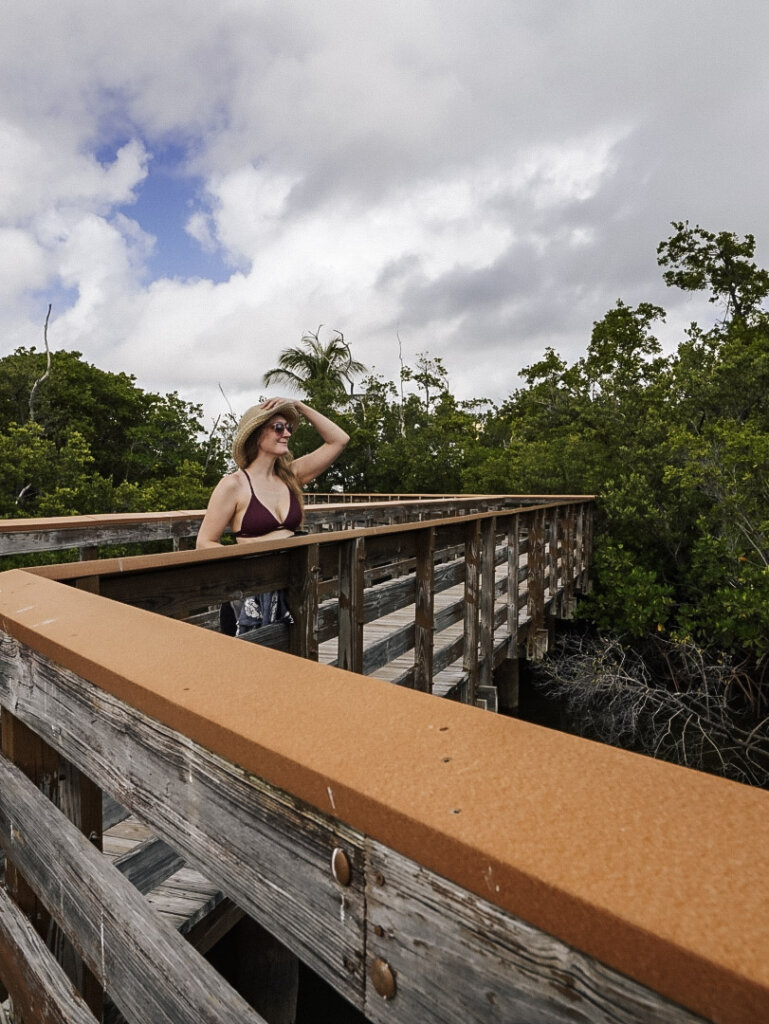 Car Parking for Peanut Island on Florida's mainland:
Park your car (for free!) at the Peanut Island Parking Lot in Riviera Beach Marina Village. There is plenty of parking, though the earlier you come the better your spot.
Note that the Peanut Island Shuttle Boat ticket booth is located directly down the small hill from the parking lot.
Can you take your car to Peanut Island?
No you cannot. There are no drivable roads nor any way to get it across the water.
Boat Docking:
Visitors can dock their boat at either of the day-use slips on the island These are found on the north and west sides of Peanut Island State Park.
Note: These are first-come first serve.
You May Also Like: 10 Reasons to Travel Alone This Year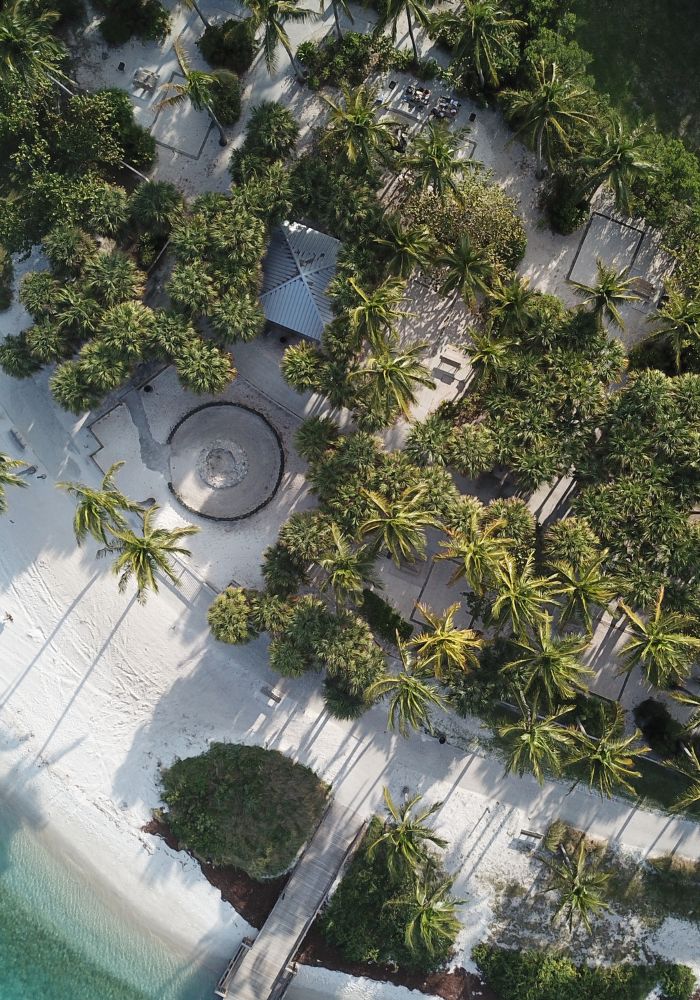 Can you stay on Peanut Island Florida?
You can! However, it will not be in a fancy resort, despite the tropical vibes. Instead, expect to be camping.
Camping on Peanut Island
The only way to stay overnight on Peanut Island is to book a campsite. These must be reserved at least 24 hours in advance. If you have a campsite booked, and are taking the Shuttle Boat, be aware that your roundtrip ticket will cost $25 round trip, since you are bringing gear.
.There are only 17 campsites on the island, so if you know you want to camp, book it ahead of time.! You can reserve a campsite up to 90 days in advance.
Each campsite comes with a tent area, a picnic table, and a grill. You'll have access to the bathrooms, hot showers, a fire ring, and a pavilion for picnics.
If camping is not for you, there are plenty of nice hotel options nearby: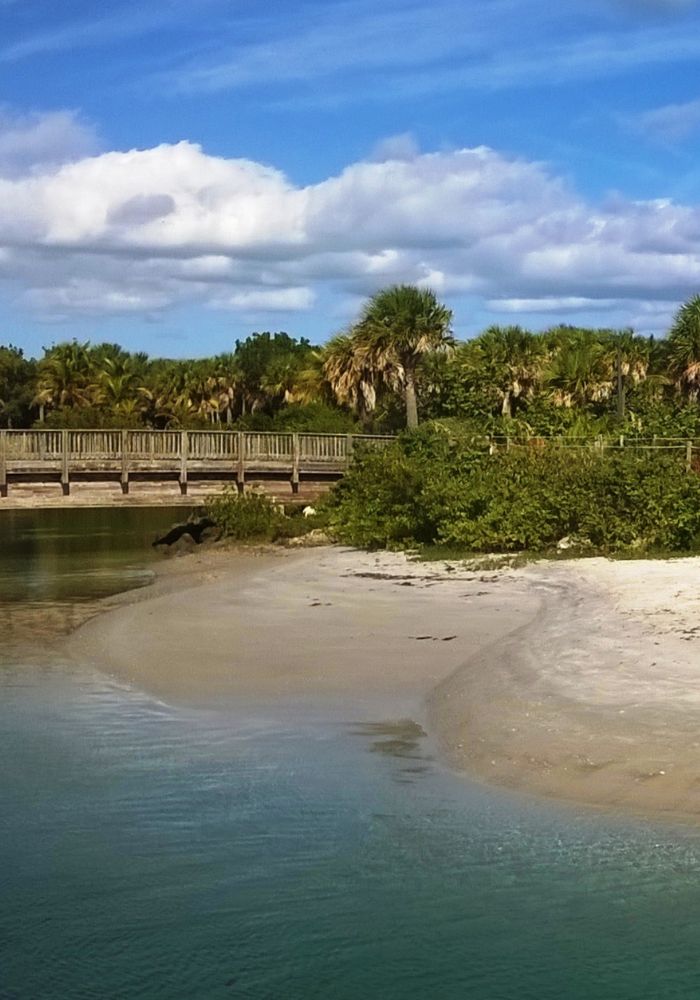 What To Pack for Peanut Island Florida
As mentioned above, you need to plan ahead if you want to spend an entire day here. There are no food, drinks, or supplies available once you are on Peanut Island, so it's important to go prepared!
Here are some things to pack before heading out to Peanut Island:
Things To Do On Peanut Island
There are plenty of things to do on Peanut Island! Florida does not disappoint with their plentiful beaches, but Peanut Island's beaches are arguably the most gorgeous.
Let's dive into all of the different things to do on this dream-like island.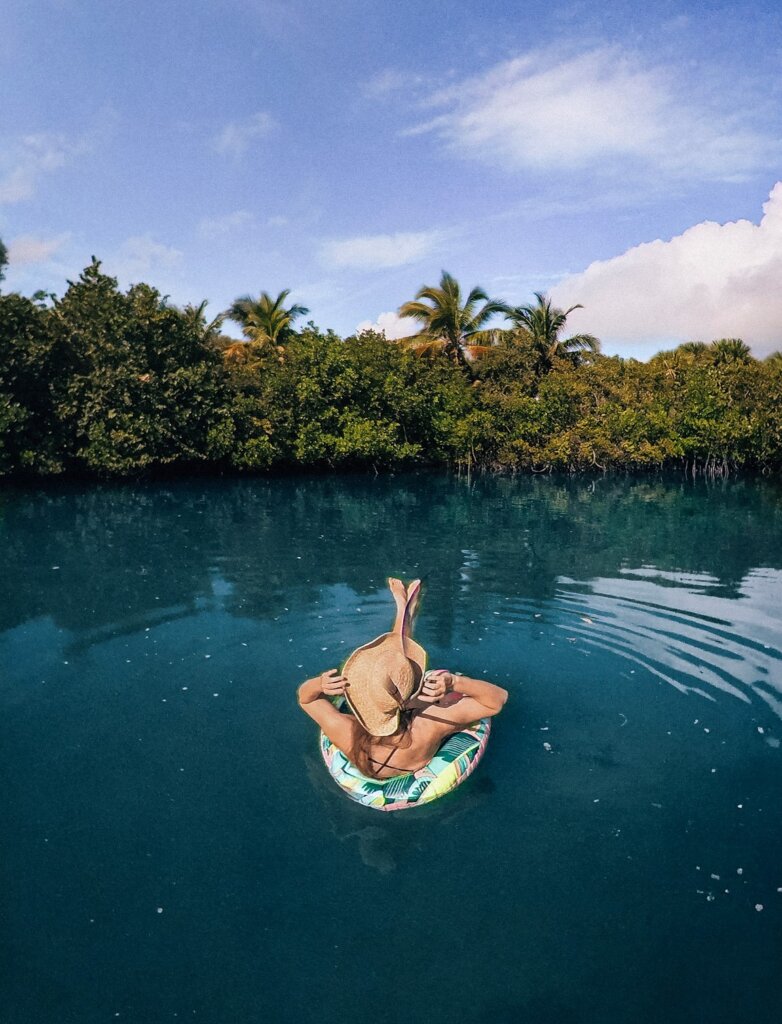 1. Hang out at the beach.
It's no secret, most people visit Peanut Island to enjoy a day at the beach. This is, after all, the primary attraction! So lounge, sunbathe, and build sandcastles to your heart's content.
While all of the beaches are pretty, you will notice that the sandy areas closest to the docks are the most crowded. They are large and dotted with trees, with lots of sandy real estate.
If you want a quieter experience, just walk in either direction away from the docks a bit. You will find more secluded beaches a little more out of the way.
Note – do not expect life guards. The only monitor the beach in certain seasons.
2. Swim in crystal-clear waters.
Remember above when I said that the beaches of Peanut Island are Florida's best? This is where I prove my point.
The water is incredibly clear – as in, you can see directly to the bottom. And, it's warm – year round (especially compared to my more familiar Malibu beaches, brrr!)
In fact, here is a taste of what to expect:
Winter: 77.2ºF
Spring: 78ºF
Summer: 80ºF
Fall: 83ºF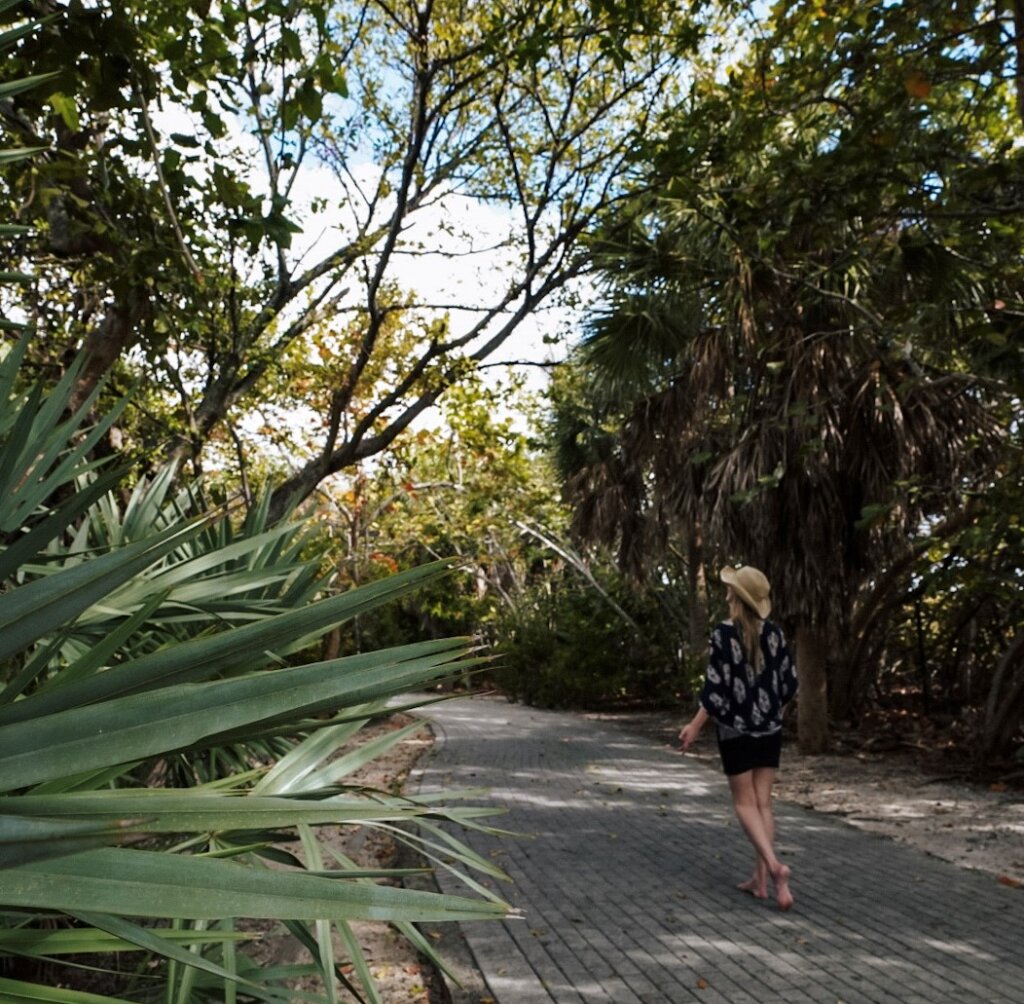 3. Walk around the entire island.
Did you know that you can walk the entirety of Peanut Island? That's right, it is only a 1.25 mile walk to circle the entire island.
Some of the walkway is a concrete path, and other areas are a wooden boardwalk. But overall, it is a flat and easy walk.
You'll get to see parts of the island that most day-trippers never experience. Walk through lush mangroves. See the deep blue colored lagoon. And, catch a glimpse of how the shore changes at various points on the island.
Check out some of the best walking sandals here:
4. Snorkel in the clear waters.
Florida's Peanut Island is hands-down one of the best place to snorkel in the entire United States. The incredibly clear water is what makes it otherworldly, especially during high tide.
During high tide, visibility increases due to the water flowing through the Palm Beach Inlet. While high tide is best, you can get insane snorkel views al day.
The best snorkeling is found on the southeastern beaches, near the man-made reefs surrounding the island. Look for the large rock piles and you've found the spot.
Snorkelers can also make their way into the lagoon. Though deeper in color, it is still a great spot to see some wildlife!
If you are lucky, you might spot stingrays, parrotfish, lobsters, small sharks, and starfish. If you're really lucky, you might come face to face with a manatee.
You May Also Like: How to Snorkel Peanut Island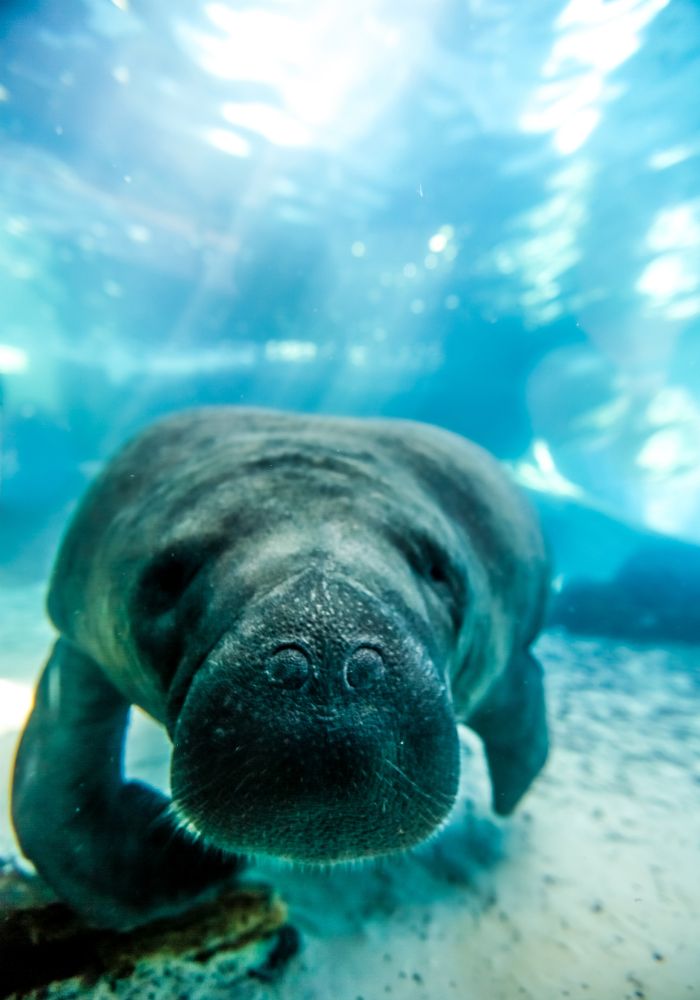 5. Search for manatees.
If you are lucky, you may just see some manatees swimming around the Peanut Island Lagoon. This is particularly possible during the winter months. I did, in fact, see two of them when I was visiting!
I have my own snorkel gear, and I highly suggest you get some if seeing manatees is of interest to you.
6. Go fishing in the ocean.
Peanut Island, Florida is a favorite local spot for fishing. If you are a Florida native, you don't need a fishing license. If you are a visitor, you will need to speak to the Florida Fish and Wildlife Commission.
Peanut Island has a designated fishing pier on the northeast side of the island.
7. Pack a picnic or BBQ on Peanut Island.
Coolers are free to bring along with you on the Peanut Island Shuttle Boat. Pack a lunch, snacks, and plenty of beverages before your trip – especially if you plan to stay all day like I did!
I packed simple sandwiches, and brought some pretzels and fruit. I also had several drinks and an ice pack in my cooler to keep everything chilled.
If you are coming with a group or want to have a beach barbecue, you could bring charcoal and lighters and use one of the island's grills.
Are there any restaurants on Peanut Island?
No, there are not. You may purchase drinks on the boat coming over to Peanut Island, but otherwise your best bet is to bring your own food and snacks.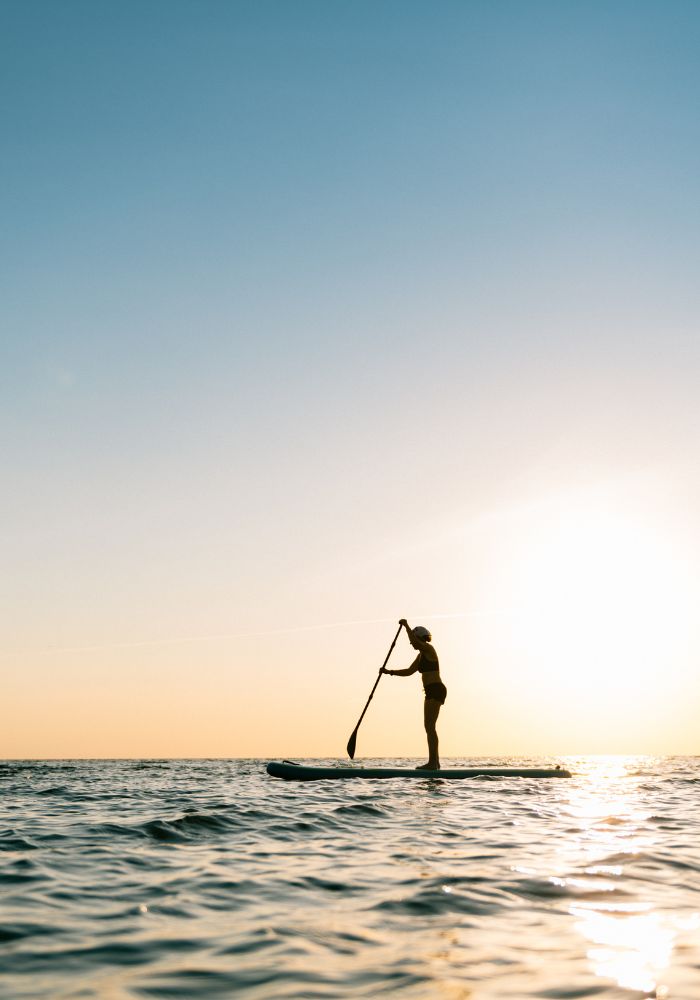 8. Kayak or paddleboard around Peanut Island.
If you like to paddleboard like me, this is a great addition to any island day trip. Paddleboarding or kayaking around Peanut Island provides spectacular views and is a great way to see into the depths of the water.
9. See the JFK Bunker.
As mentioned at the beginning of this post, there is an atomic bomb bunker on Peanut Island. It was built for President John F. Kennedy in 1961 during The Cuban Missile Crisis.
It was hastily built with several layers of concrete and rebar, and covered with dirt. For those who have been lucky enough to enter, that is done through a 90-degree blast-hardened tunnel.
The JFK Bunker is on the southern end of the island. Unfortunately, this bunker is not currently open to the public. You can only see the outside of the buildings. If you are talking the circular walk around the island, keep your eyes peeled for the bunker.
10. Rent a boat.
If you are confident in your boating abilities, why not DIY it? You can visit the boat before the shuttle starts running and get some of the beaches all to yourself for a bit!
On the weekends, the waters just off of Peanut Island are a prime spot for party boats. They anchor off-shore and blast music and pass out drinks. Also, boaters can come ashore and do all of the activities mentioned above.
Boat rentals can be arranged at the Marina, as well as jet skis and paddleboards.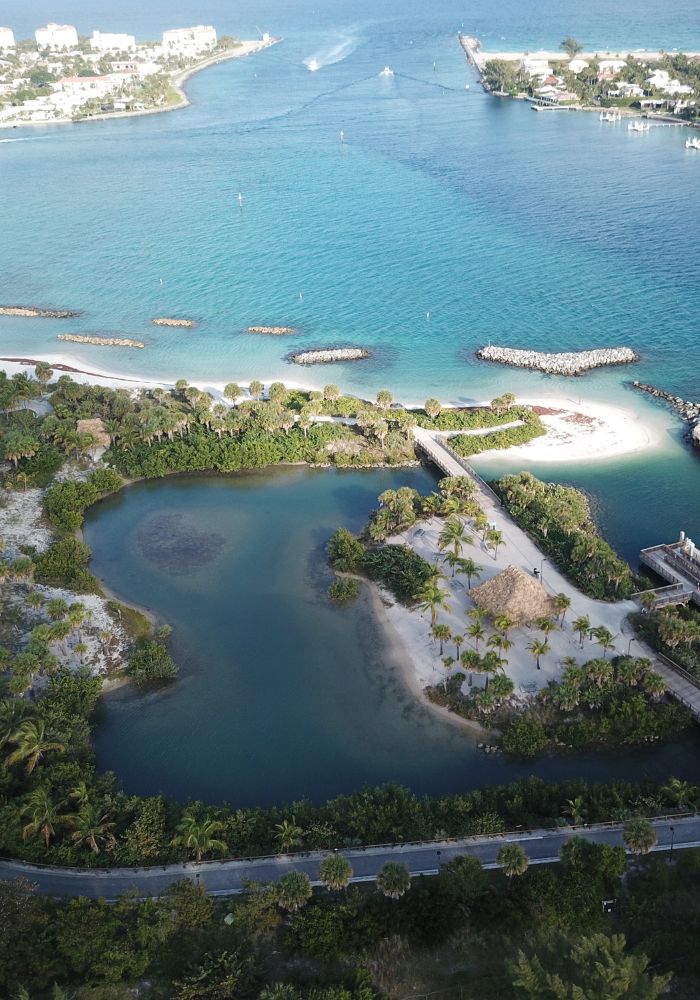 Peanut Island Hours
Peanut Island State Park is open from sunrise to sunset daily.
If you have your own boat or transportation, you can take advantage of the earlier hours. If you come with the shuttle, it only runs beginning at 9 or 10am, depending on the season.
FAQ's for Peanut Island, Florida
Can I bring alcohol to Peanut Island?
If you are coming by shuttle boat, you cannot. Staff will check the contents of your cooler, and you won't be allowed to take it with you.
If you come by private boat, obviously you can drink on your boat and/or at designated areas.
When is the best time to visit Peanut Island?
Peanut Island is gorgeous year round. In the winter, it is a welcome tropical escape. In the summer, it is alive with visitors. Water temperatures stay warm and swimmable all year round.
What dangers are there on Peanut Island?
You may run into the following while on your trip:
Jellyfish
Stingrays
Sharp Rocks
Sunburn
What facilities are on Peanut Island?
Three Restrooms with water fountains
Outdoor Showers
Picnic Shelters with Picnic Tables
Charcoal Grills
Day-use Boat Docks
Paved Walking Trail
Benches along the walking trail
Mangrove Board Walk
Beach Cleanup Station
Campsites
Artificial Snorkeling Reefs
***
As you can see, Peanut Island in Florida is an incredible place to visit if you're looking for a unique and tropical experience in Florida. The crystal clear waters, the giant manatees, and the hundreds of iguanas transport you to the Caribbean.
The island has something for everyone!
Questions about Peanut Island? Drop them below!
Pin Me for Later!