So, you want to snorkel Peanut Island in Florida? Great decision! Peanut Island is one of the best places for snorkeling in the state. Here is all of the important info, tips, and locations that you need to snorkel Peanut Island, 7 days per week. Let's go!
Pin Me for Later!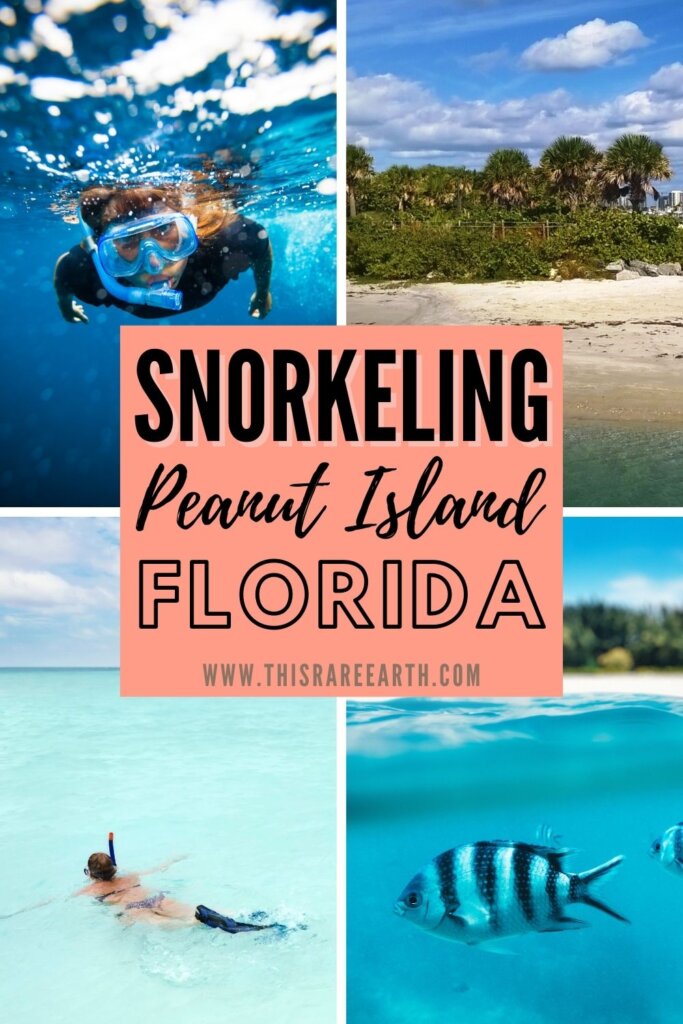 I had the pleasure of visiting Peanut Island, Florida recently, and now I can't wait to return! The deep blue lagoon, the crystal clear water, and the sandy beaches were just what I needed.
An easy trip from the West Palm Beach coast, Peanut Island is a must see stop. It transports you straight to the Caribbean. Honestly, it's hard to believe that this is part of Florida!
There are loads of activities and things to do on Peanut Island, from paddle boarding to boating to kayaking. And, the most popular activity – Peanut Island snorkeling.
This guide will cover everything you need to know to snorkel Peanut Island with east. From tips to locations to transportation, I've got it all here!
How to Snorkel Peanut Island
Snorkeling Peanut Island – where is it?
If you're planning on snorkeling Peanut Island, first you need to get there.
The 80-acre park can be found off the coast of Riviera Beach in Palm Beach Country, Florida. There is no bridge, and you cannot drive to Peanut Island. Instead, you can only reach the island by shuttle boat, paddle or kayak. (But don't stress, it is quite easy to do!)
If you happen to have your own boat, docking at Peanut Island is free and easy. Boat slips are available on a first-come-first-serve basis.
For those planning to snorkel on Peanut Island, your best bet is to take the shuttle boat so you can pack your snorkel equipment, lunch, and towel.
The Peanut Island Shuttle Boat
A shuttle boat is available daily from the Riviera Beach Marina. If you drive here, free parking is available on site. After parking, walk downhill to the water and you will see a small tent where tickets are sold.
The shuttle boat runs every 20 minutes, seven days a week. Purchase your round-trip ticket for $18 USD for adults and $9 USD for children. Pets are free to join, but if you plan to snorkel all day I would not recommend bringing them.
If you do not have your own equipment to snorkel Peanut Island, you can rent it directly from the Shuttle Boat company for $20 per set. Rentals are offered from 10am – 5pm daily.
I personally caught the earliest ferry of the day and brought my own snorkel gear!
You May Also Like: A Women's Packing List for Florida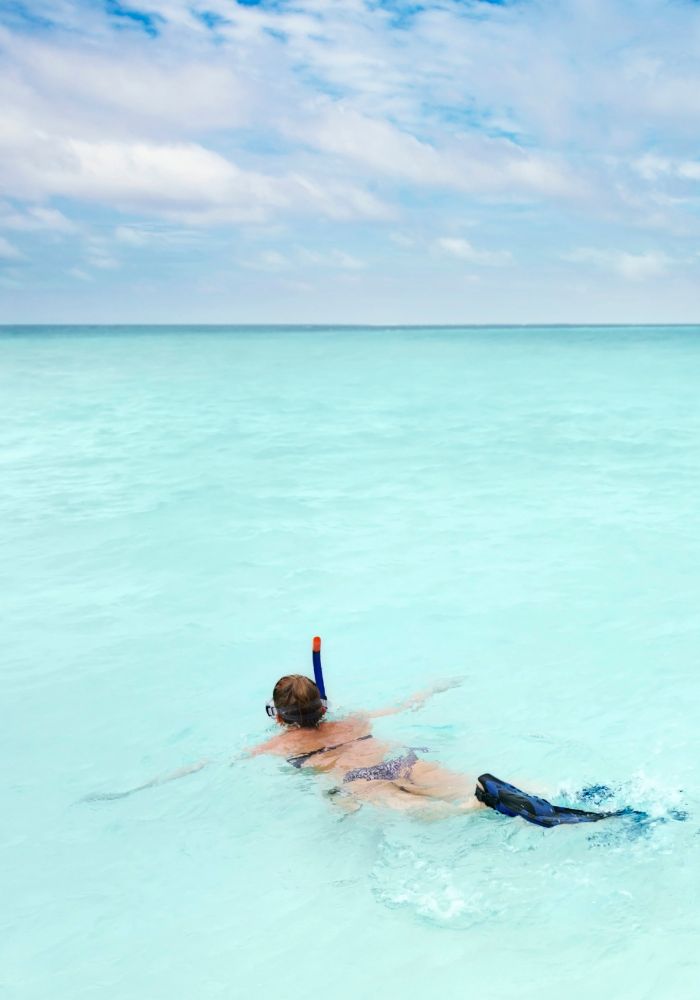 When is the best time for Peanut Island snorkeling?
Thanks to it's perfect location, the water temperature surrounding Peanut Island stays warm and mild year round. Peanut Island snorkeling trips are doable any time of the year, whenever your heart desires!
As far as the tide schedule, Peanut Island snorkeling is best around high tide. Just before and after high tide brings clear and calm water, which is best for snorkelers. Check the tide schedule here.
Note that the change in tides can bring strong currents. Stay closer to shore if you are not confident in your swimming abilities.
Snorkel the Peanut Island Lagoon & Ocean
Peanut Island has been voted one of the best snorkeling spots in Florida, and once you visit you will see why.
Snorkeling offshore in the ocean is easy and clear. Man made reefs built with rocks line the east side of the island, and attract crabs, lobsters, sea urchins, and coral species. They are quite photogenic from above, which surprised me for an artificial reef system.
The Peanut Island Lagoon, on the other hand, is located on the interior of the island. It is accessible at several points where the mangroves and shrubs have been cleared away.
The Lagoon offers spectacular snorkeling opportunities, too. While deeper in hue, the lagoon is still clear underwater, and a beautiful place for photos!
So, when snorkeling Peanut Island, expect to see various species of fish, crabs, and plant life. Peanut Island also offers the rare chance to snorkel with manatees, which will be talked about below.
You May Also Like: Where To Swim With Manatees in Florida (Legally!)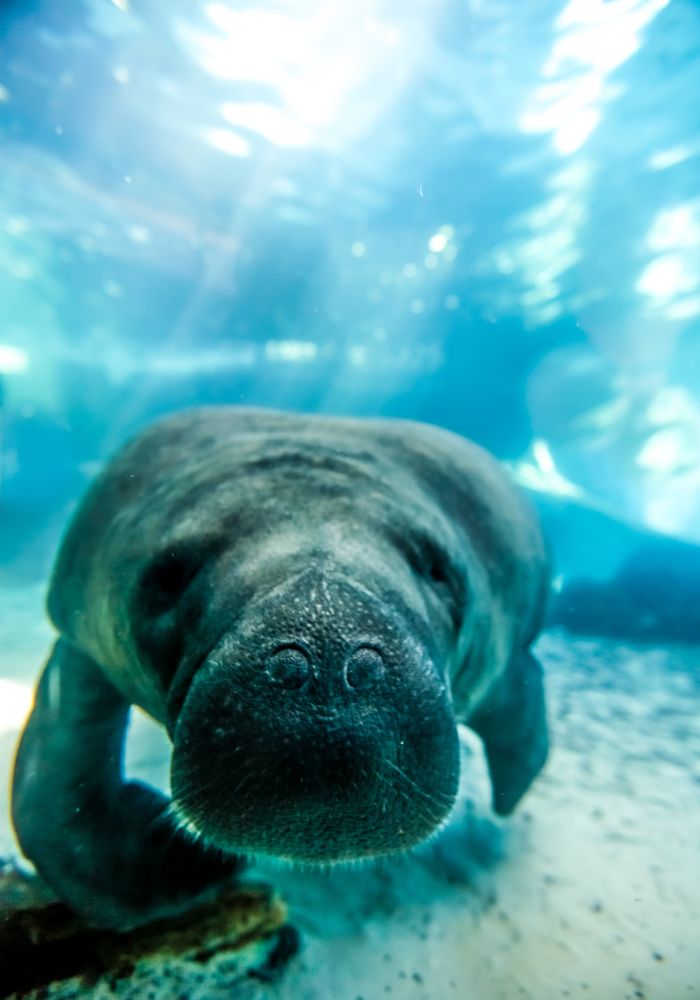 Swim with the manatees
Manatees can be seen all year round within the coastal waters of Palm Beach County.
During winter months in particular, they gather in the warm waters around the Riviera Beach and the Peanut Island snorkeling lagoon. They love to swim around around the deep calm waters here.
I was lucky enough to snorkel Peanut Island in the winter, in December and January, and I did in fact come face to face with these gentle giants. They are easy to spot due to the clear waters.
There is also a mangrove lagoon, visible from a boardwalk, on the west side of the island. While swimming is not allowed here, it is a great place for manatee watching.
A Brief History of Peanut Island
Peanut Island is a man-made island off the coast of Florida. It was created in 1918 from sand displaced when the Lake Worth Inlet was excavated. As the years passed, more and more sand was added, until the 80-acre island was born.
In 1946, people began calling it Peanut Island because of the plan to use the island for peanut oil exports. To this day, no peanut oil was ever exported. But, the name remained.
Now a Florida state park, this beautiful island can be enjoyed by both locals and tourists. And – spoiler alert – it is definitely worth it!
You May Also Like: A Complete Guide to Visiting Peanut Island, Florida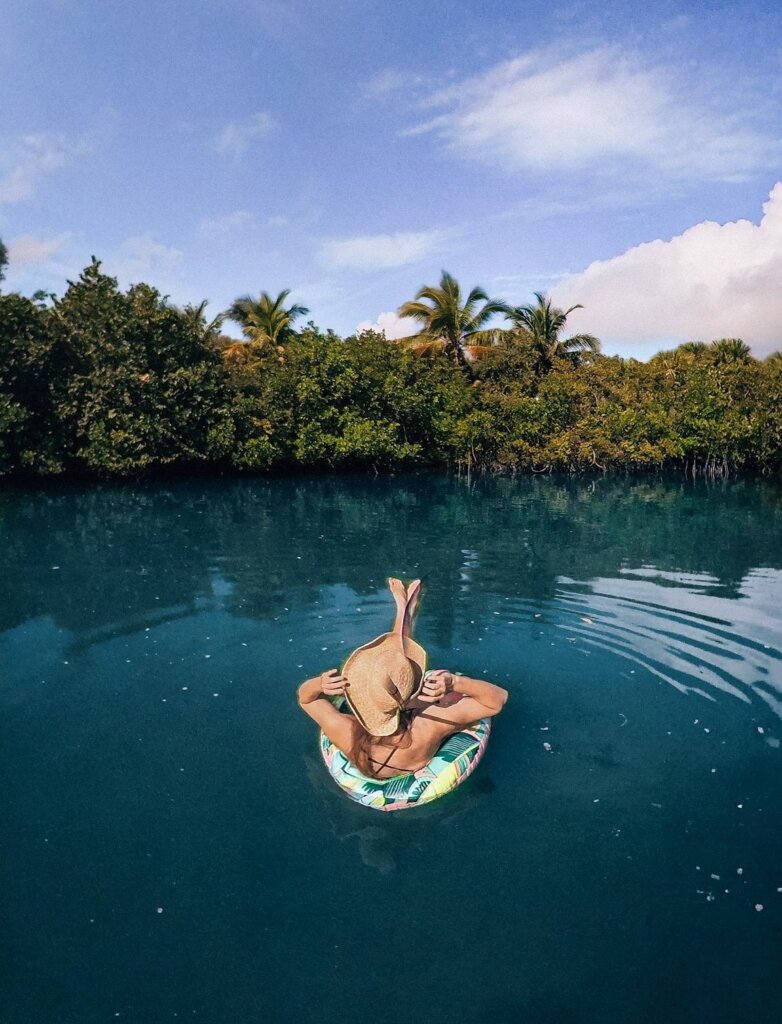 What else to do on Peanut Island?
Swim in the ocean
Float in the lagoon
Have a beach cookout
Walk around the whole island
Kayak in the ocean
Paddleboard the lagoon
For more details on everything you can do here, check out this guide.
FAQs for Snorkeling Peanut Island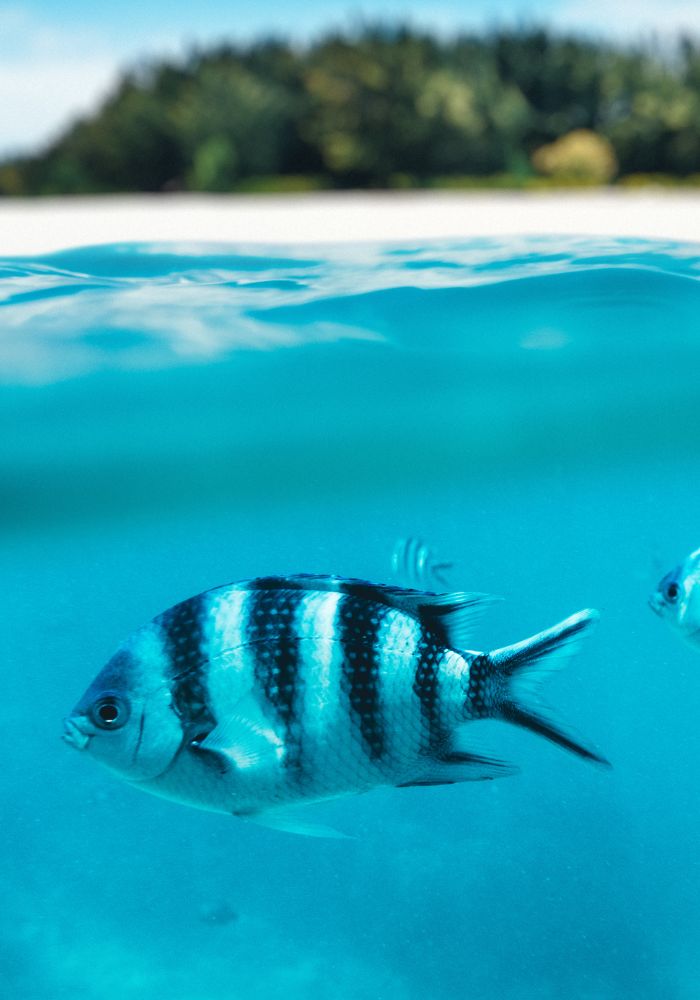 What to bring for a Peanut Island snorkel trip?
As mentioned above, if you want to spend an entire day snorkeling, you'll need to pack some necessities. There are no food, drinks, or supplies available on Peanut Island, so it's important to come prepared!
Here is everything you should pack for a Peanut Island snorkeling trip:
Is Peanut Island good for snorkeling?
Yes! Peanut Island is repeatedly voted one of the best snorkeling spots in all of Florida. The water is so clear, it is reminiscent of snorkeling in the Caribbean.
What time of year is best to snorkel at Peanut Island?
Because of the warm and stable water temperatures year round, you can snorkel Peanut Island at any time. To see manatees here, however, you will want to snorkel in the winter months.
How much does it cost to snorkel at Peanut Island?
If you have your own gear, you can snorkel for free here! Note that the shuttle boat costs $18 USD round trip. If you have your own boat, docking here is also free.
Can you snorkel Peanut Island at low tide?
You can snorkel Peanut Island any time of the day. But, for the best visibility, you should plan for just before or just after high tide.
Where is the clearest water for snorkeling in Florida?
The clearest water for snorkeling Florida is at Peanut Island. A close second is the water surrounding the Florida Keys.
***
I hope that this guide to snorkeling Peanut Island has set you up for a smooth and easy visit! This is one of the prettiest places to visit in Florida and one of the best snorkeling spots in the whole state.
Let me know below – are you off to snorkel Peanut Island?
Pin Me for Later!