The Celestine Waterfall in Chiriqui, Panama is one of my favorite hidden gems. Known locally as Cascada Celestine, this hike is tough to find if you don't know where to look. But, it's worth the effort! Read all about the Celestine Waterfall in Chiriqui below.
Pin Me for Later!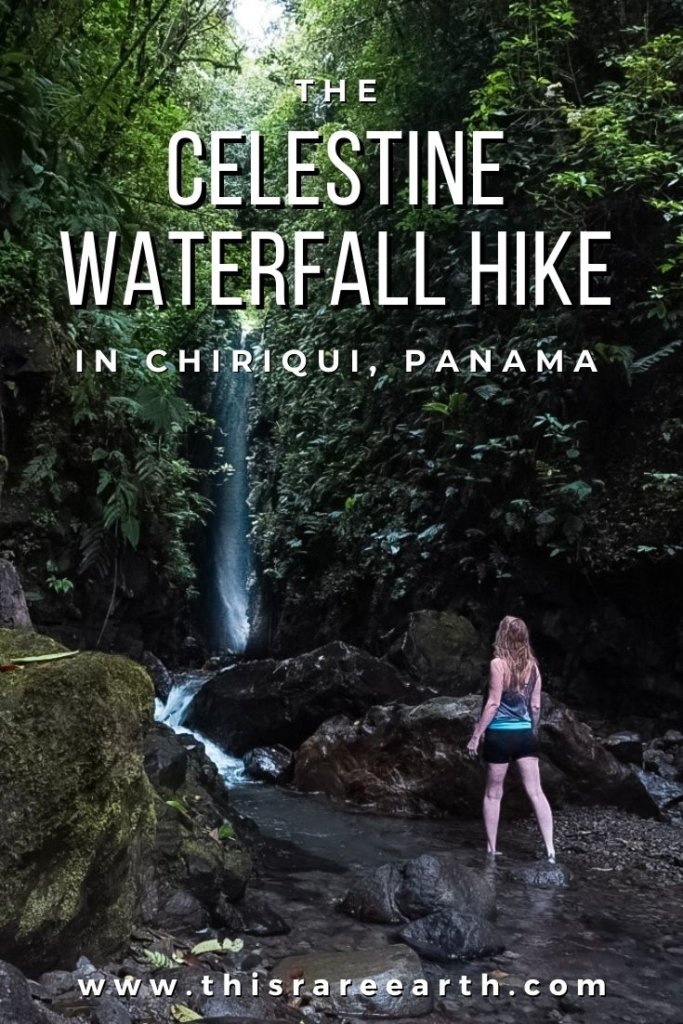 The Celestine Waterfall Hike was one of my favorite stops in Panama.
Though the country is filled to the brim with waterfalls and jungles, this one was special for me. First, I was able to visit and spend time in the jungle with no other humans in sight. Just me, the sound of rushing water, and the lush green leaves. And second, it is not marked on Google maps, so it really took some dedication to track down!
For anyone else interested in the Celestine Waterfall Hike in Hornito, Chiriqui – I'll do my best to help you out below.
You May Also Like: A Complete Panama Travel Guide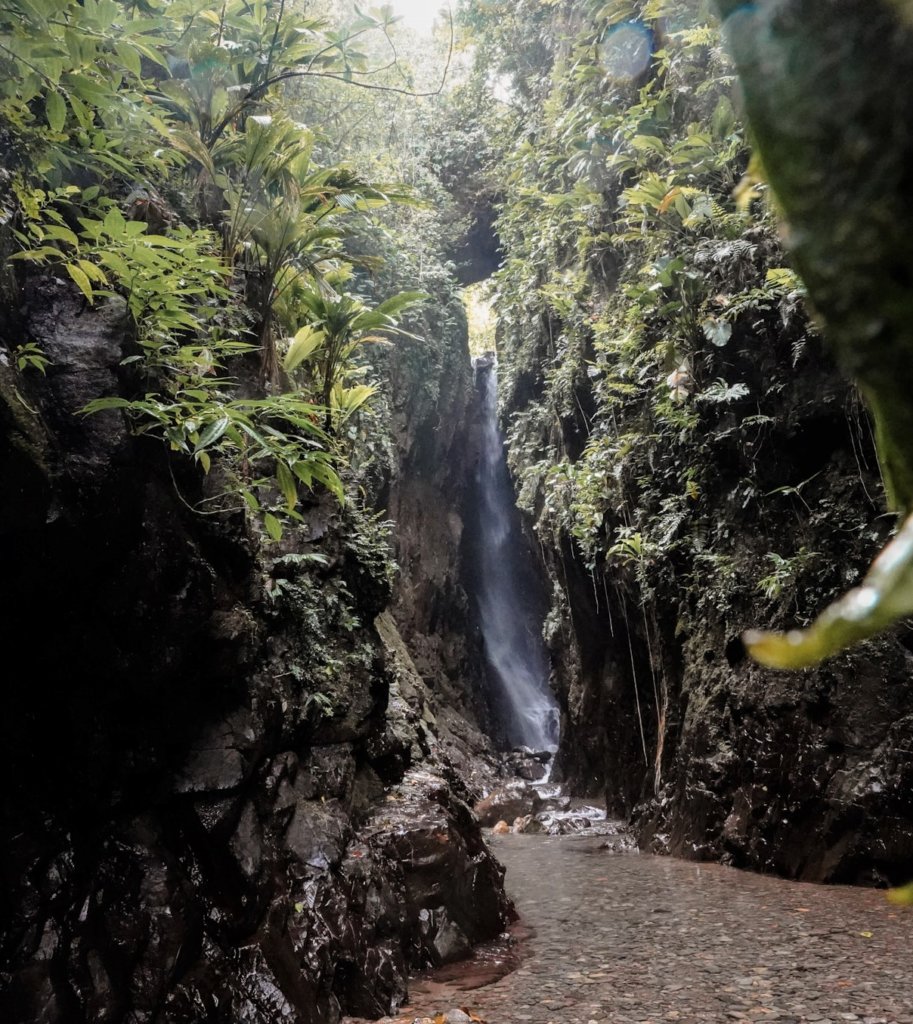 The Celestine Waterfall Hike in Hornito, Chiriqui – Panama
Palo Seco Protected Forest spills over both the Bocas del Toro and the Chiriquí province in Panama. The lowest point of this forest is in the valley of the Changuinola River, while the high point is at Cerro Azul on the continental divide.
The Celestine Waterfall is one of the lower points. Your hike is nestled between steep cliffs and the waterfall cascades down to your foot path's level. What a sight!
There are only a few readily accessible areas in Palo Seco, and the entrance to this waterfall is quite sneaky. Just a ten minute hike from the road, this waterfall is hidden! So well, in fact, that the only way you'll ever find it is if know exactly where to look.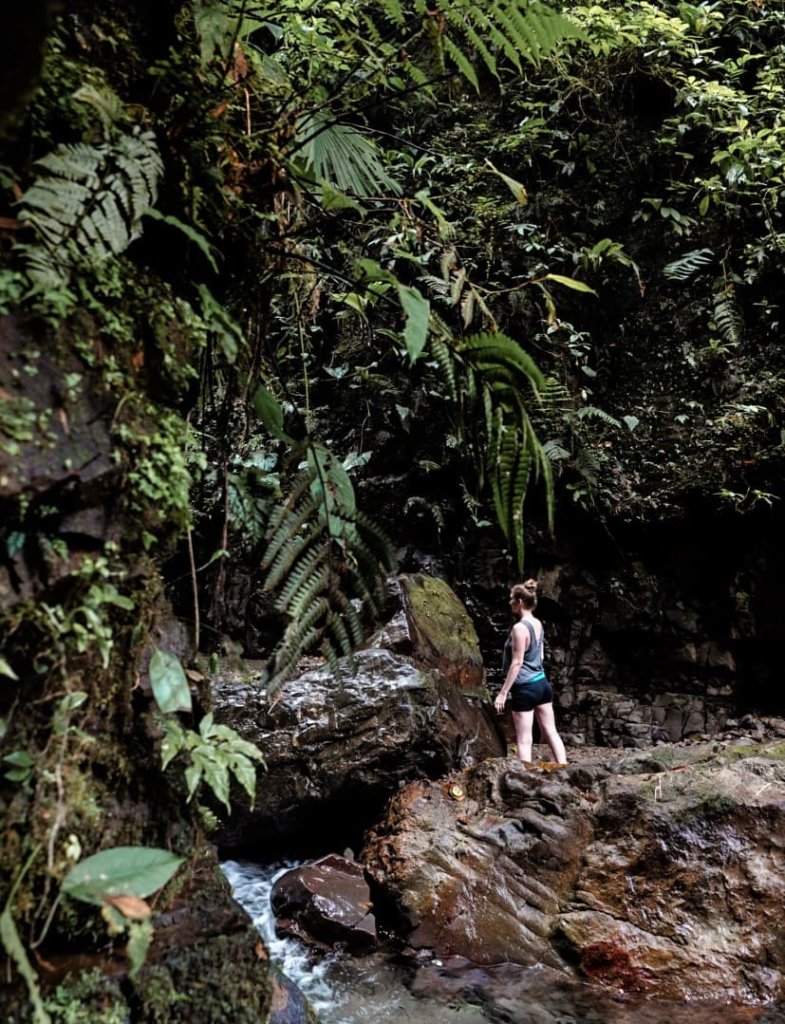 How to Find the Celestine Waterfall in Chiriqui
If you are traveling by bus or car through the following routes (or the reverse), you will be close enough to visit:
Panama City to David
Panama City to Bocas del Toro
Panama City to Boquete
Or, if you are staying at the Lost and Found Hostel, you will be roughly 20 minutes from the falls.
The secret entrance to Celestine Waterfall is roughly 20 minutes north of Hornito. The bus drivers all know where the falls live, so be sure to tell them where you are headed (Cascada Celestine). But you should keep your eyes peeled, too, just to be safe.
You May Also Like: Is Panama Safe for Tourists? Solo Female Travel Tips
What to Look For:
Once in Hornito, watch for the Cafe Vista Hermosa. This is your signal that you are 20 minutes out from the secret entrance.
Your "bus stop" is quite literally the side of the road, filled with greenery. In recent years, a small wooden ramshackle "bus stand" has been built. I was grateful for this tiny shelter, as it did start to rain while I was waiting for my bus to arrive!
That is your landmark – a wooden bus stand with a small handwritten sign tacked on that reads "Celestine". Below is your very professional (ha!) but not to scale map that depicts the directions in the next section..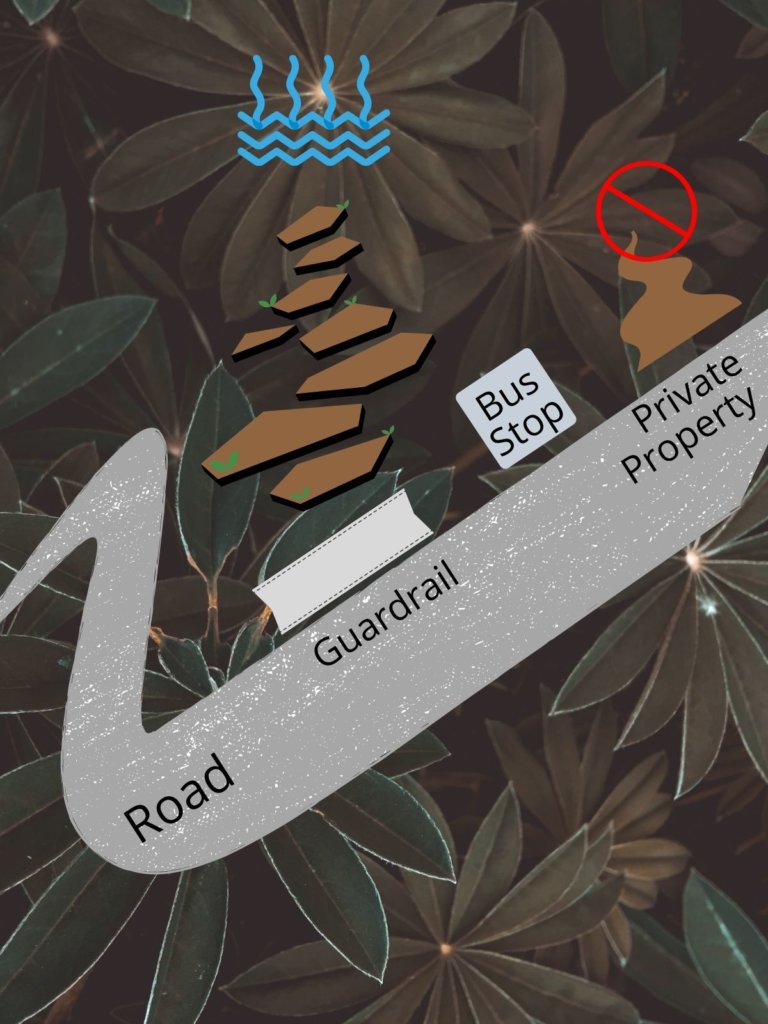 Climbing Down to the Celestine Waterfall
Next, just a few steps away, is a guard rail. You will climb over and descend down to the creek bed, and your hike starts here.
Your hike will lead you all the way to the end of the high, narrow canyon. Throughout the trek, you'll need to wade through various pools of still and rushing water to reach the waterfall.
The height of the water is dependent on the recent rains. When I hiked to Celestine Waterfall, the deepest pool was about hip-height. But, I know others have had it almost up to their chest! So, dress accordingly.
You should wear:
Waterproof Trekking Sandals. If you've been here a while, you know I swear by these ones. The rocks are super slippery so these are your best bet!
A bathing suit
Shorts and a tee
Bring a packable towel. This is the exact one I have and I love it.
You'll meander across boulders and through water pools to reach the base of the falls, which stands about 100 feet tall!
The forest above is so thick that it conceals the bright sunlight, even at midday. This creates a dark and mysterious atmosphere in the best possible way.
You May Also Like: What To Wear in Panama: A Packing List for Women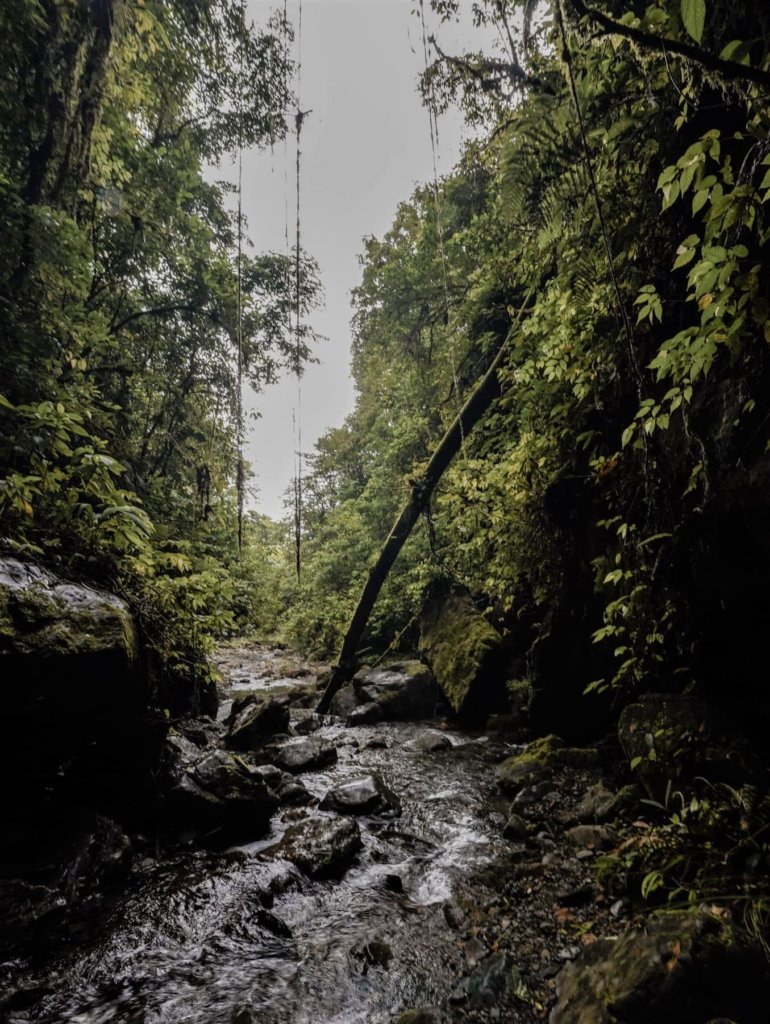 Departing from the Celestine Waterfall
Swim, take photos, enjoy the pools out in nature for as much time as you desire. The you will retrace your steps backwards to exit.
The climb back up to the road is the hardest part. Everything is slippery and there are no hand-holds so take your time and use caution.
Once you reach high ground again, you can head to the ramshackle bus bench and wait for your bus to take you home.
A note on the bus schedules: Buses run every 30 minutes (roughly) on every day except Wednesday. Wednesdays they run once per hour.
You May Also Like: A Panama Itinerary for 7 or 10 Days
***
The Celestine Waterfall is such a great and relatively easy hike in Chiriqui! I highly recommend taking the time to find it – you won't regret it!
Pin Me for Later!