10 Essential Clothing Items You Don't Want To Forget!
I visited Iceland in March, which in the States generally means warmer temperatures and longer sunny days. However, that is not always the case for Iceland. Knowing what to pack and planning ahead can truly make or break your trip! It can leave you either warm and carefree or cold and miserable. I will list below the ten essential items to pack for Iceland in the spring, which will keep you comfortable and dry the entire time.
What to Pack for Iceland in Spring
March in Iceland is somewhat of a shoulder-season. You will likely experience everything from sunny days to rainy moments to even snowfall. It can still be very cold, especially if you are out at night for any Northern Lights excursions. The daily temperatures are anywhere from about 18°F – 47°F and definitely vary day by day, as well as vary by location. This packing list covers everything you will need from casual walking around Reykjavik to Northern Lights excursions to glacier hiking and hot spring soaking. Though I am writing this from a woman's point of view, all of these items are available in men's versions as well.
1. Thermal Shirt and Pants
You've probably heard it before- layers layers layers. Layers are definitely key in March. I brought two thermal layer options which seriously kept me toasty even on the coldest of days. You simply wear these under your "regular" clothes and they act as insulation by trapping the heat that your body produces and holding it between the fabric and your skin.
I highly recommend this specific top from Cuddl Duds as the thumbholes keep the sleeves from riding up and exposing your wrists. This is key as your clothes will move as you are hiking or climbing, and exposed skin is the last thing you want. You can pair the shirt mentioned above with these pants by Cuddl Duds, like I did– and I couldn't have been happier (or warmer!).
2. Rainproof Shell Jacket
It is not unusual to experience light rain in March in Iceland. If you are out on an excursion, a rainproof shell jacket can really make or break your day. Having this on your trip will allow you to focus on the scenery around you rather than focusing on the rain. This jacket by Columbia will keep you dry, and is compact enough when folded that it barely takes up any space or adds any weight to your suitcase. Not to mention, it comes in just about every color you could want!
3. Eskimo-Style Puffy Coat with Hood
This type of jacket will serve you well for days that you are not working up a sweat and instead are just walking around and exploring the city. I definitely felt like an Eskimo with the faux-fur hood pulled up, but it did the trick! The exact coat that I own does not appear to be available anymore, but this coat is very similar and has great reviews. Honestly, so many brands make coats like this that you'd probably be fine with whichever one you choose.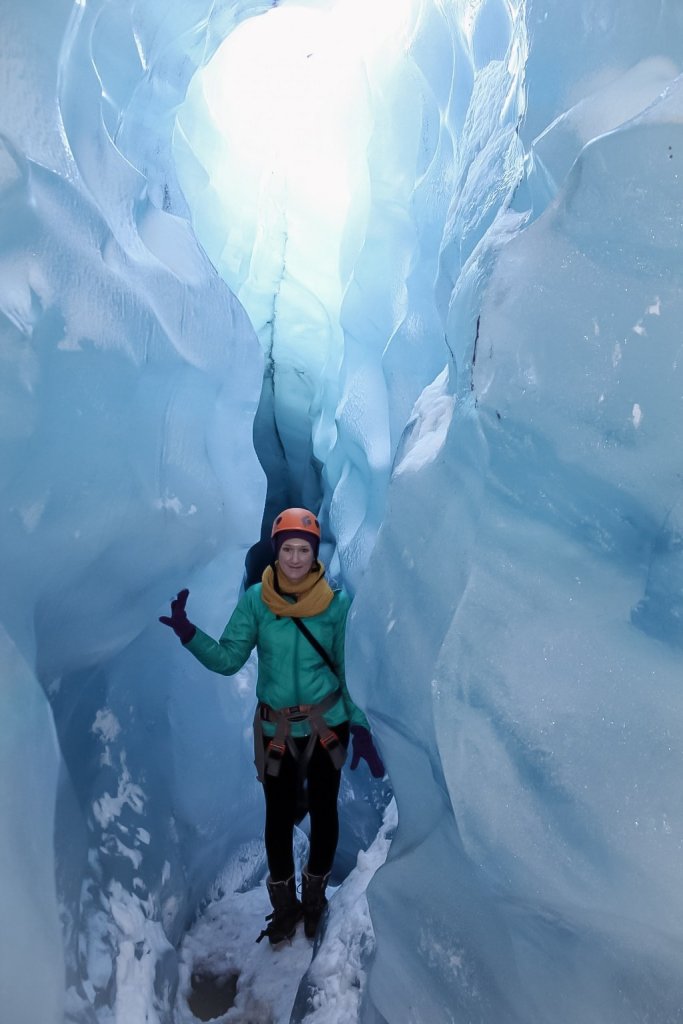 4. Insulated, Heat Trapping Coat
On active days, I prefer a much thinner, more compact outer layer that isn't so bulky. I absolutely love my Columbia Omni-Heat jacket. It gets me through all kinds of wintery temperatures and is well worth the investment. As a bonus, it rolls up extra small in your suitcase, too, and comes in several color options (I may or may not have it in both teal and purple). This coat is the perfect one to pack for Iceland in the spring climate if you plan on hiking, climbing glaciers, or generally any activity other than just walking. To see exactly what excursions I recommend, check out my post on sights you don't want to miss.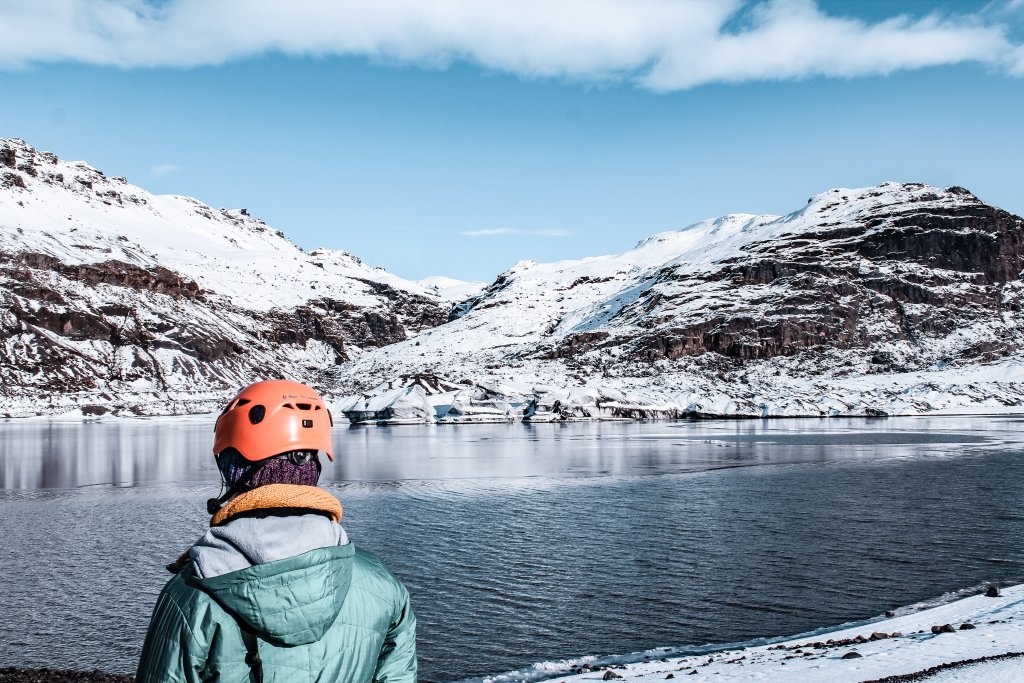 5. Zip Up Fleece
A zip up fleece is more than useful for times when you are indoors, such as at dinner, in your hotel or hostel, or even on long car and bus rides. It can still be very chilly, especially if a door is opening periodically and letting the freezing cold air into the building. Columbia brand items treated me very well on this trip. I have no association with them, and living in a warm climate, had no experience with the brand before Iceland. I am genuinely impressed by their consistent performance. Not one of their items has let me down and have become staples in my winter travel wardrobe!
6. Sturdy Waterproof Hiking Boots
You will absolutely want to pack some excellent quality, waterproof, warm winter boots if you plan to do any kind of outdoor activity, such as glacier hiking or Northern Lights trekking. These boots saved my life! I never had wet toes and my feet stayed toasty and dry. I wore them during my many hours on the glaciers, hiking next to waterfalls, and even in the rain. They were excellent for excursions, but I wore them just about every day honestly, even in Reykjavik. (The style is updated every season, so mine look slightly different, but you will be so impressed with the quality of these that you shouldn't pass them up.)
7. SmartWool Socks
Have you ever worn these socks? SmartWool is a brand I became familiar with years ago when I was living in a much chillier climate. I believe that these wool socks are 50% of the reason my feel stayed so toasty and dry, the other half being the boots I mentioned above. And I hear you– who wants to spend that much on a pair of socks?!? But I can promise you, even just one pair will be worth the investment. You will surely notice a difference.
The socks that I own, pictured below, are a) for men, and b) from a much older design, possibly the original, but they are now available in cute patterns and sizes for women, too.
8. Insulated Hat and Gloves
Even in March, your Iceland packing list should include a heavy duty hat and gloves. The exact ones I own can be found here (hat) and here (gloves). Notice that the inside of both knitted items has a faux fur specially designed to trap heat. Heck, they're even named Heat Holders, and the name doesn't lie. They come in a few color choices (I have matching purple in both), and nowadays you can even get the fingerless option so that you can operate cameras and phones without needing to pull your gloves off.
9. A Colorful Scarf (Or Two)
My next recommendation is based equally on both fashion and warmth. Since you will be wearing the same one or two coats in all of your travel photos, a fun way to mix things up without overpacking is by bringing at least two different scarf choices.
Perhaps it's strange, but this trick keeps my photos from feeling boring and repetitive, and helps me remember which activities I did on any given day. I don't personally swear by any specific brand, but here is a nice and snug option that is priced under $15 USD. Not bad! Additionally, you can wear one on the plane (or use it as a pillow) and pack one away in your suitcase, thus saving valuable luggage space.
10. A Bathing Suit or Bikini
Yep, you read that correctly – even with all of the wintery clothing described above, no suitcase bound for Iceland would be complete without a bathing suit. I visited two geothermal lagoons during my trip, and chances are that nomatter the season, you will visit at least one yourself.
The style does not matter, just pack whatever you feel most comfortable in. Keep in mind that many of the lagoons are natural, meaning there are rocks and dirt underfoot, so perhaps white wouldn't be the best choice, but otherwise it is completely up to you.
Now that you know exactly what to pack for Iceland in spring, you will definitely stay warm and dry! I have no doubt that these items will serve you as well as they've served me. There was never a moment that I felt like I was missing something, or felt unprepared.
Headed to Iceland? Click here to save up to $55 USD on your first AirBnb reservation!
Feel free to pin this packing list for later!
Read My Latest Posts Below: