Cappadocia in Turkey is one of those fairy-tale destinations that so many travelers dream about visiting. Incredible scenery, bucket list activities, and amazing food, all in one place. Most tourists plan a summer trip, but should you visit Cappadocia in winter? What can you see and do if you choose to visit Cappadocia in December, January or February? Is it worth it? Read on to find out!
Pin Me for Later!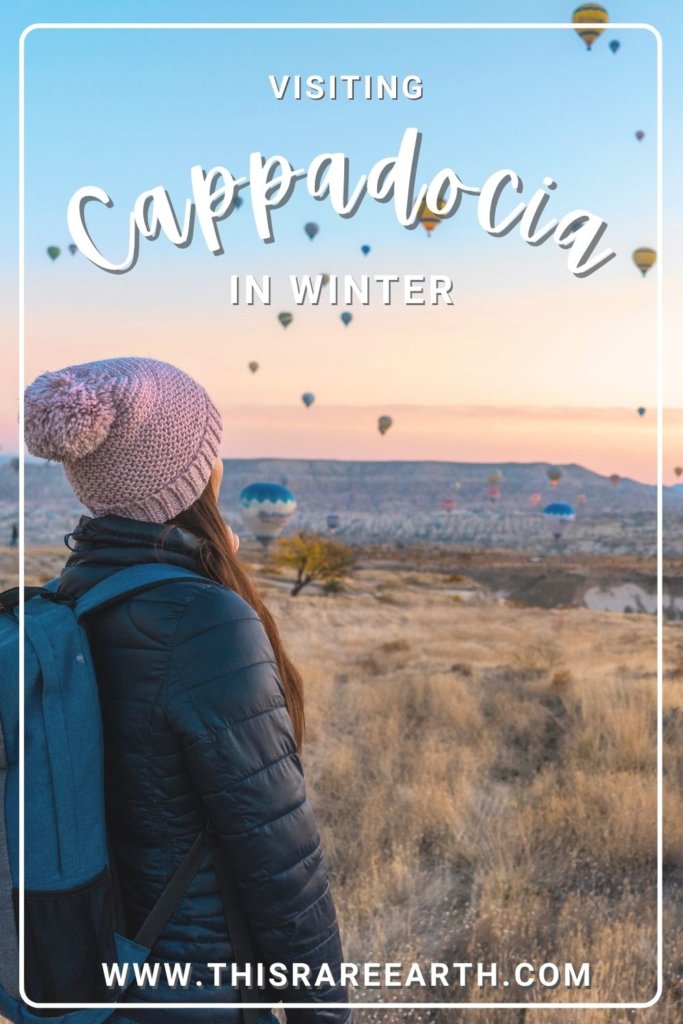 Cappadocia is one of the most picturesque locations in all of Turkey. Incredible rock formations, fascinating history, and the opportunity to float above the earth on a sunrise hot air balloon ride. Sounds like a dream, amiright?
Most visitors plan to visit Cappadocia during the summer, due to long summer days and ideal weather. But, have you ever considered visiting Cappadocia in winter?
I'd like to talk about why winter in Cappadocia just might be the best time to visit this fairy-tale land, and why YOU should consider travel to Cappadocia in December, January, or February.
You May Also Like: Solo Female Travel in the Middle East: Is It Safe?
Visiting Cappadocia in Winter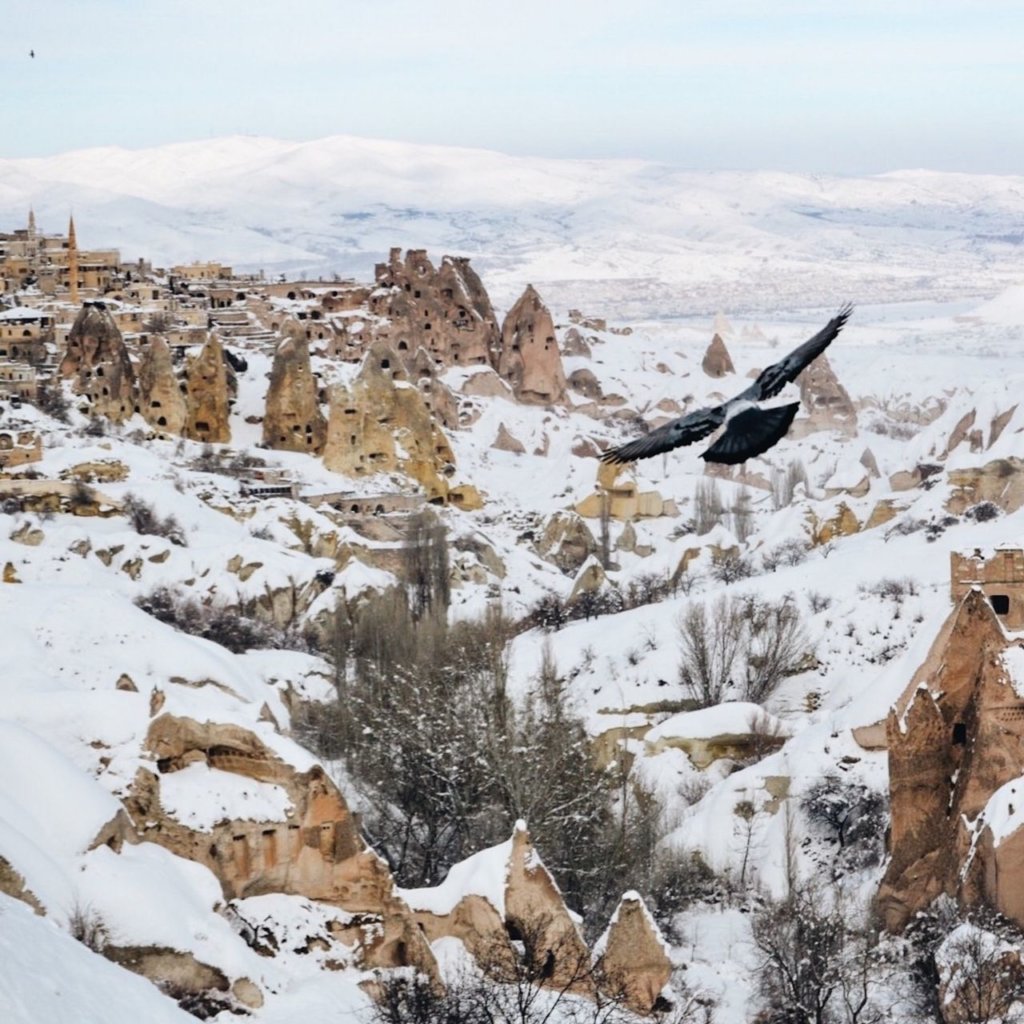 What is the weather like during Cappadocia's winter?
Winter in Cappadocia means colder temperatures and white-washed landscapes, if you're lucky.
Cappadocia – like Istanbul – has four distinct seasons. The winter starts in November through February, with spring coming in from March to mid-June. The summer season lasts from then until August, with a short fall in /september and October.
A Cappadocia winter is simply magical, though not completely predictable in terms of weather. One day might be snowy, and the next might be bright and sunny. The daytime temps will be near freezing and the nights will reach below freezing. average winter temperatures hover between 25°-48°F.
Seeing Cappadocia blanketed with snow is a special sight, but it's hard to predict which days it will snow.
Are there crowds?
The cold temperatures are exactly what prevents most people from venturing here in the winter months. But that means that you can have this magical and breathtaking land almost all to yourself.
Crowds are sparse. Streets and shops are not crowded, nor are restaurants and attractions.
And, another bonus – since winter is the off season, hotel prices will be lower than usual. I'll describe the exact one I stayed in below, which I highly recommend.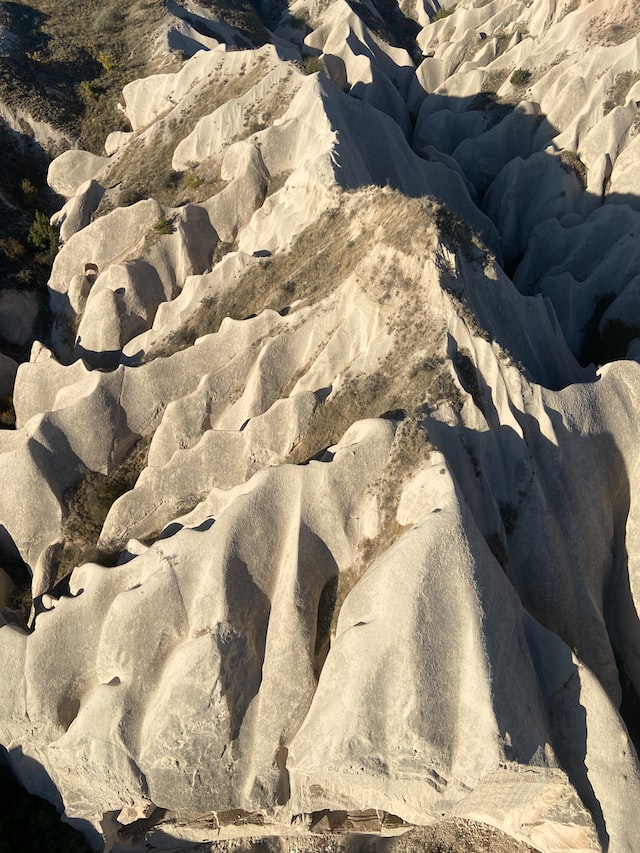 Where to stay in Cappadocia in winter.
Cave hotels are the typical bucket list accommodation, and – good news – they are open all year round. In the summer, they provide a natural cooling effect, and in the winter, they can insulate heat and create a cozy, comfortable home. You can make it quite toasty inside your cave, in fact.
I stayed in this cave hotel, which was exceptionally clean and cozy. Hot water was plentiful, staff was friendly, and the breakfast spread was fresh and varied (and could be enjoyed on the rooftop, where you can watch the balloon flights each morning.)
Staying in a cave hotel was one of my favorite parts of hunkering down in Cappadocia, honestly. It's incredibly unique, and surprisingly not expensive! It's the best way to spend a few nights in Cappadocia, especially the cold winter nights.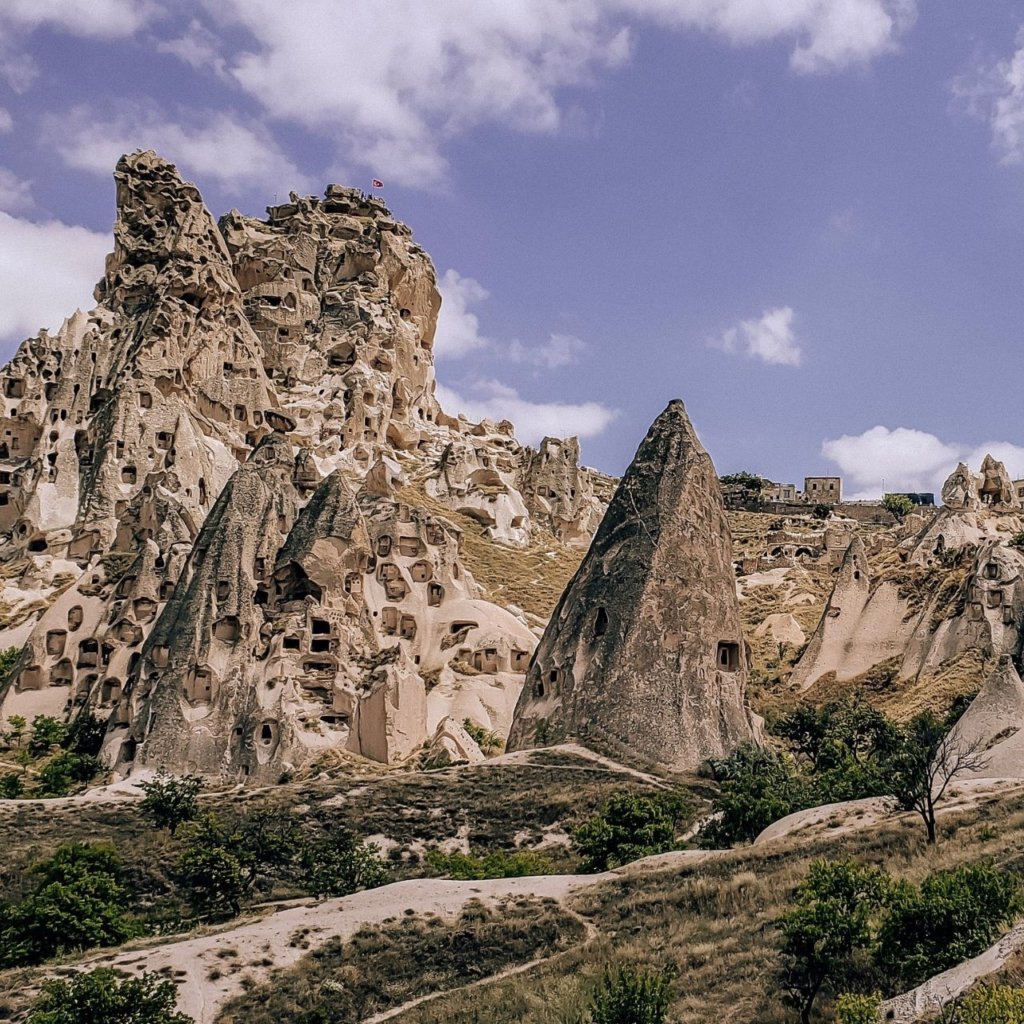 What is open during Cappadocia's winter?
Even though winter is not the high season for Cappadocia, you might be surprised to learn that all of the attractions do, in fact, stay open year round. This goes for the museums, the fairy chimney attractions, the underground village, the hikes, and even the hot air balloon rides.
Here are some of the best tours to take in Cappadocia, in both summer or winter:
Now, one thing to note – hot air balloon rides can only run when the wind and weather cooperate. I have unfortunately had multiple balloon tours cancelled on me – I know, one of the seriously unlucky ones – so I have yet to see beautiful Cappadocia from a birds' eye view.
But, this has also happened to me in summer, so really it's a game of luck. Book your balloon tour and know that you will get a full refund if the flight does indeed get cancelled.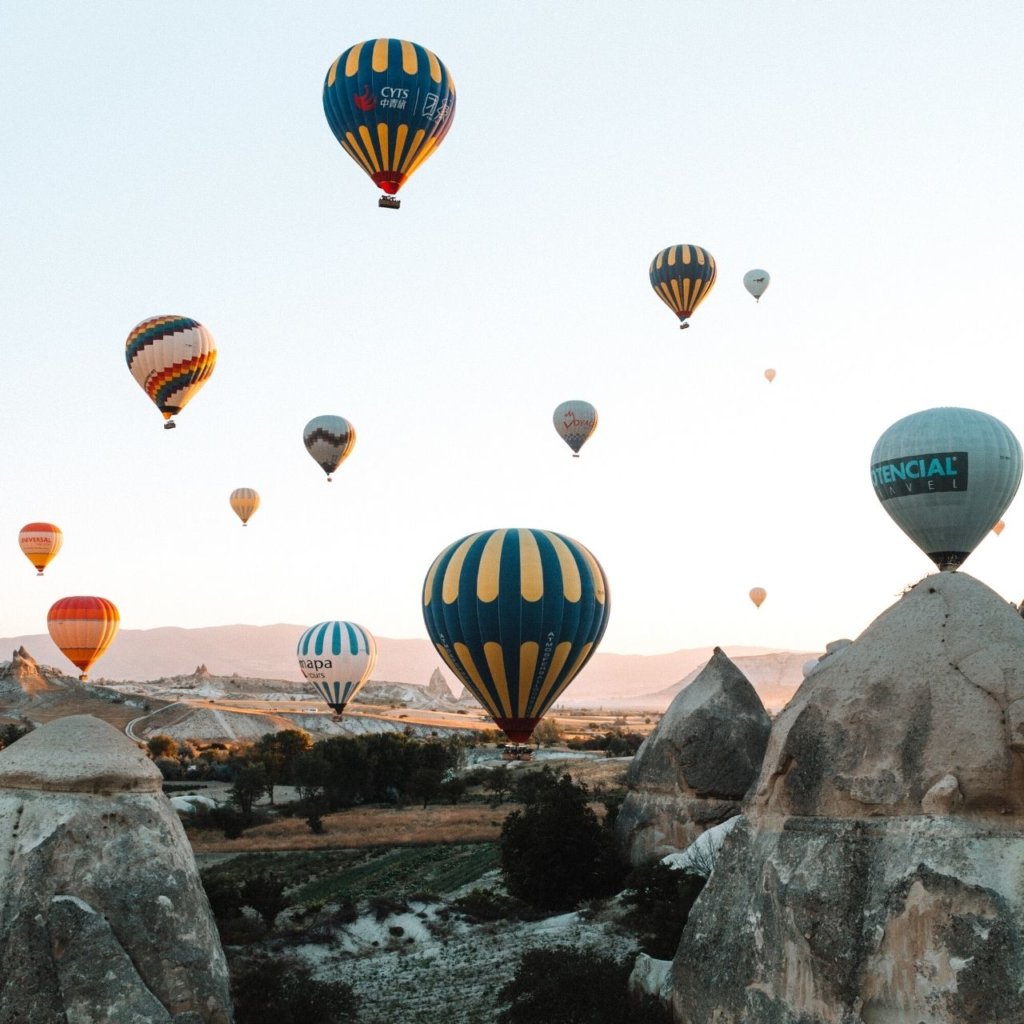 Can you hike Cappadocia in the Winter?
Summer in Cappadocia means sunny skies and hot daytime temperatures. In the winter, you'll need to pack warm clothing for Cappadocia and be mentally prepared for freezing temps. But in some ways, this climate is better for strenuous activity.
Luckily, visitors may hike all around Cappadocia in the winter. And I don't know about you, but I always warm up pretty quickly when hiking in the snow.
Cappadocia has some amazing hikes if have an extra day to head off the beaten path. It's quite easy to do (and I was traveling as a solo female).
Most tourists view the Valley of Love from the top rim on a tour, but it's possible to hike from Goreme to Uchasair, and get a unique viewpoint from between the crazy rocks. There's so much to see!
What to eat in Cappadocia in winter?
My cave hotel served a hearty daily breakfast each morning. It included hot tea or coffee, eggs made to order, fresh bread still hot from the oven, delicious fruits, olives, hummus, and more.
I ate delicious vegetarian soups and hot falafel sandwiches for lunch and dinner around town.
Turkey is actually fairly well-known for their wine-making, and mulled wine is a common staple. They spice it up (literally) and serve it piping hot – something you just can't experience in the summer. Not a bad way to end a day or to enjoy a sunset dinner.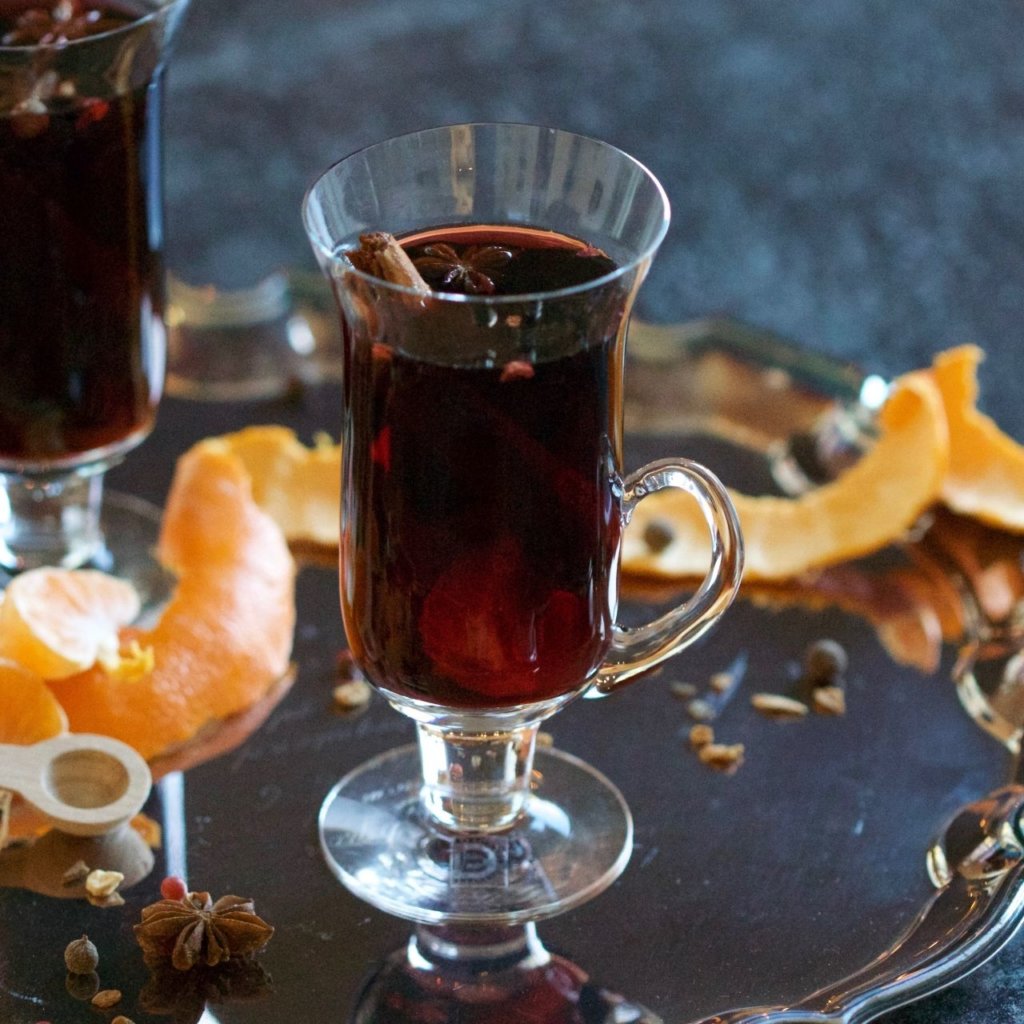 Packing Basics for Winter in Cappadocia
If you're visiting Cappadocia in the winter (December, January, and February), don't forget the following items:
***
I hope I've convinced you that winter is an excellent time to visit Cappadocia! The prices can't be beat, the crowds are miniscule, and the cave hotels are cozy. Every single attraction remains open year round.
So let me know below – what will you be doing first?!
Pin Me for Later!