If you have one day in Warsaw and are looking for a 24 hour itinerary, you have come to the right place. Whether you have a long layover in Warsaw or simply a quick visit, here is the perfect itinerary for one day in Warsaw.
Pin Me for Later!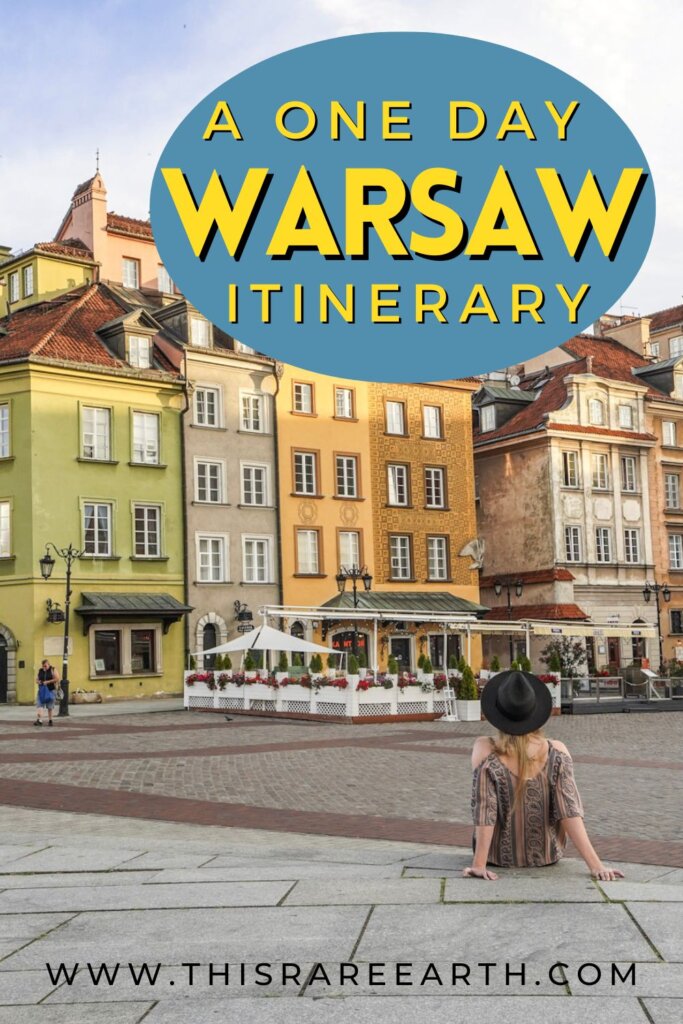 I'm going to be perfectly honest – I visited Warsaw, Poland with very few expectations and plenty of curiosity.
You see, I have deep family roots in Lithuania, which sits right next door. Both countries have friendly ties that go far back into history, and I was curious to see how they compared.
Located in east-central Poland, Warsaw is the capital city and holds roughly 1.7 million people and is the 7th largest capital city in the European Union. Warsaw has seen a lot in its lifetime.
Nicknamed the "Phoenix City", Warsaw has risen repeatedly from the ashes of war and occupation. Remnants of the wars and struggles are still evident if you look closely – but overall the city has grown into a bright and colorful spot in Western Europe.
Warsaw was pleasantly surprising – the unexpected colors, the plentiful doses of greenery, and of course the never-ending history. If you have just one day in Warsaw, this itinerary is going to focus on some of the best ways to get a true feel for the city in a short amount of time.
Let's dive in!
You May Also Like: The Best Things to Do in Warsaw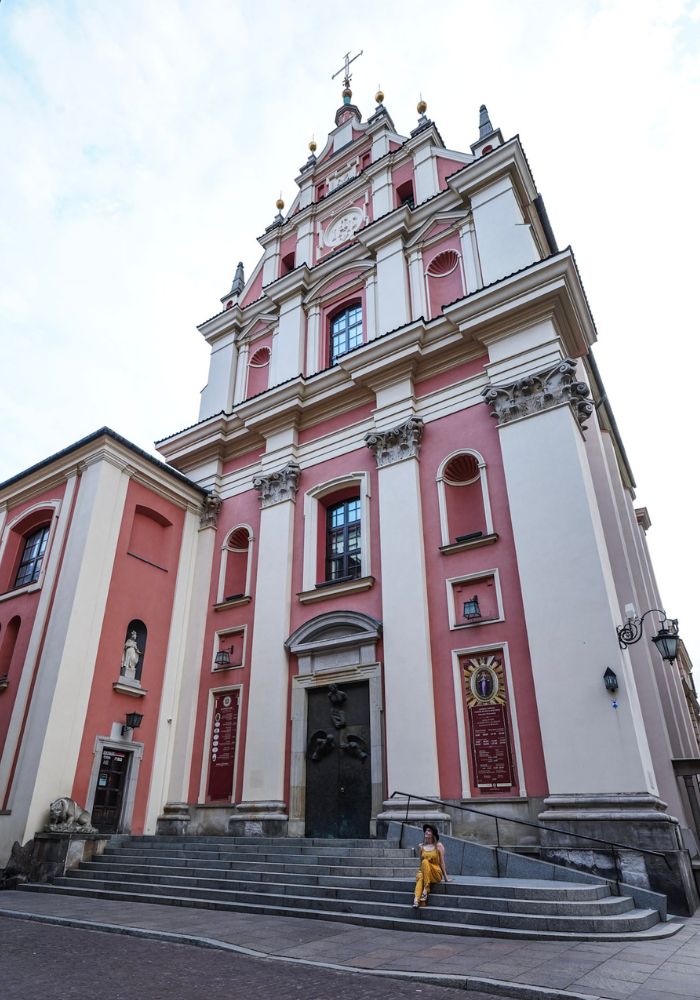 A One Day in Warsaw Itinerary
This itinerary assumes that you have one full day in Warsaw, from early morning until evening. If your Warsaw stopover is shorter, no problem – just adjust and leave out anything that isn't at the top of your list.
I was traveling Warsaw as solo female and felt like these stops gave me the best crash-course on the city.
1. Breakfast at Bułkę przez Bibułkę
Right in the heart of Warsaw sits this great little place called Bułkę przez Bibułkę. The interior is "shabby chic" and has a warm and friendly feeling. Here you can get all-day breakfasts like bagels or eggs or sandwiches, but I recommend starting as early as possible. We have a lot to jam into this Warsaw itinerary!
If this location is inconvenient for you, don't worry. There are several other spots around the city to visit. The prices are cheap, the food is tasty, and the atmosphere is great.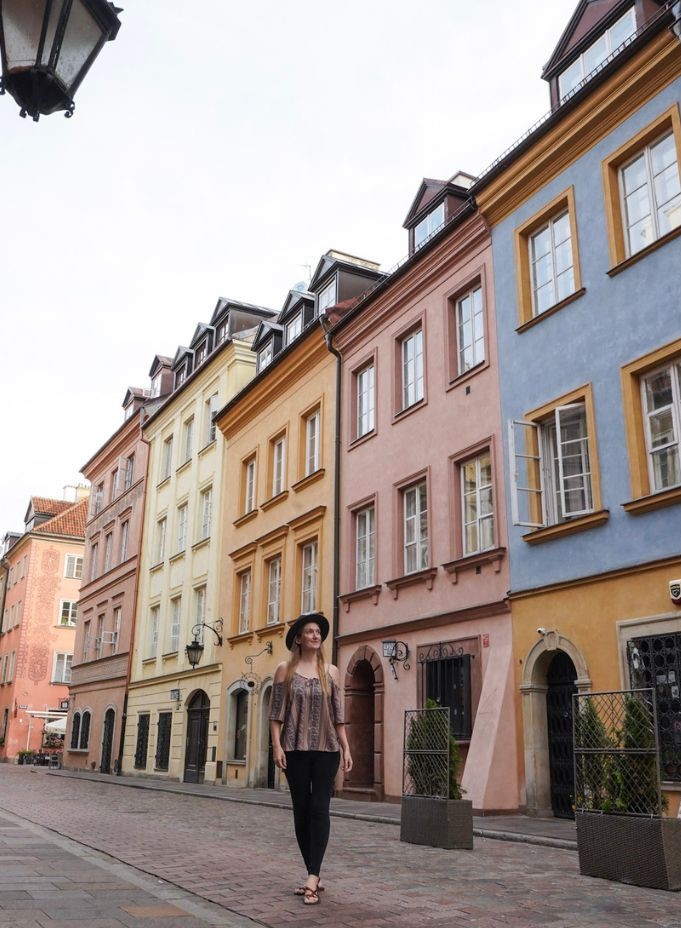 2. Take a Stroll in Old Town
Old Town in Warsaw is a celebrated area of the city. It has withstood many occupations and has never lost it's charm.
I loved exploring the brick and cobblestone streets, strolling through the narrow passageways and exploring whatever I came across. Old Town is very peaceful in the early morning. As the day goes on, it gets more and more crowded and even congested at times. But that's why we're visiting first thing!
Here are some must-see spots in Old Town:
Sigismund's Column 
Sigismund's Column was erected in 1644 within Royal Castle Square, where it stands today. It is the symbolic entrance to Old Town, and is one of the most famous landmarks of the city.
Tucked off to the right, displayed sideways, are two of his former columns – one of which was damaged with bullets in WWII.
This column was one of the tallest structures in all of Europe at the time, and it was quite the controversy as it was taller than most religious monuments. In fact, the only reason it was allowed to stay standing was because of the large cross depicted at the top (and due to a sizable donation to the church, of course!)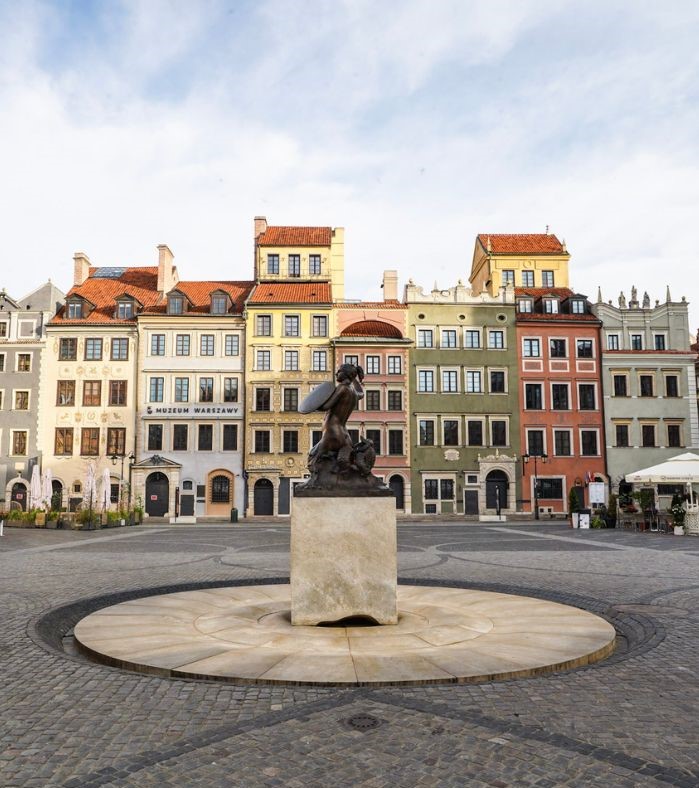 Market Square & the Mermaid Statue
Market Square is one of the most picturesque areas in Old Town. Four rows of houses face inward to a large cobblestone square, and right in the middle sits a mermaid statue. The mermaid is the symbol of Warsaw, which evolved from the original half-dragon-half-man creature.
Many of the houses and storefronts lining Market Square have been carefully reconstructed after being destroyed in WWII. And – it was no easy feat. A joint effort was made between professors of architecture and local builders to learn exactly what the originals looked like as well as how they could be built.
This painstaking reconstruction paid off. The modern-day square looks exactly like what you would have seen prior to WWI.
While few of these buildings are houses anymore you will see a number of open-air restaurants, a museum, and small shops complete with colorful facades with intricate designs painted on the front.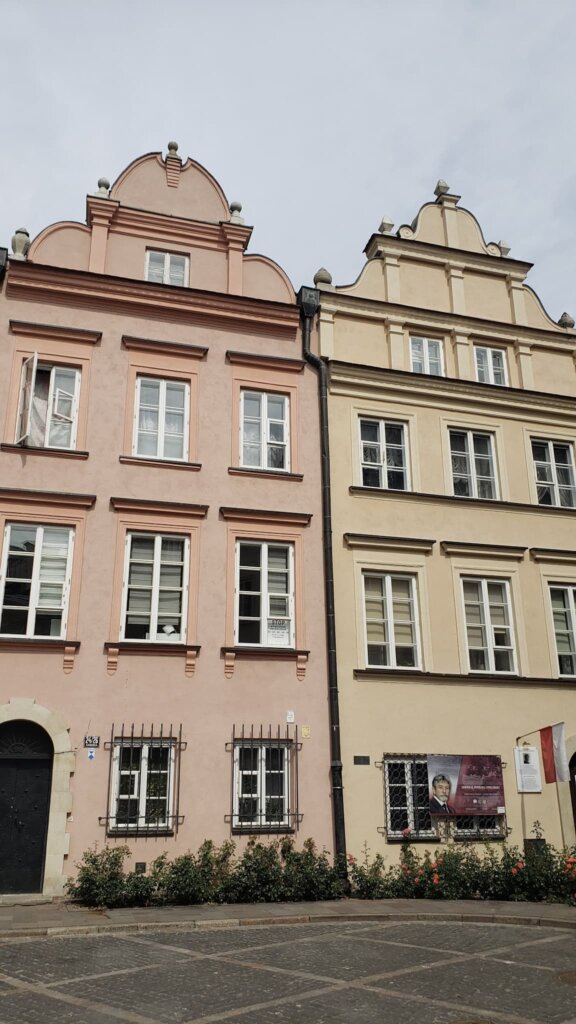 Little Amsterdam
There is one small triangular area of Old Town known as Little Amsterdam, which you can find due to the large metal bell on the ground.
If you compare the architecture of the buildings on the left to those on the right, they are built in the traditional style of Amsterdam. On the right-hand side, you will see more of the traditional Polish style, with a small box window on the top rather than the ornate rooftop facade.
Beneath the bell lies the burial place of Daniel-Tiem, the sculptor responsible for casting the statue on top of Sigismund's Column. If you touch the bell and make a wish, it is said that it will definitely come true. The verdict is still out on mine! 😉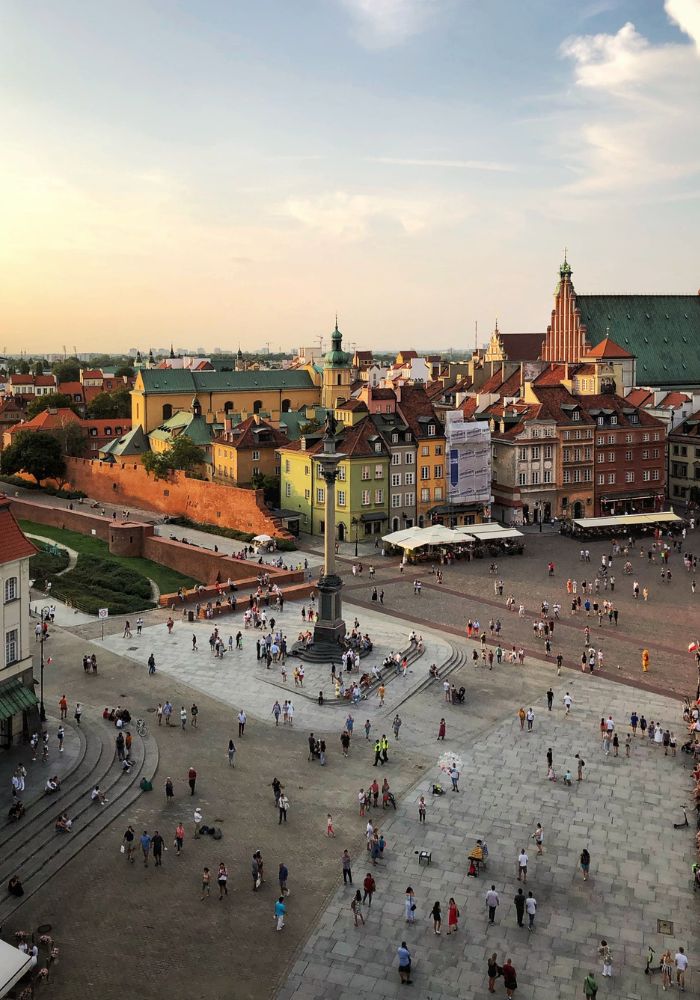 3. Climb the Observation Tower
At 10am, the tall Observation Deck on St. Anne's bell tower opens and visitors can climb up for some of the best aerial views of Old Town. If you can't tell, I was quite taken by this area of Warsaw, and about half of this one day itinerary is centered in the popular, bright spot.
In this tower, located to the right hand side of the front of Sigismund's Column, you will climb up 150 stone steps to see the colorful Square below.
4. Grab Some Pierogis for Lunch
You can't visit Poland without eating the most famous traditional dish! Pierogis are easy to find near the Observation Tower. Seriously, walk down any side-street and you will see several restaurants and food stalls serving them
The interesting thing about pierogis in Poland – you can try so many different varieties for a very small cost.
Try potato and onion, or spinach and feta cheese, or mushroom pierogis. For the meat-eaters, you can get all manner of meat-fillings. And, you can even get sweet pierogis filled with currants or covered in cranberry sauce.
In Poland, pierogis are boiled so you won't find a crispy exterior. Also, one thing that surprised me – the potatoes inside of the dumplings are not all mashed. Actually, there are cubes of potato throughout them mixed with whatever pairing you chose. They were delicious! Don't skip this meal!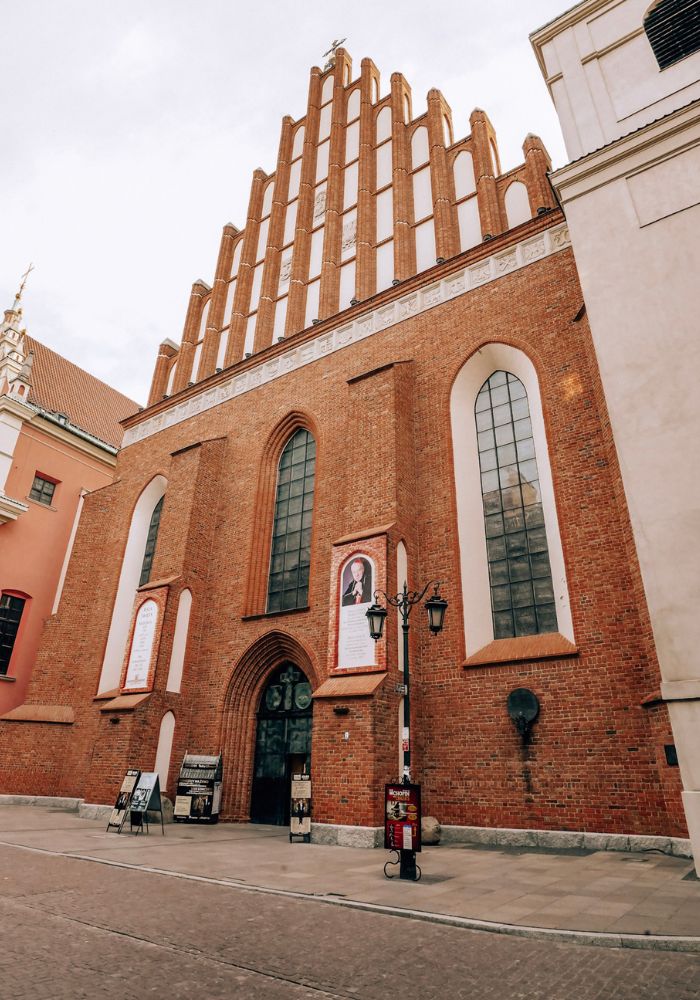 5. Listen to an Organ Concert at St. John's Cathedral
The exterior of this cathedral is unexpected. This is one of the only buildings I came across in Old Town that was not rebuilt in it's original style, and I'm not mad about it. The rooftop is visible from Royal Castle Square, so once you know what to look for it's easy to find.
St. John's is home to a powerful organ with exactly 4,301 pipes. It is expertly played each day by organists Przemyslaw Kapitula and Andrzej Sochoki. I got to hear Przemyslaw Kapitula and he is extremely talented and incredibly friendly.
You'll be introduced to music composed by Fryderyk Chopin and Warsaw's own Mieczyslaw Surynski. They were fabulous. Get there at 12pm sharp for the show. tickets are 35PLN, or a bit over $5USD.
Afterwards, attendees are granted access to the vault and crypt in the basement. Showcased here are relics from before the war, preserved due to their underground location. It is an interesting and haunting stop.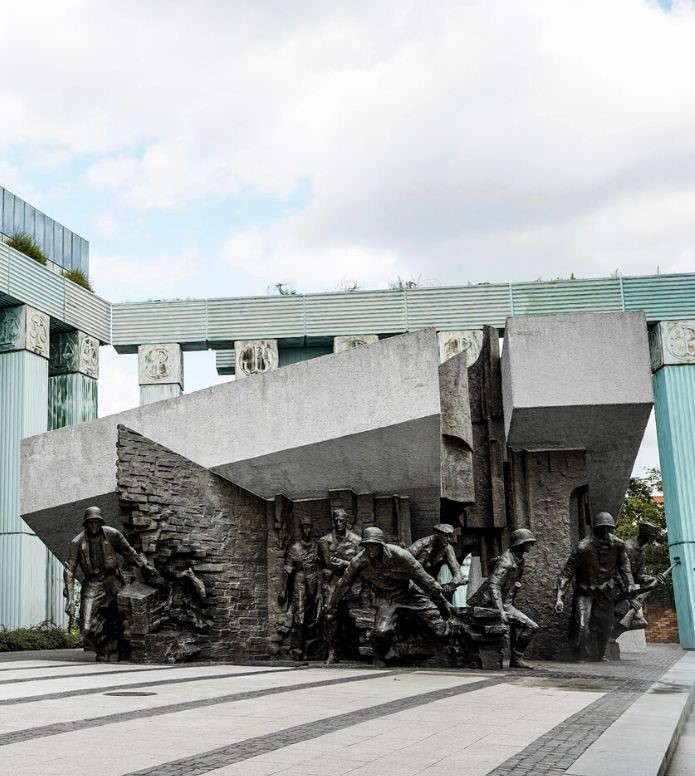 6. Visit the Uprising Monument
The next stop on this Warsaw itinerary is the historical Uprising Monument. Dedicated to the Warsaw Uprising of 1944, this sculpture is located on the southern side of Krasiński Square.
In the summer of 1944, an uprising broke out against the Nazi forces that had occupied Warsaw for five years. This monument commemorates the hundreds of thousands of Poles who fought against them.
This site once held an entrance to a canal used by Polish fighters to escape from the Germans. The sculpture itself depicts fighters escaping through this canal, either crawling out or into the canal.
At 33 feet tall, this monument is unmissable, and free to visit 24 hours per day.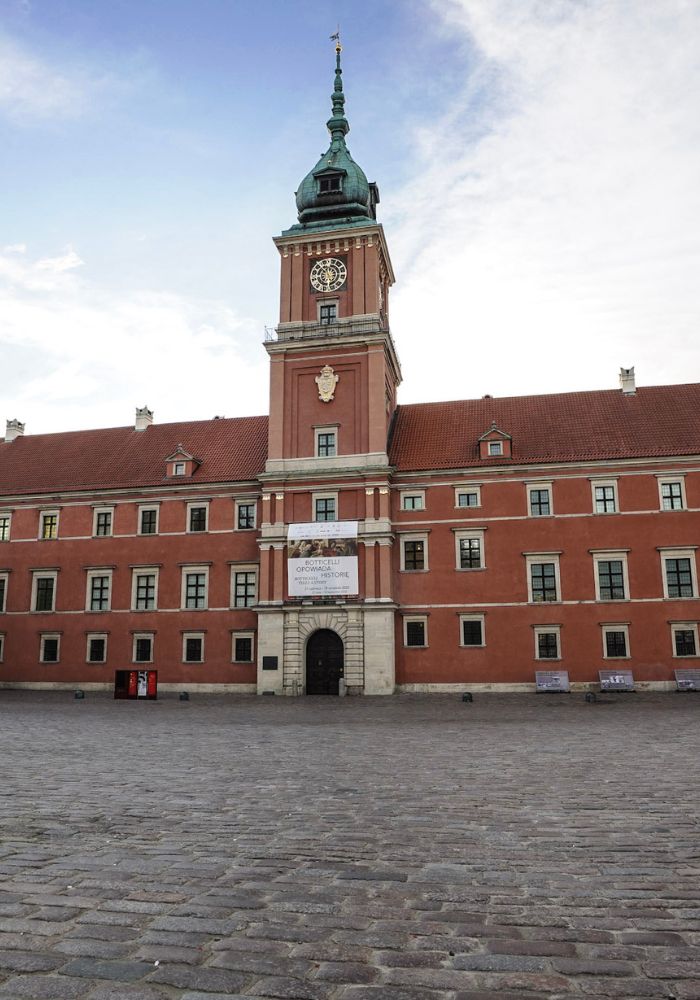 7. Visit the Royal Castle Museum
The Royal Castle is the former home of the rulers of Poland. The distinct pink color and sheer length of the building set it apart from any other structure in Old Town.
Inside, you'll get to explore the royal apartments, the Throne Room, and see original paintings by some of the greatest artists in history.
During WWII, the Castle was bombed and fire spread throughout the interior. Staff members saved all that they could, and still today visitors can catch a glimpse of the saved chandeliers and artwork from that time. Much of the castle and garden has been reconstructed due to the aforementioned damage.
Pro Tip: Visit on a Wednesday if you can. Wednesday offers free entry for everyone. You bet I took advantage of that!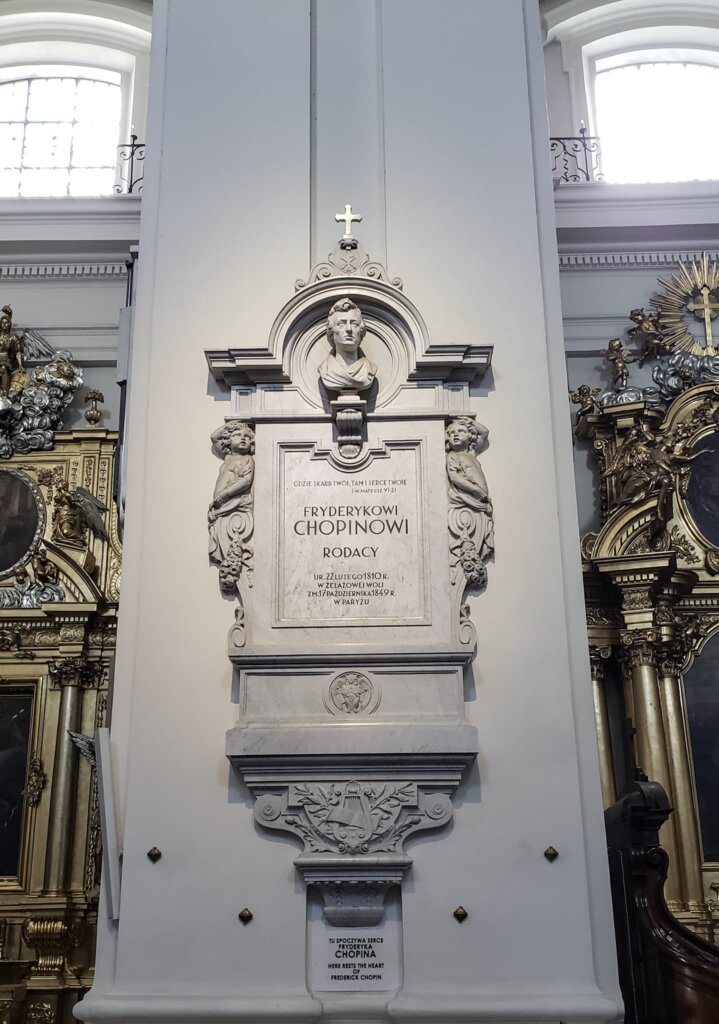 8. Visit Chopin's Benches and the Holy Cross Church
These two landmarks dedicated to Chopin will provide a nice break from the now-bustling city.
On your walk out of Old Town, stop into the Holy Cross Church to see where Chopin's heart – yes, his actual heart – has been cemented into the construction of one of the pillars.
Just outside, and slightly to the left as you exit, you will find one of Chopin's Benches. These benches were installed so that those seated could listen to about thirty seconds of one of Chopin's masterpieces. All you have to do is push the button located o the bench seat.
9. Stop and See the Tomb of the Unknown Soldier
Once you've finished your self-led Chopin tour, it's time for another quick stop (bonus, this monument is found near another one of Chopin's benches.)
The Tomb of the Unknown Soldier is a widely respected historical monument in Poland. It is dedicated to the unknown soldiers who gave their lives for the country in WWI.
This monument is found in a large concrete square in the remnants of a Saxon Palace. Look for a tall Polish flag and a large cement ross to find the plaza.
The Tomb of the Unknown Soldier is under guard each day by two members of the Polish army, as it is the ultimate in respected monuments.
Tomb of the Unknown Soldier Location
10. Hit the Jewish Cemetery
If you're up for leaving the Old Town area, this somber spot is eerily beautiful and an important piece of history.
This cemetery is the final resting place of prominent Polish Jews as well as the site of mass graves from the victims of the holocaust. The area is surprisingly green and the gravestones are covered in bright green moss.
If you have more than a day, you might consider one of the Jewish History tours in Warsaw. However, with only one day I would suggest choosing a relevant site like the cemetery for a bit of history.
11. Head Back to Market Square for Dinner
Touristy? Yes. Worth it? Also yes.
We're going to end your one day in Warsaw itinerary with a dinner in this hard-to-forget square, so you can soak in your last hour or two in the city.
Choose from healthy salads to bread bowls filled with soups to more tasty pierogis. Soak in your last few hours and enjoy the open-air square and lively, vibrant crowd.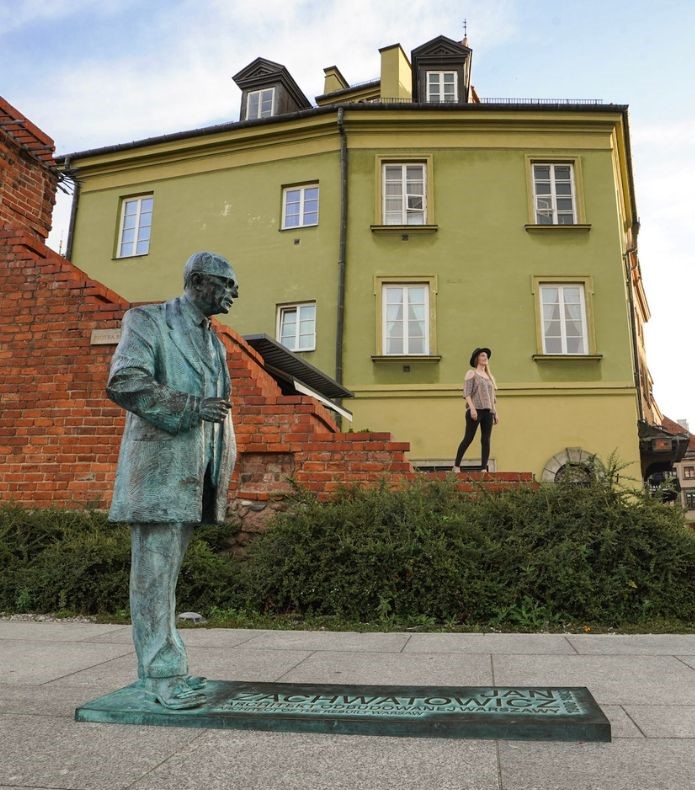 Staying Overnight in Warsaw?
If you have an overnight option before your next stop, consider these hotel options.
Budget Options:
Mid Range Options:
Higher End Options:
***
I hope this Warsaw one day itinerary gives you as good of an experience as it did for me. Warsaw is such a fun, vibrant, and alive city that I can see why native Poles are so proud of it.
From morning to night, this jam-packed itinerary will introduce you to the best that Warsaw has to offer!
So tell me below – which stop are you most excited for?
Pin Me for Later!