I can honestly say that the Cook Islands are THE MOST untouched piece of land (and sea!) that I have ever laid eyes on. Actually, just thinking back to the true unspoiled natural beauty has be dreaming of going back…. If you're struggling on planning things to do while on the Cook Islands, let me help you out! Read on for the best Cook Islands Travel Guide, including a Rarotonga Guide and Aitutaki Guide, plus all the can't-miss activities on the islands.
Pin Me for Later!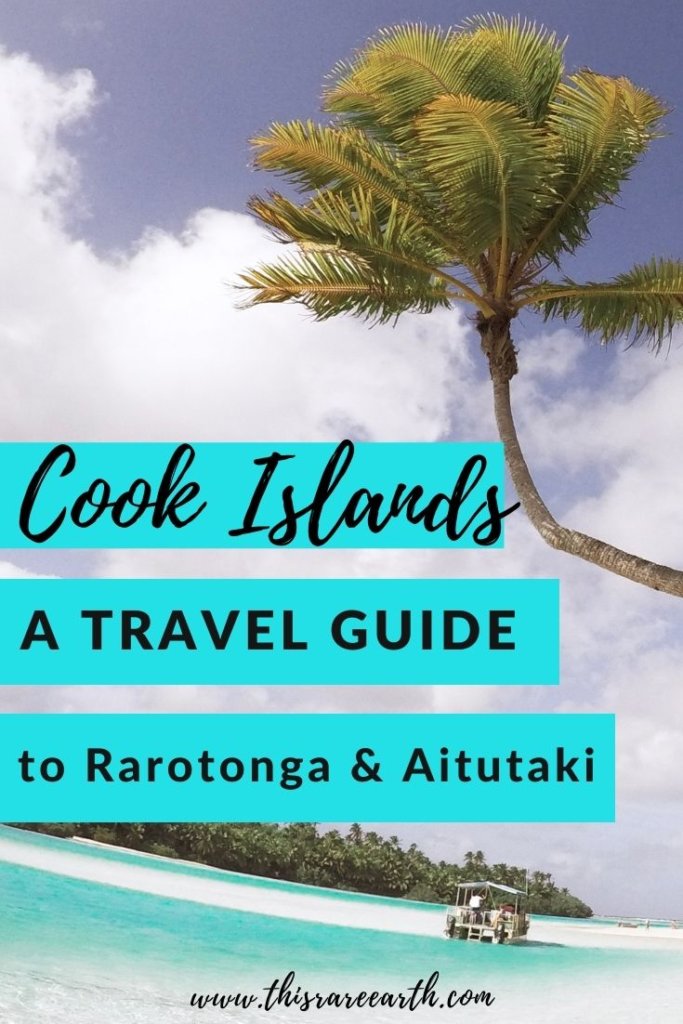 As a traveler who relishes in finding the best deals for more obscure places, when I first started seeing great flight deals for the Cook Islands, I wondered, "Where is this place, and why haven't I heard much about it before?"
Turns out that Australians and New Zealanders had been keeping these pristine beaches all to themselves over the years! The Cook Islands are located in the South Pacific Ocean, roughly a 4 hour flight from New Zealand, and comparatively, a 10 hour flight from Los Angeles. The Cook Islanders are actually both citizens of New Zealand and nationals of Cook Islands, as the Cook Islands is in a free association with New Zealand.
These islands have started to receive a bit of buzz as the Cook Islands Tourism Board cooks up regular deals for North America, but they are still unknown enough that the typical American may have never even heard of them.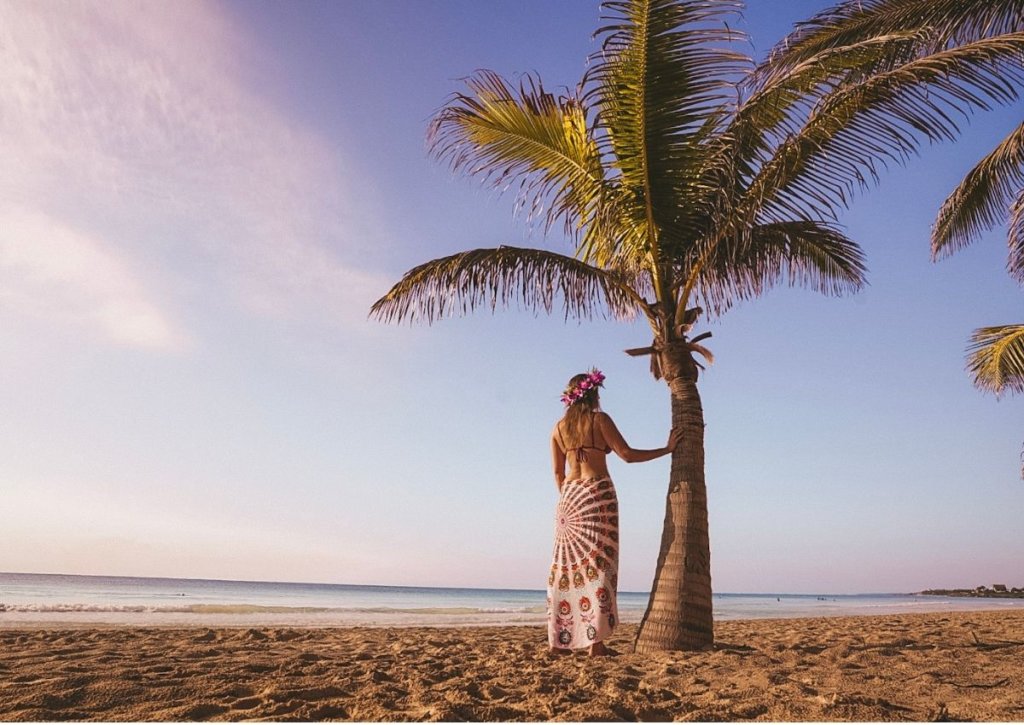 So I kept my eye on tickets, and when flight prices dropped to an unbelievable low, I jumped on the chance. (This was the same year, by the way, that I was able to snag a $299 round-trip nonstop ticket to Fiji. It was my year in the South Pacific apparently!). In what would have been my first non-solo trip of the year, I did invite a friend of mine to celebrate her birthday on the island with me – but in the end she couldn't make it and I went to paradise solo.
Click here to see where the Cook Islands are located.
First, the Essentials:
Capital City: Avarua District on Rarotonga
Time Zone: Cook Islands Standard Time GMT -10
Currency: The currency in the Cook Islands is the New Zealand Dollar (NZD).   The Cook Islands has their own country coins, including some pretty cool triangle-shaped ones, which you will probably (hopefully!) receive as change. 
Internet Access: Wifi is a luxury in the Cook Islands and is not widely available. You can purchase wifi at Bluesky outlets. Or, better yet, disconnect completely!
Credit Cards & ATMs: Credit cards are accepted at larger establishments in Rarotonga. There are a few ATMs on the island, including several in Muri Beach.
Power Outlets:  The Cook Islands uses Type I plugs and outlets. The standard voltage is 240 V.
Also, check out my post containing other interesting facts about the Cook Islands!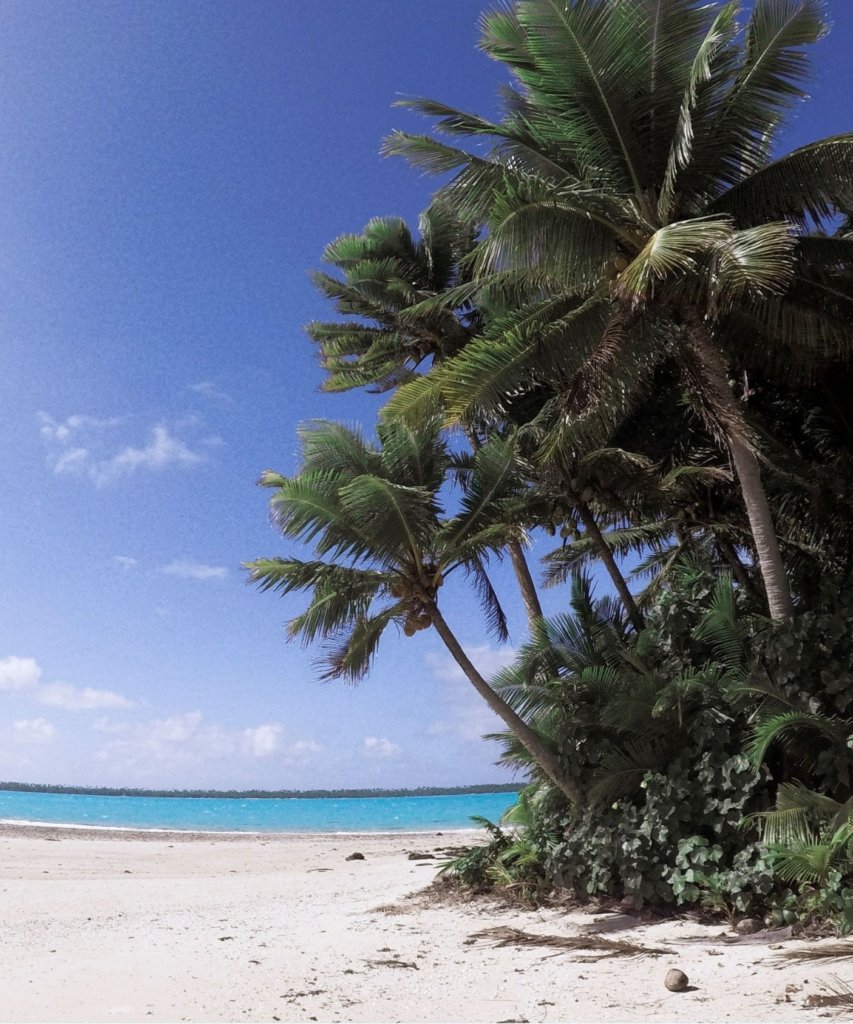 Landing in Rarotonga: A Cook Islands Travel Guide
Landing in Rarotonga, the main island and airport, couldn't have been easier. The airport is tiny, so deplaning and going through immigration is a cinch. You are likely to get a musical serenade as you wait to chat with the customs officers. The entire process lasted maybe 20 minutes, and then I was outside.
The people of the Cook Islands were extremely friendly, as has been true in every Pacific Island nation I've been to, and the best part is that you can feel how genuine they are. What's not to be happy about, when you live in paradise?
Where To Stay In Rarotonga, Cook Islands
While I've heard others advise that you shouldn't waste time on the main island Rarotonga, I'm here to tell you that is a mistake. First of all, there are plenty of gorgeous beaches on this island, as well as mountains and jungle to explore. But second, this is where you can get a taste of normal, local life.
On Rarotonga, I stayed near Muri Beach, which was a great choice for me. The small cabana I called home was right on the beach, quiet, with free kayaks for use. It was in walking distance of the Muri Night Market, the Bluesky internet and phone outlet, and a small "convenience-store" style market with snacks and drinks.
Tip – internet is not widely available in the Cook Islands, but if you go to Bluesky, they can hook you up with either an internet pass, SIM card, or both. Whatever you need!
I purposely booked a cabana with a kitchen as food on the island can get fairly expensive. I cooked my meals daily, as I do most places, with a couple of splurges out so that I also try local cuisine. While on Rarotonga, one splurge I recommend is grabbing dinner at the Muri Night Market, where local food vendors show up and cook on site. The vendors seem to differ throughout the week so there are lots of good options.
Click here for a Google Map of the Muri Night Market location.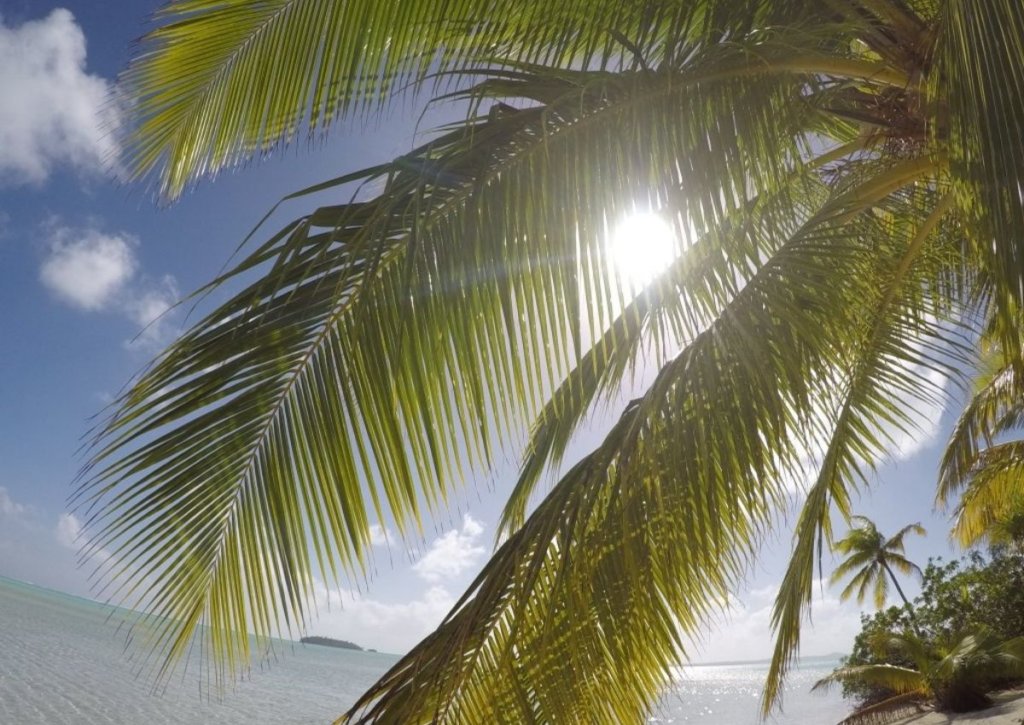 How To Get Around Rarotonga
One great way to get a good mental map for the main island is to take a ride around the entire perimeter by public bus. Seriously! It will take just under an hour and is an hour well spent. You will quickly learn how and where to find everything you need.
There are only two bus routes on the entire island – clockwise, and anti-clockwise. I kid you not. It was a very welcome change for someone who has navigated lots of complicated subways and bus routes over the years!
Because I was cooking, I needed to get to a real grocery store several times. Luckily, it's just about impossible to get lost on Rarotonga, even on public bus! Couldn't have been easier to make the trip.
Bus stops are found all along the circular road around the island, and I typically just rode all the way to the "bus depot" in Avarua, where many shops and the large grocery store sat. I bought a 10-pass for the bus and gave the remaining rides to my cabana-neighbor on my last night there.
Click here for more details on the Rarotonga bus service.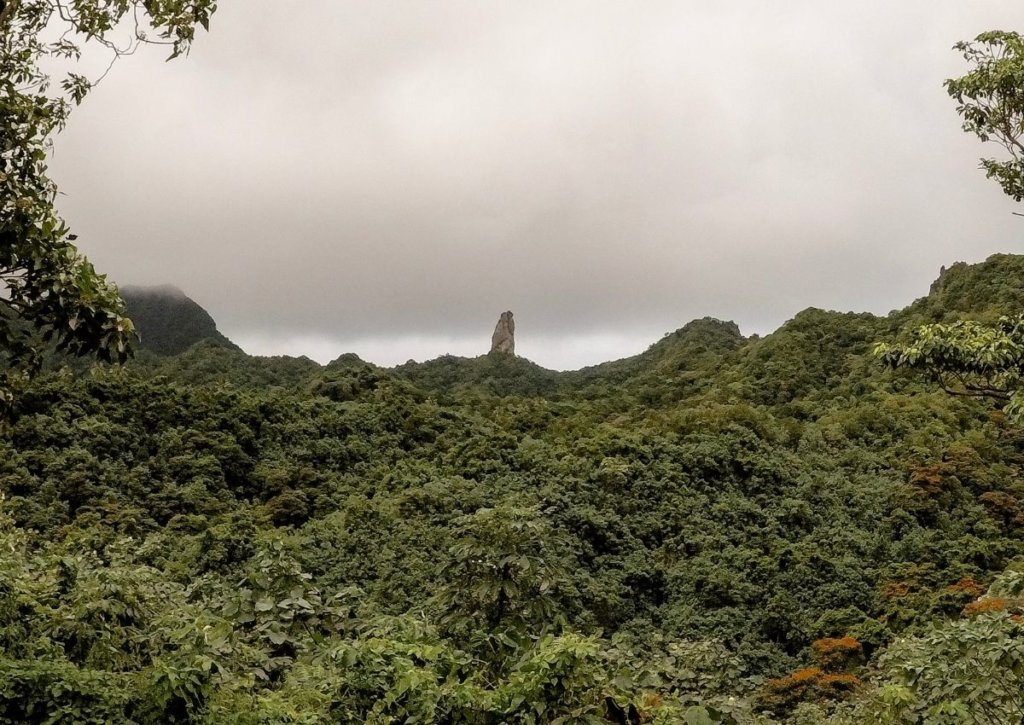 What To See On Rarotonga: A Cook Islands Travel Guide
Muri Beach – Often regarded as the "best beach on Rarotonga", this is a beautiful and shallow, clear stretch of ocean. It is the perfect spot for swimming, snorkeling, and kayaking to several small motu (small uninhabited islands). I did this many times for a secluded spot to sit in the shade and quietly read.
Muri Night Market – a fabulous spot for dinner. Due to popularity, the Night Market is now open on Sunday, Tuesday, Wednesday and Thursday evenings. You can buy everythign from local cuisine to oven fired pizza. Picnic tables are on-site.
Te Rua Manga – Commonly known as The Needle, Te Rua Manga is not the highest peak on the island but is the most recognizable due to it's rock spire. If you're a hiker, the trail begins at Avarua and takes roughly 1.5 hours to reach Te Rua Manga. Beautiful jungle scenery greets you along the way.
Punanga Nui Market – a must visit in Avarua. Offers an exotic variety of fruits and vegetables for purchase which in turn supports the locals. Great for souvenirs or for meeting Cook Islanders.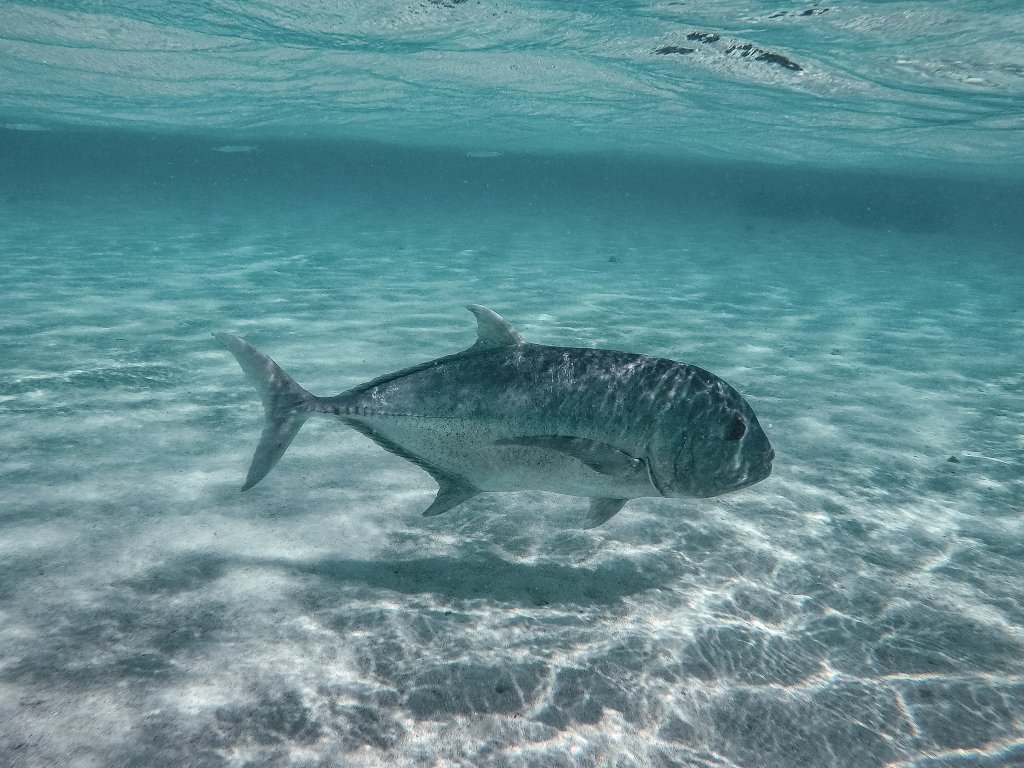 Where Else To Go In The Cook Islands?
One island you absolutely cannot skip in your Cook Islands itinerary is Aitutaki, as well as the surrounding lagoons. This is the area that simply blew my mind – I've been all over the world and I have simply never seen another spot in the beach or ocean that was SO. DARN. UNTOUCHED.
This is including my time living in Central America, traveling in the Caribbean, and traveling all over Southeast Asia. NONE OF THESE COMPARE. It was truly incredible.
While walking on the uninhabited islands, it literally feels like no one has ever been to that spot before. There is no trash. There is no stray plastic strewn about. There is no sign of life other than the stray hermit crab or sea cucumber. You stand there realizing "This is what it must have been like to first discover any of these islands…".
Admittedly, getting to Aitutaki is not cheap. The only way to travel from Rarotonga to Aitutaki is by flight on Air Rarotonga. There are no ferries. It will probably be the most expensive 30 minute flight you ever book – with the average price being $247 for ONE WAY. No, that is not a typo.
As soon as I knew I was heading to the Cook Islands, I booked my Aitutaki flight, and I booked early. I highly suggest you do the same.
I ended up paying less than this average, thankfully, and rumors float around about last-minute availability being cheaper. However, if you wait until the week of your trip, you are risking the possibility (probability) that all seats will be booked.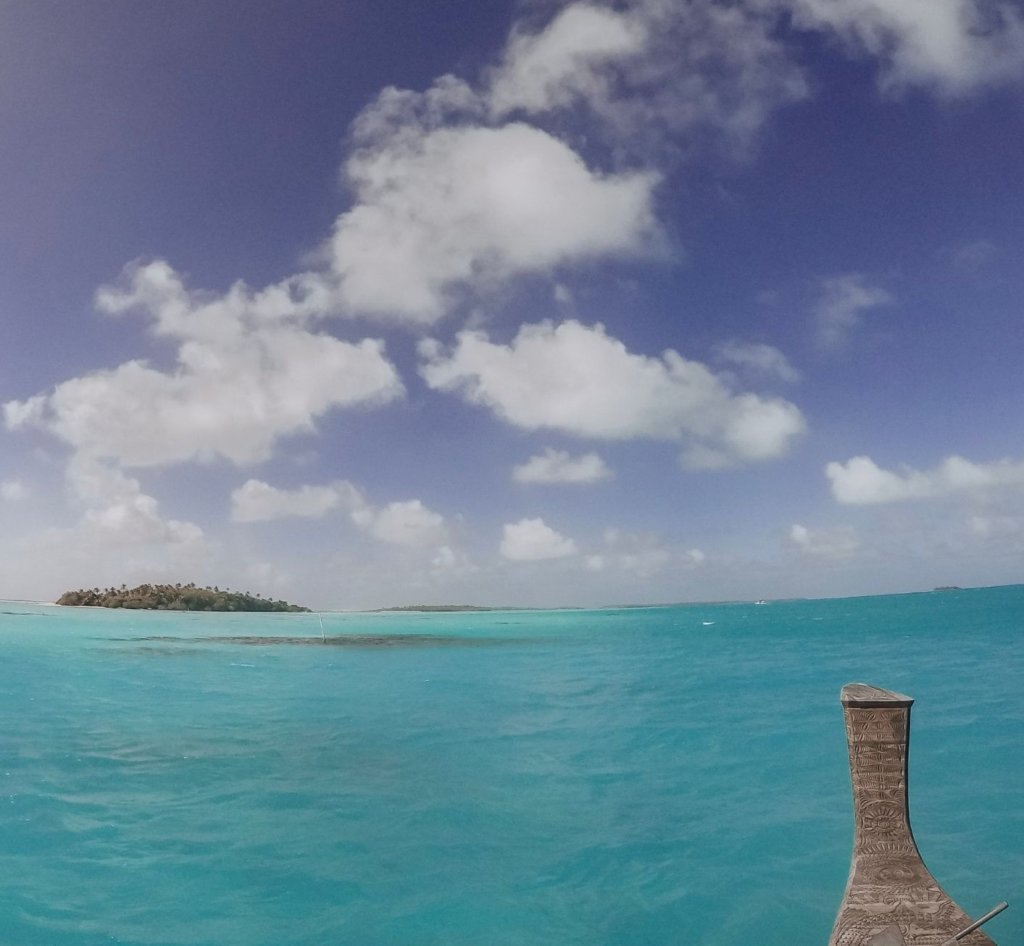 Aitutaki and the Vaka Lagoon trip was so unforgettable that I highly suggest not leaving it to chance. These views are my most memorable part of the trip and what have left me wishing to return.
Pro Tip: Book a window seat to see the stunning scenery below. No extra cost for the window.
Click the "Play" button below to see the stunning coastline of Aitutaki. Swipe for images of Aitutaki and the outer islands.
I would be a complete failure on this Cook Islands Travel Guide if I didn't urge you to go on the Vaka Cruise while on Aitutaki. The bulk of the images you saw when you swiped my Instagram post were from the outer islands on the Vaka Cruise – Akaiami, Moturakau and Tapuaetai (a.k.a. One Foot Island).
Your friendly Vaka Cuise guides will tell you the special story of One Foot Island as well as play ukulele music as you float along – so beautiful that it all could have (and basically did) bring me to tears. Lunch and snorkeling is also included.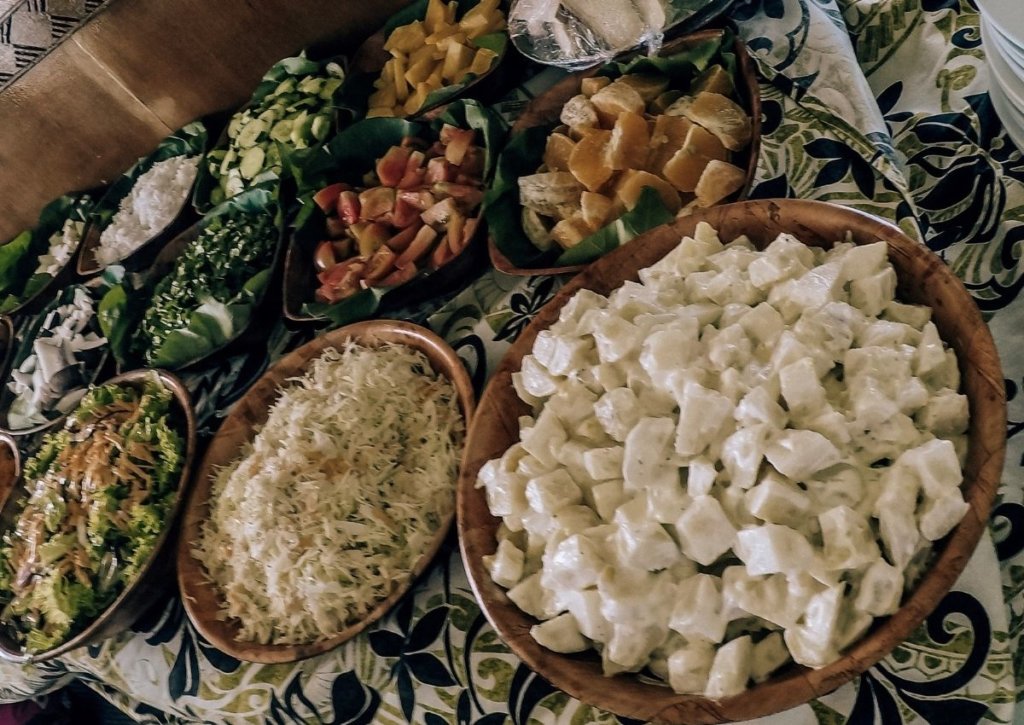 All of the above – the Aitutaki flight and lagoon cruise – can be done as a one day package tour through Air Rarotonga OR can be spread out over several days while you relax in this gorgeous paradise.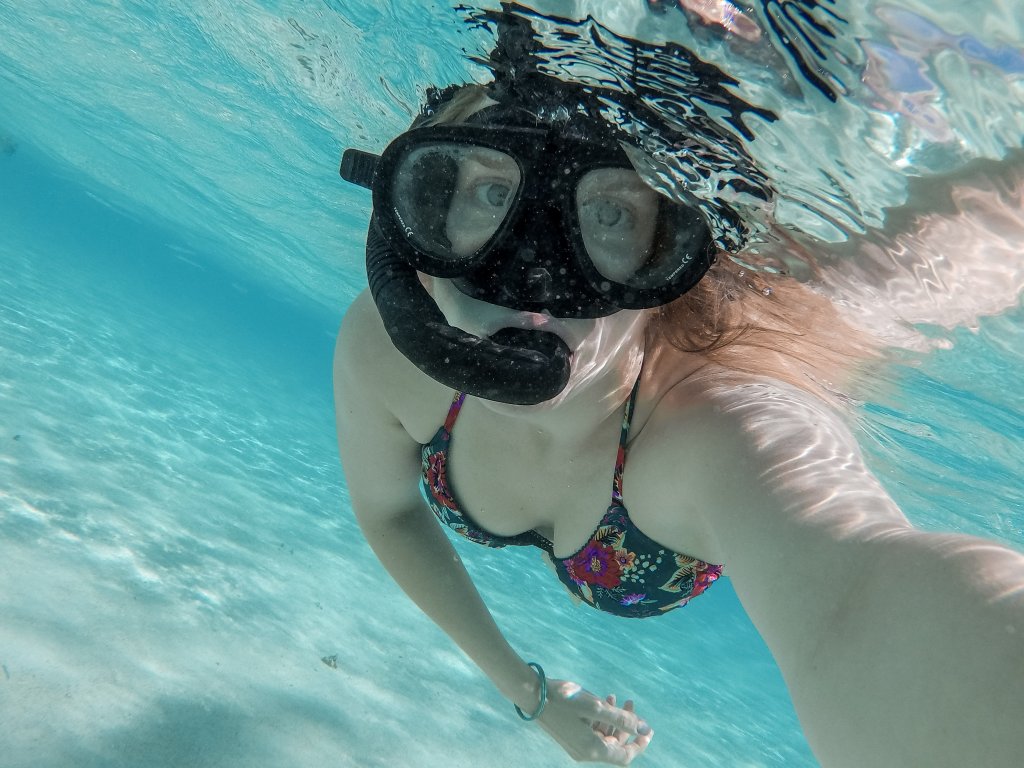 Hopefully this Cook Islands Travel Guide has provided an overview of this unbelievable vacation spot, and maybe even convinced you to go. It was quite possibly the highlight of the year, outshining just about every country I visited in the six months prior. It was just that stunning.
Pin Me for Later!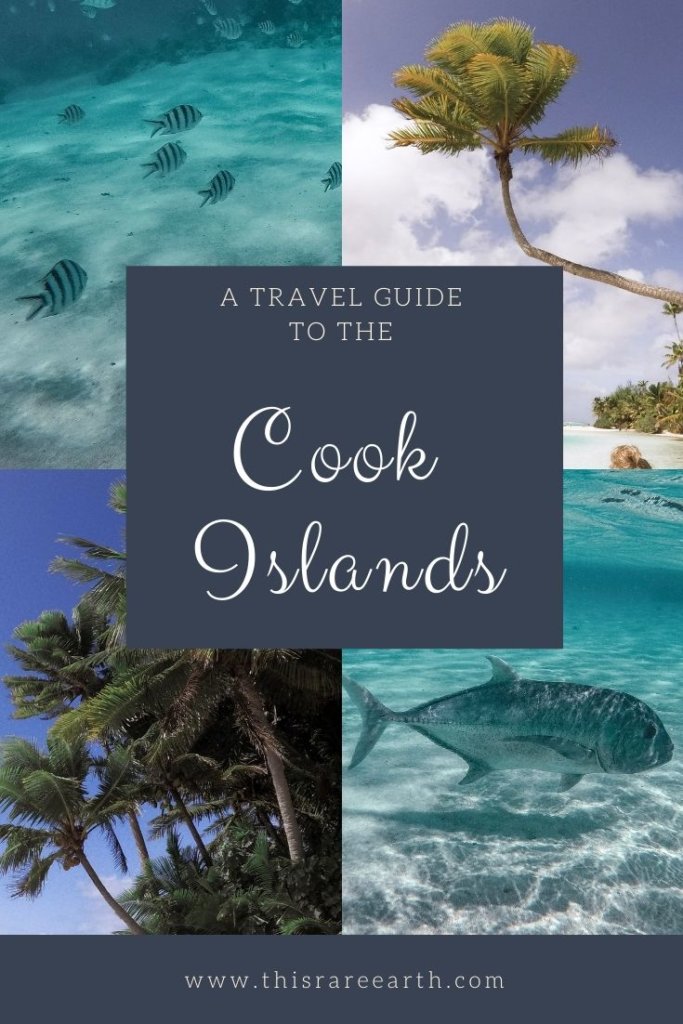 Do you have more questions or comments about after reading this Cook Islands guide?
Or, have you been here? Let me know below!